Sennheiser US Celebrates 20th Anniversary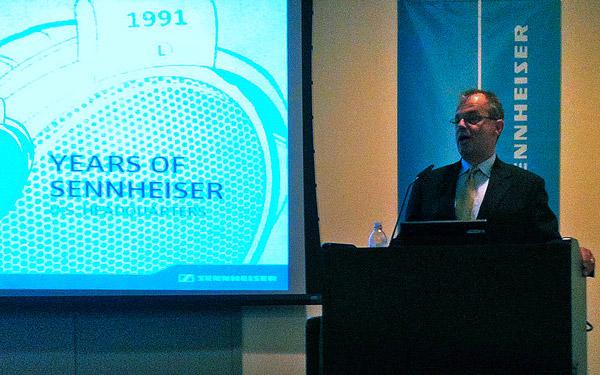 While August 29 was officially the day the State of Connecticut honored Sennheiser Electronic Corporation, the celebrations the US subsidiary of the German headphone and microphone manufacturer had planned were postponed, thanks to Hurricane Irene. But Tuesday, September 20 saw journalists converging on the company's headquarters in shoreline town of Old Lyme—"conveniently located midway between New York and Boston," according to company president John Falcone, pictured above—to take part in the delayed event. "This recognition celebrates Sennheiser's vital role in the business community, as well as the talented and passionate employees who are essential to its success," stated Governor Dannel P. Malloy in an official document that proclaimed August 29, 2011 as Sennheiser Electronic Corporation Day.
Founded by Prof. Dr. Fritz Sennheiser in 1945 in Wedermark, a village near Hanover, as Labor W to make tubed voltmeters, Sennheiser is a multifaceted manufacturer. Its products include microphones (including the legendary Neumann brand) used for music recording, live sound, broadcasting, and Broadway productions, and aviation and conference headphone-related products. However, the brand is most relevant to audiophiles for its high-end headphones. Wes Phillips raved about the $1400 HD800 in his July 2009 review, for example, and the HD800 was subsequently voted Stereophile's Accessory of 2009 by the magazine's reviewers and editors.
In his address, John Falcone emphasized that Sennheiser US was exactly the kind of company that politicians praise for creating jobs. According to John Falcone, Sennheiser US has experienced 10% or greater growth in all but three years since it relocated to Old Lyme in 1991. Revenue has grown from $11.3 million to approximately $150 million in 2010. Originally employing 27 people in 1991, the Connecticut facility now employs 119 staff to handles sales and service. There is now also a warehousing operation in Chicago, a wireless mike manufacturing plant in Albuquerque, NM that employs 150 people, and an R&D lab in Palo Alto, CA working on, among other things, digital noise cancellation for aviation headsets.
Falcone said that the reason for the company's success was its emphasis on quality to justify a higher price for its products.