Harbeth Super HL5plus loudspeaker
To some, the measure of a company has less to do with the amount of money it makes than with the honesty of the things it sells: the assurance that every product in its line is designed not as a marketing exercise but as a straightforward and presumably unique answer to a real consumer need.
Consider Harbeth, founded in 1977 by ex-BBC engineer Dudley Harwood, the first syllable of whose surname is immortalized on thousands of loudspeakers whose shared heritage is unmistakable. That in itself is testament to the durability of Harwood's point of view, and to the no-less-apparent dedication of Alan Shaw—who, since 1986, when Dudley Harwood retired, has owned and steered the company. One is forgiven for regarding Shaw as the rare businessperson who bought a company not just for the selling power of its name, but because he shares its founder's belief in the rightness of doing things a certain way.
At Harbeth, that certain way is the classic British box: a thin-walled enclosure that controls resonances by means of panel tuning rather than sheer mass, said box containing drivers of generally low coloration and reasonably high sensitivity. Nowhere is evidence of Harbeth's dedication to that premise more clear than in the fact that they do not sell multiple speaker lines: The company offers only five models, each suited to a different budget and/or room size (footnote 1). As refinements in materials and manufacturing techniques become available, those models evolve—something that happened not long ago, when Harbeth changed their flagship model from the M40 to the M40.1. Now Harbeth has reworked the second-most-expensive model in their line, the results being their recent Super HL5plus ($6695/pair).
Description
The backstory: As with other companies that started out making broadcast monitors for the BBC, Harbeth's first models were built around plastic-cone woofers of the company's own design and manufacture. For years, Harbeth remained loyal to polypropylene, which they felt was better suited to driver cones than were pulp or woven synthetic fibers. Then, in 1990, Alan Shaw initiated a research project intended to find a plastic that could outperform polypropylene in some key areas: not just a stronger material, for better "pistonic" behavior, but one by means of which the cone's performance could be optimized for each portion of the bandwidth it serves. With the help of some university students, Harbeth hit on a polymeric composite to which they gave the trade name RADIAL, an acronym for Research And Development In Advanced Loudspeakers—though it also refers to the fact that the lines along which a RADIAL cone exhibits its greatest stiffness and efficiency are, indeed, radial. (This apparently derives from RADIAL's suitability for injection molding, instead of mere vacuum forming from sheets of plastic stock.)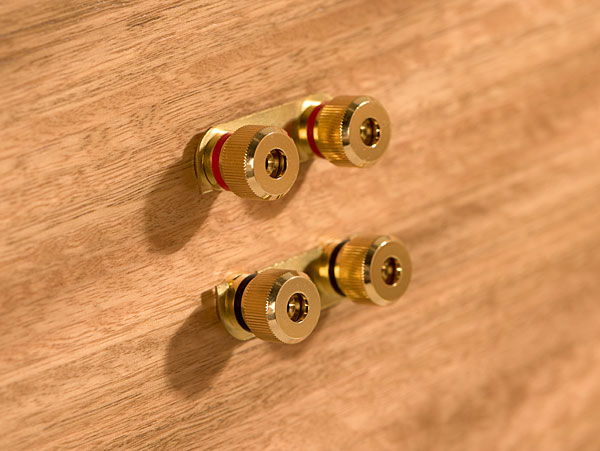 By 1995, Harbeth had begun upgrading their line with RADIAL woofers and midrange drivers, and with concomitant upgrades to their crossover networks, earlier versions of which had apparently been designed to compensate for the shortcomings of lossier cones. Now, just a few years after the last of those upgrades, Harbeth has introduced an even newer and presumably better cone material, RADIAL2. Thus has the already popular Harbeth Super HL5 evolved into the Super HL5plus, with the addition of a RADIAL2 woofer and the associated crossover refinements to suit it.
Like the sturgeon, the hellbender, and the woodlouse, the Super HL5plus bears an unusually strong resemblance to its prehistoric ancestor—in this case, the seminal Spendor BC1. Both are three-way loudspeakers with a ca 8" bass/midrange driver and two tweeters, one of the latter being slightly larger than the other. (The same can be said of the BC1's own descendants, the Spendor SP1/2 and Stirling LS3/6, both of which endure.) For the new Harbeth, those drivers are its 7.8" RADIAL2 woofer, a 1" aluminum-dome tweeter, and a 0.78" titanium-dome tweeter; the woofer is constructed in-house, while the tweeters are made by SEAS in Norway to Harbeth's specifications. All are fastened, with machine bolts and threaded inserts, to recesses on the front of a baffle made of ¾"-thick MDF and veneered on both sides, to stabilize the wood. (Only the outer veneer is finished.)
The remaining five panels of the Super HL5plus's two-cubic-foot enclosure, which measures 24.8" wide by 12.6" high by 11.7" deep, are made from thinner sheets of MDF. The top, bottom, and sides are lined with a very dense, high-quality acoustic foam, and an even bigger chunk of the stuff, some 4" thick, is tightly stuffed inside the enclosure. No damping is applied to the front baffle, which incorporates a foam-lined plastic reflex port approximately 2¾" long and 2¾" in diameter. The Harbeth's crossover network, built onto a printed-circuit board of moderate size, is mounted to the inside surface of the rear panel, directly beneath a 7.5" by 14.5" sheet of damping material best described as tarry stuff, which is stapled in place. On the rear panel are four gold-plated binding posts, in pairs connected with stamped-brass links that are removable in the event of biwiring. Internal connections are made with the very flexible Van Damme Blue OFC speaker cable.
My review pair was well finished, and although I'd spring for the extra-cost rosewood or tiger ebony veneers if it were my $7000 on the block, the somewhat plainer cherry finish was pretty in its own right. Build quality was fine—and here I'll offer an apology regarding my earlier review of the ostensibly similar Stirling LS3/6). In describing the construction of that British box, I mentioned my disappointment that its front and rear baffles were fastened to the enclosure not with machine screws and threaded inserts but with mere wood screws driven into furring strips. I implied that that was a less-than-perfectly tight or rigid join, and I was correct—and, as further research has shown, that's precisely what the designer of a thin-walled loudspeaker is after.
Ideally, different panels will resonate at different frequencies: the low-amplitude energy can be spread over a wide range and swept into a corner, where it's least likely to be noticed. Yet to prevent the cabinet as a whole from resonating, there must be gaps or interruptions between individual panels, and especially between the front baffle and the wrap. Recent conversations with luthier Richard Hoover, founder of the Santa Cruz Guitar Company, confirm the notion that different methods of joining and bracing two structures can be used to enhance or prevent the flow of acoustical energy from one structure to the other, and that experienced craftspeople will manipulate these variables in different ways, depending on how they want the structure as a whole to behave.
Installation and setup
Though designed to be mounted on a stand, the Super HL5plus isn't supplied with one, nor does Harbeth recommend any specific brand or style of support. I pressed into service a pair of 20"-tall open-frame, alloy stands that I've owned for at least a quarter of a century, which placed the Harbeth's lower, 1" tweeter some 39" above the floor. Initial listening tests led me to think that I'd prefer having both tweeters a bit farther from the floor; as a stop-gap measure, I placed 12" squares of ¾" plywood—cut for some crazy project that never saw the light of day—between the tops of the stands and the bottoms of the Harbeths. That height suited me and my room just fine, providing good spaciousness, tonal balance, and stereo imaging.
Here's where it got weird: I knew, from my experience with scores of other British boxes, that fine results could be had by placing four pea-sized balls of Bostik Blu-Tack between the bottom of each speaker and its stand. This I did—and was brought up short by how much duller, less lively, and less involving the music sounded. The Blu-Tack seemed to confer no performance advantages over the speaker-on-plywood-on-stand approach. I removed and discarded the Blu-Tack and carried on as before, happily. Go figure.
---
Footnote 1: Harbeth also has a separate pro-audio line, comprising texture-painted versions of three of the company's five domestic models.