Robert Schryer's Sunday Morning at the Montreal Show
As I broached the Bonaventure Hotel's lobby into Montreal's Audio Fest on Sunday, my immediate thought was: "Where is everybody?", followed soon after by "Yay, free listening seats!" Why attendees flock
en masse
to the show on Saturday rather than spread themselves out into Sunday, a day when exhibitor rooms have been optimized over three days to sound their best, is a mystery to me that feels not unlike a secret I'm better off not sharing with anyone but my closest audio buds.
And speaking of audio buds, my fake award for overall best retail audio store representative at this year's Montreal Audio Fest goes to the genial and youthful-looking Robert de Koninck from Montreal retailer Art et Son. Robert was a veritable fountain of infectious audiophile enthusiasm that extended to the products he represents, the result of which is that I now intend to visit the store he works at.
Held in fake-award recipient Robert's hands is a Heed Obelisk Si Mk.3 integrated amp (CA$2500), a component with which Robert seemed intimately familiar and genuinely proud of, and which, instinct tells me, could do very well as the heart of a system consisting of Graham LS3/5 speakers ($CA3700/pair) and a Gold Note Valore plus turntable/arm combo (CA$2200), all of which can be bought at Art et Son.
(As a side note, the owner of Art et Son is also named Robert, which means that the three of us form a Robert triangle, the significance of which has yet to reveal itself to me.)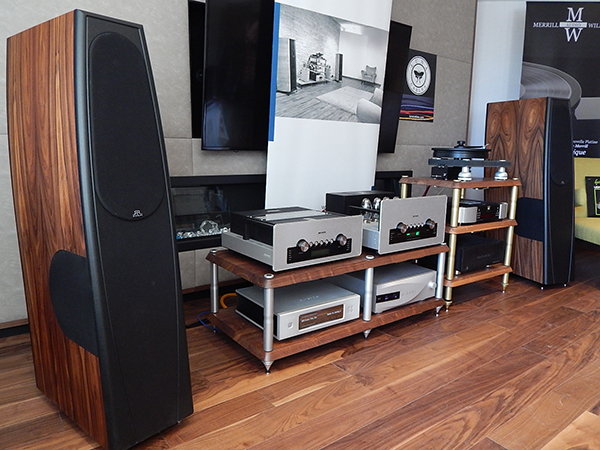 This year, Montreal retailer and perennial Montreal audio show exhibitor Filtronique occupied two showrooms spaced apart by a flight of stairs. Fronting the main floor's system was a pair of Tempus III speakers (CA$20,000/pair), each a four-way design weighing 165 lb, made by California-based manufacturer Ryan, a name that was unknown to me.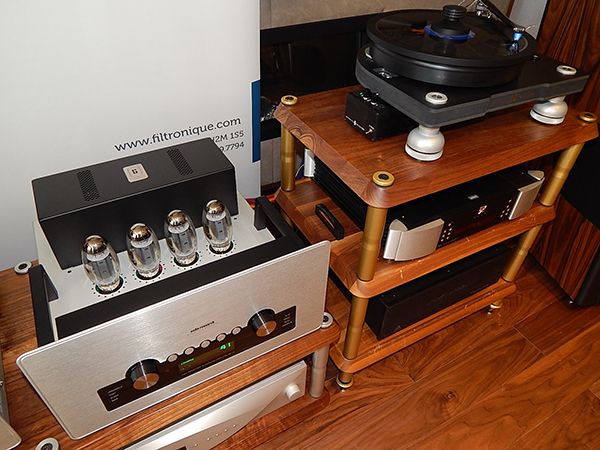 The speakers were fed by what seemed all the rage at this year's fest, ie, integrated audio components, and here it came in the form of a 75Wpc, KT150-tube based Audio Research GSi75 integrated amp (CA$21 000), while a Merrill Williams R.E.A.L. 101.3 turntable (CA$9600, without arm) was used as the source. What I heard from this combination was a spacious soundstage, well-defined musical lines, tonal neutrality, and a somewhat laid-back musical ease.
As soon as I'd reached the top-floor vestibule leading to the second listening room, it was obvious to me, by the reverberating boominess I was hearing—imagine bass waves rolling into each other and piling up in the corners of walls—that the speakers in that system could have used more breathing space. Still, after I'd sat a minute or two in the listening chair, the system's richly layered, colorful musical palette won me over and made this my favorite of the two Filtronique systems. No, it didn't sound as tonally neutral as the downstairs system, but it beat the latter at penetrating my cynical heart.
The less is more maxim applied equally to this room, where an Ayre VX-5 150Wpc amp ($11,000) was being fed by an Ayre QX-5 serving as both music streamer and preamp (CA$11,000). Speakers were a pair of Magico A3s (CA$12,700/pair), about which I will state this unequivocally: these were the best Magicos I've heard, at a price that seems, in light of their performance, utterly sensible.
I would also be remiss if I didn't mention that cabling for both Fitlronique systems was handled by Luna Cables, a local company whose products I've heard elsewhere to great effect and that I think deserve to be reviewed by someone at Stereophile. Just kidding, Art.
Thanks in large part to Elac speaker designer and spokesperson Andrew Jones, who is as close to being a superstar of the audio biz as one can get, Elac consistently brings to market great-sounding speakers with a high value quotient, a mission they've extended, with the purchase of Audio Alchemy, to include audio electronics.
As a result, Elac can now sell complete systems—not just the speakers—with a high value quotient, such as the one pictured above, which included Elac's AS61 speakers (CA$1880/pair), a pair of AA's DPA-1 mono amps (CA$3000/pair), AA's DDP-1 preamp/DAC/headphone amp (CA$3000), and a Discovery music server (CA$1600). The sound streamed from a USB key was clean, clear, tactile, and rhythmically engaging.