Art's Sunday in Montreal, Part 1
I started my Sunday by visiting Plurison, the Canadian distributor for Focal, Naim, Rega, Musical Fidelity, Devialet, Music Hall, Wharfedale, Cambridge, Astell&Kern, and others (and, under the name Audio Plus Services, the US distributor for some of those same brands). As they did last year, Plurison set up shop in the Ville-Marie room—one of the Bonaventure's largest, having been carved out of what used to be the hotel's main restaurant—and presented their products in a mix of active and static displays, with a degree of visual refinement that few other exhibitors matched, and none exceeded.
Among the above was a display that featured matching Focal Sopra No.3 loudspeakers ($US20,000/pair) and Micromega M-150 integrated amplifier, done up in what seemed the precise shade of orange used for the McLaren M6B that, when driven by Denis Hulme, dominated Canadian-American motorsports in the late 1960s. (As a boy, I was fascinated by Can-Am cars.)
Not far down the line was this vinyl-friendly system, also fronted by Focal Sopra No.3s—this time out in a new finish that Daniel Jacques, the head of Plurison, described to me as "chameleon—it looks different depending on the light, and on which angle you see it from." It reminded me of the paint job on a bicycle I coveted in my youth. (Hmmm: race-car orange . . . bicycle purple . . . I generally keep my subconscious under lock and key, but now it feels like someone's been tromping around in there.)
Also in this system were two new products from Musical Fidelity: their new, nuvistor-enriched Nu-Vista Vinyl phono preamp ($CAD3799), boasting fully five inputs, each with its own regulated power supply; and the M8 encore 500 ($CAD9999), which combines a 500Wpc class-AB integrated amplifier with a CD player, 2TB of internal disc storage, a UPnP-compatible file player, with Tidal streaming. The system also included a Clearaudio Innovation Basic turntable ($CAD7995), Rega Planar 6 turntable ($CAD2799 with tonearm), and a Music Hall MMF 2.3 turntable ($CAD749 with tonearm).
Another eye-catching display: this under-glass sample of the Devialet Phantom loudspeaker, available as the Phantom Basic ($US2000 each), Phantom Silver ($US2500 each), or Phantom Gold ($US3300 each), all with built-in D/A processors and class-D amplifiers, with power outputs ranging up to 3000W for the Phantom Gold. Devialet's canned demonstration—a loop that replayed time and again—was overbearing, beginning as it did with the sound of a very loud F1 motor, morphing into some horrid, overprocessed dance-music junk. On the other hand, I confess to really loving the veiled, crowned, medieval ghost-queen thing that Devialet puts in their promotional materials for the Phantom. So it's a draw.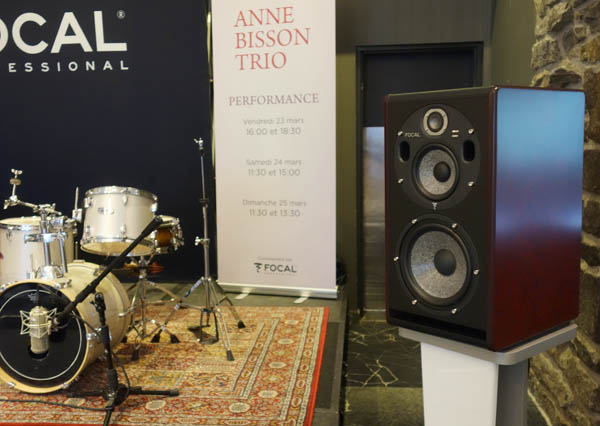 Before leaving the Plurison area, I happened upon this little number from their pro-audio division: the Focal Trio6 Be Professional Monitoring System ($US2799 each)—a powered loudspeaker that Plurison was using for sound reinforcement purposes. Also in the system were a 22" Mapex bass drum with Remo head and Mapex speedpedal, and . . . nah, just kidding!
I think we all have our ideas about how things ought to look, so I offer this shot of a Luxman MQ-88uSE ($CAD5995), in static display in the antechamber of the suite sponsored by Montreal retailer Son Ideal, as an example: This, according to all of the scribblings left behind in my subconscious, is what an amplifier is supposed to look like. (My second order of business upon returning home from Montreal was to request from Luxman USA a review loaner.)
You know a system is good when you're standing in the hall listening to a violin concerto and think: Milstein!—and then go inside the room and discover that the soloist on the record really is Milstein. So it was in Son Ideal's generously sized demonstration room, where I relaxed with a system built around the Harbeth 30.2 Anniversary loudspeaker ($US6495/pair), including a Luxman PD-171A turntable with tonearm ($CAD6995), Luxman D-05u SACD/CD player ($CAD4995), and Luxman L-509x integrated amplifier ($CAD9495). Beck sounded great on this system, too.