Robert's Sunday Afternoon at the Show
Along with those other nerdy qualities I love about sound reproduction, I love a good soundstage. That's because a good soundstage, like a clever Hollywood movie effect, can provide the push needed to make me believe that someone who can't possibly be there in front of me singing or playing an instrument actually is and that I've missed nothing.
I bring up the soundstage thing not because I think hearing a good soundstage during playback is essential to one's enjoyment of a recording, but because the soundstage thing is the aspect of playback I was most wowed by of the system I heard in the Verity Audio room.
That system included a Melco music server HA-N1ZH60 (CA$4000) and a string of Verity Audio gear: the Sarastro IIS speakers (CA$59,995/pair), the Monsalvat Amp-60 (CA$75,395), and the Monsalvat Pre-2 (CA$45,495), while most of the system's cabling bore the name of a manufacturer known more for its turntables: Basis.
A good soundstage isn't everything. But get it right, and get right the other sonic essentials across the audio band, as the Verity Audio system did, and you might experience the sort of blurring of the lines between fantasy and reality that I did. Which is: Miles Davis uncannily resurrected, nearly as clearly as a hologram on the stage of what appeared, by the reverb trails, to sound like an open-air venue, while lyrical trumpet gusts streaked across the air. I was there, slightly behind the other rows where fans would spontaneously break out in expressions of appreciation. Miles was real, all five foot and a half of him. And that is why I love a good soundstage.
I heard more great sound in the room hosted by ArtistCloner, a Quebec-based manufacturer helmed by audio designer Sylvio Comtois, whose room at the show seemed one of the more popular ones. And I understood why: what I heard from this complete ArtistCloner system, which comprised a music server (starting from CA$4400), Luceo preamp (CA$12,600), a pair of Coleo monoblocks (CA$25,400/pair), and the Rebel Reference speakers (CA$22,300/pair, with stands), was sound that was gutsy, transparent, and excitingly effortless.
photo 4
Perhaps most significantly, while listening to this solid-state setup, I often caught myself, a devoted tube-gear aficionado, thinking: "I can live with this!"—a testament to what I heard at the time as a near ideal balance of sonic virtues between solid state and tube technologies.
Atoll Electronique is a French company known, as their slogan goes, for offering audiophile products to audiophiles on a budget. But their Canadian division also imports pricier brands into Canada—of which the most well known on this side of the Atlantic is Conrad-Johnson, whose ET3 preamp (CA$4400) and Classic 120 amp (CA$10 800) were among the playback gear, along with a Ceolbox music server (CA$1700–$2100) and Merging Technologies NADAC ST2 (CA$13,000), and a pair of Davis Acoustics Cesar speakers (CA$14,000/pair). Cabling was by Nordost, a ubiquitous brand at the show. Though coolish in the midband, the system projected a roomy sound space with ample detail.
In the same room, on static display off to the side, was a system more representative of the "for audiophiles on a budget" mantra espoused by Atoll, a nifty little setup featuring Davis Acoustics Olympia One speakers and an all-Atoll line-up of electronics, including their MS100 streamer, HD120 preamp, MA100 amp—a setup that "can all be yours for the low(ish) low(ish) price of CA$4999. (The CD player in the photo is an optional purchase not included in the package price.)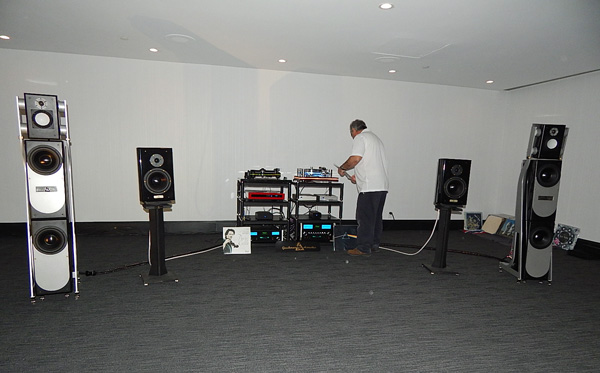 The room I visited last was also the one I visited first: the Dorval, shared by Gershman Acoustics and Oracle Audio Technologies. The Dorval isn't an easy room to fill with the sound of a home hi-fi—the space is as vast as a high school gym. Still, Gershman Acoustic's US$129,000/pair Posh speakers played music with poise and aplomb, sounding delicate or grand when called for. It was a fitting end to my audio-show sojourn, and to what had been, in the words of the charming Ofrah Gershman, "a great show", a sentiment I heard echoed by several industry types and attendees at the event.
I certainly preferred this year's event to last year's, if only because the show's near cancellation last year seemed to cast a pall over the proceedings; many of us anxiously wondered where the show would go from there. No such anxiety this year. This year, the show felt permanent.
At least until Sunday, when it ended. To borrow the lyrics from that 80s R&B song: "Back to life, back to reality. . . "