Art Finishes Up His First Day in Montreal
The venerable Japanese firm Luxman and the German turntable manufacturer Acoustic Signature—whose President, Gunther Frohnhofer, I had the pleasure of meeting on Friday—shared a room in which Raidho C3.2 and D2.1 loudspeakers (respectively $US37,500/pair and $US44,00/pair) were driven by Luxman M700u power amps running in mono ($US8995/pair), in turn driven by a Luxman C700u preamplifier ($US8995), fed by a Luxman EQ500 phono preamp ($US6495) and Melco N1ZH v2 music server ($US5000). LPs were played on Acoustic Signature Double X ($CAD5500) and Storm turntables ($CAD9000), both fitted with Acoustic Signature TA2000 tonearms ($CAD3400).
The system played music with a very good sense of momentum, and on a recording by singer-songwriter David Munyon, the solo voice had fine presence, without a hint of harshness or exaggerated sibilants. But the lower mids/upper bass seemed a little too prominent, resulting in a darkish presentation overall. That coloration followed the system to a recording of Louis Armstrong singing "I Ain't Got Nobody," in which the double bass was too thick and dark. I guessed it might have been a setup problem, and made a mental note to revisit the room later in the show to see if it had been corrected.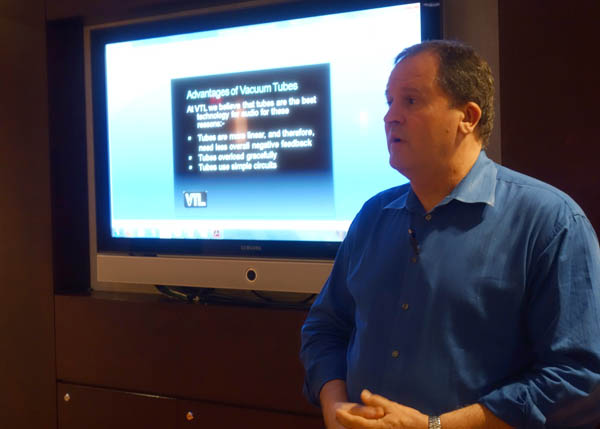 A number of interesting seminars were scheduled for this year's Montreal Audio Fest, and while show-coverage commitments usually prevent me from attending such things, I made it a point to take in the first portion of Why Tubes by VTL co-founder Luke Manley. He made a great case for tubes—not that he had to, either for me or for the other people in the standing-room-only audience—noting that "tubes are linear voltage amplifiers that don't require much correction" and offering insights into the distinctive ways in which VTL's engineers put them to work.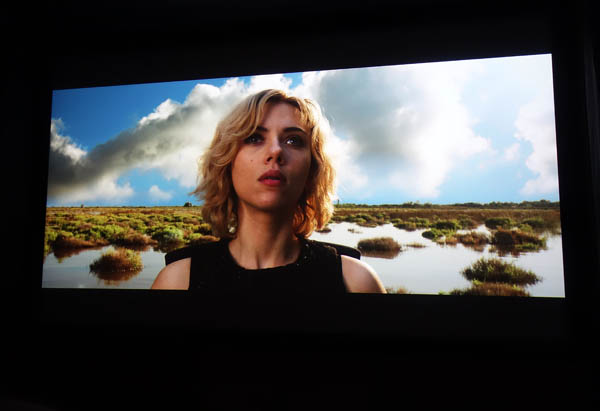 During his seminar, Luke Manley also noted that he and his wife and business partner, Bea Lam, don't own a television set or a home-theater system, preferring to just listen to music at home. I was reminded of that observation at my very next stop—the large conference room sponsored by JVC-Kenwood, which was devoted to nothing but home theater. That being said, when I entered the darkened room, the film in progress was Lucy, which I greatly enjoyed when I saw it a couple of years ago—and here the picture was crisp, the colors vibrant, and the sound playback not too boomy or over-the-top. Gear included a JVC DLA-X790RB projector with 4k e-shift5 (I don't know what that means—I'm just copying that information from an e-mail I received), plus a Panasonic DMP-UB900 UHD player and Pixelgen THX HDMI cables.