Art's First Day in Montreal, Part 1
I love Tannoy loudspeakers—more than most other brands that have been around since the late Devonian, their contemporary products retain many of the qualities that made their forebears famous, not to mention great—but for whatever reason, every year in Montreal I tend to visit the room co-sponsored by Quebec Tannoy distributor Zidel Marketing fairly late in the show. This year they were first on my list, even before going record shopping.
I was not disappointed. As last year, the demonstration system was built around the huge Tannoy Kingdom Royal ($CAD90,000/pair), with a Krell Digital Vanguard streamer-D/A processor ($CAD6000) as the source. (Music files, as well as Zidel's Roon core installation, resided on a QNAP NAS.) Amplification products were McIntosh's C1100 two-chassis tube preamp and MC601 mono amps, plus MPC-1500 power conditioner. All cabling was from Wireworld.
Listening to Muddy Waters' "You Gonna Need My Help," I was happy to hear the strengths I traditionally associate with Tannoys—the sound was punchy, tactile, and altogether musical, with an enormous sense of scale—melded with decidedly modern soundstaging qualities, including what seemed to be a realistic recreation of the sound of the recording space.
Also on hand, but not in use, was this pretty McIntosh 252 integrated amp, which I felt compelled to photograph.
Mere weeks before I traveled to Montreal, I received review samples of Luna Cables' Red speaker cable ($CAD3600/2M pair), and have I been extremely impressed: the cotton-sheathed Reds, which are hand-made with tinned-copper conductors, seem to love my system, and vice-versa, wildly saturated tonal colors being the pairing's most apparent windfall. So it was with pleasure that I saw that same cable being used in the room Luna Cables shared with Yamaha, whose flagship NS5000 loudspeaker ($CAD17,000/pair, plus $CAD600/pair for their custom Skylan stands) sounded fine: on Louis Armstrong's "St. James Infirmary"—the rare, perhaps even unique show-demo chestnut that is both sonically and musically transcendent—I once again heard a convincing portrayal of the recording space. Even more convincing were the presence of the musicians and the sheer believability of the music. I remembered thinking, when I heard the same speakers last year, that the sound occasionally came close to being spitty without quite doing so—and this year, that tendency, if it had existed at all, was nowhere in sight. (If there was a flaw, it was a very light excess of bass—and I enjoyed it, God help me.)
The source component in use was a vintage (ca 1984) Yamaha GT-750 direct-drive turntable, whose stock arm was fitted with a Koetsu Black cartridge; this also did a fine job with the posthumous George Harrison collection Early Takes Volume 1, which was a revelation for me. (On an alternate take of "I'd Have You Any Time," the drums leapt from the mix with good, attention-grabbing, soul-stirring impact—and the system teased from George's performance of an Everly Brothers number a sincerity, a heartfelt quality, that I find difficult to describe, but that brought me this close to tears. Nice.
By the way, Yamaha's new GT-5000 turntable—with belt-drive rather than direct-drive—will be available later this year.
Nabil Akhrass—who worked alongside his renowned father, the late Nizar Akhrass, at May Audio Marketing—took some time away from the hi-fi business, and has now returned to the fold to lead the home-audio division of Ontario-based Gemsen, distributors for Krell, Dynaudio, Wireworld, Elipson, and other brands. Here Nabil poses with models from Dynaudio's new line of wireless loudspeakers. In front are the Music 1 ($US549), in blue, and the Music 3 ($US699), in red; behind them are the Music 5 ($US849), and, behind that, the Dynaudio Music 7 ($US1099).
Imported from France by Gemsen is the Elipson Carbon turntable ($CAD1250), which bundles a belt-drive turntable and carbon-fiber tonearm with an onboard phono stage and Bluetooth interface, plus an Ortofon OM10 moving-magnet phono cartridge.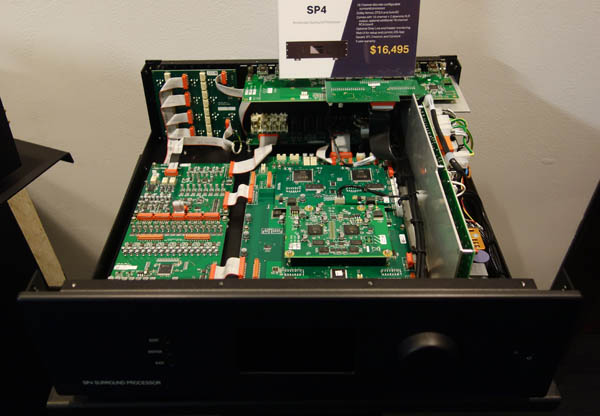 Bryston Audio, a well-loved Canadian brand that has been a mainstay of Montreal shows since the very beginning—in 2013, Bryston's President, Brian Russell, was given a lifetime achievement award by the organizers of what was then called Salon Son et Image—chose the 2018 show to introduce their new SP4 ($CAD16,495), and ATMOS-equipped surround processor: the company's first.
The company also demonstrated a complete all-Bryston system, which Brian Russell told me had a retail value of approximately $CAD46,000. Included were the active version of the Bryston Model T loudspeaker, with BAX-1 electronic crossovers; 21B power amplifiers; BP-26 preamplifier; BIT-20 surge protector; BDA-3 D/A processor; and BDP-3 digital player. The system was fine enough—extremely open and clear, with a good balance between bass and treble, although the latter extreme made itself too well known on some vocal sibilants—that I forgot myself and began to enjoy a Lou Reed song. Really!
At the Audio Precision display, I found what I'm getting John Atkinson for Christmas this year, assuming I win the lottery: a new product called Thor's Hammer ($US11,500), which is an ear simulator for use in testing headphones. It is supplied with differently sized pinnae, of course.
A close-up of one of Audio Precision's interchangeable ears. I removed it, with permission, thinking it would be funny. It was not. It was so not.