Recording of December 1984: Beethoven: Symphony 9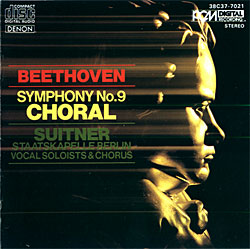 Beethoven: Symphony 9 in d, Op.125 ("Choral")
Berlin Staatskapelle and Rundfunkchor, Otmar Suitner, cond.; Dietrich Knothe, chorus master; Magdaléna Hajóssyová, soprano; Uta Priew, contralto; Eberhard Büchner, tenor; Manfred Schenk, bass.
Denon CD383C7-7021 (CD).
This is a positively stunning performance, abetted by one of the best-sounding orchestral recordings on CD to date.
I have long felt that the best reading of Beethoven's Ninth ever committed to records was an antique Columbia 78 set with the Vienna Philharmonic and Felix Weingartner (later released on an abominable-sounding LP: SL-165). I almost hate to day it, because the oldest idols die the hardest, but Suitner's is better! This is a monumental, consummately joyous Ninth that leaves the listener with a wonderful feeling of elation. If the orchestral playing is at times a little less than world-class and a couple of the soloists not quite up to star level, so what? This may well be the definitive Ninth on CD, both interpretively and sonically.
Recorded June 12–19, 1982, in the Studio Christuskirche, Berlin, the recording is almost impossible to fault. There is depth, breadth, perspective, appropriate (not overblown) spaciousness, superb balance, and the combination of warmth, richness, and effortless detail that I hear at live concerts, but oh-so-rarely from recordings. There is none of the usual evidence of multimiking, but one artifact suggests that it may have been used when the men's chorus backs up the soloists, it sounds several feet closer than when it is singing with the rest of the choir.
Instrumental timbres are superbly natural, the double basses have a gloriously grunty Vroom! to them, and the cellos and violas have the watered-silk sound of the real thing. The impression of a live performance that all this adds up to has to be heard to be believed—particularly by those who still believe CD sound is unmusical.
In short, this is a hands-down winner, and would be a strong contender for our second "Definitive Disc Award," had it not been for the slightly less than virtuosic playing. (Our last "Definitive Disc", three years ago, was for the Mobile Fidelity Elgar Falstaff.) Even so, it's definitely Top-of-the-Pile. If you have a CD player, run, don't walk, to your nearest source and buy this CD. If you don't get the analog version. Congratulations, Denon.—J. Gordon Holt