Jeff Rowland's Aeris DAC Impresses
My sleeping room at the Tech Center Marriott was next to the Jeff Rowland Design Group's sound room. The night before the show started, though I wasn't kept awake, I was puzzled by the low-level, low-frequency noises coming through the wall. When I went into the room after the show had begun to take a listen, JRDG's Lucien Pichet, who for many years had been a stalwart at Avalon Acoustics, explained that they had been breaking in the system. This comprised Raidho D1 speakers, driven by the Continuum S2 400Wpc integrated amplifier ($9800) via Cardas Clear cables, with source the Aeris D/A processor ($9800) hooked up to a Bryston BDP-1 file player. The components were supported by one of the impressively built Harmonic Resolution Systems racks.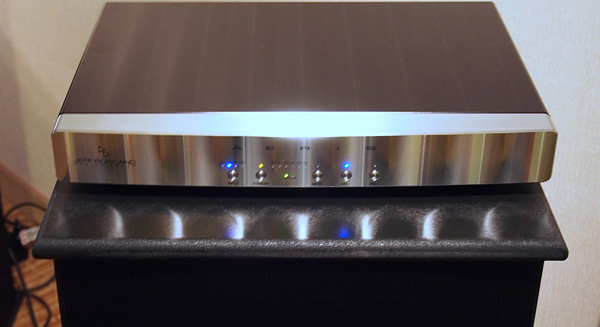 The Aeris (above) uses a 24-bit AD1862 DAC chip for each channel and can accept data up to 192kHz via S/PDIF and 96kHz via Toslink and USB. The USB input uses the ubiquitous TA1020 receiver chip but rather than use it in asynchronous mode, uses a proprietary mode based on what Lucien called a feature of "TI's hidden architecture." DSP realized in a FPGA is said to eliminate jitter, or at least reduce it to a vanishingly low <10ps. A nice touch is that the volume control is implemented by varying the DAC chips' reference voltage, thus preserving digital resolution as the level is reduced.
The sound is this room on a harpsichord rendition of a Bach Well-Tempered Klavier piece was superbly uncolored, with impressive detail, though a German piece for bass voice and orchestra unmasked a low-frequency room mode.