Benchmark Debuts High Dynamic-Range Amplifier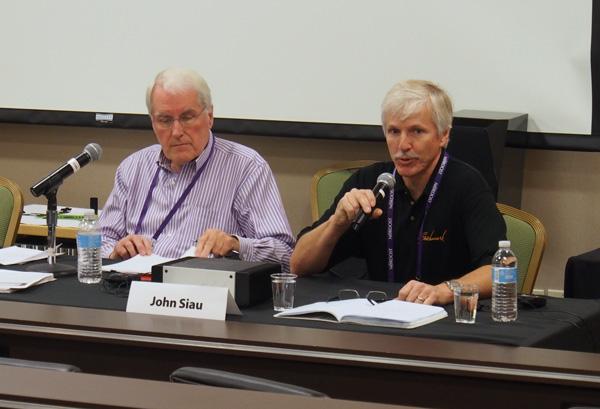 John Siau of Benchmark (right) and Laurie Fincham of THX (left) gave a provocative presentation on the final morning of the show, entitled "Why Most 24-bit Audio Systems Still Deliver 16-bit Performance." The thesis was that even with D/A processors capable of operating with a dynamic range >20 bits, there is still the resolution bottleneck imposed by the amplifier. As I have pointed out in
Stereophile
's reviews, amplifiers with a sufficiently low noisefloor and a sufficiently large maximum voltage swing to equal hirez audio's dynamic range are a) rare and b) necessarily expensive. Benchmark, using the unique, high-efficiency, feed-forward amplifier modules designed by Laurie Fincham, Owen Jones (the twin brother of TAD's Andrew Jones), and Andrew Mason, that I wrote about in my
2012 CES report
, aims to address both those issues.
The Benchmark AHB2 amplifier, named in honor of the company's founder, Allen H. Burdick, who passed away just before the show, has a dynamic range claimed to approach 130dB, and outputs 100Wpc into 8 ohms, 170Wpc into 4 ohms and can be bridge to produce 340W into 8 ohms. THD+noise is said to be <–108dB relative to full output at 1kHz. John Siau explained that the THX modules are operated in a mode that gave the lowest noise and distortion rather than the maximum efficiency I wrote about in 2012. A key to the low THD is the use of 0.01%-tolerance resistors at critical points in the circuit. A switching power supply is used, Siau feeling that this was optimal because all the power-supply spuriae will be out-of-band and therefore more readily filtered. It also means that the ubiquitous 60Hz magnetic interference from conventional supplies, which you can often find in my amplifier reviews and is picked up by ferrous parts in the circuit, is absent.
The AHB2 is made in the USA and will be available in December. It is shown below with the excellent Benchmark DAC2, which is scheduled to be reviewed in the February 2014 issue of the magazine. Price was still be decided; it is expected to be about $2500.