Jason Visits the Big Boys at RMAF
To paraphrase a classic early English song by Thomas Arne, "Where the big boys go, there go I." Thus to the Marriott's lobby and mezzanine, where many of the biggest systems found spaces congenial to their size, didst I head.
There I discovered, among setups magical and mediocre, that Hingham, Massachusetts-based distributor High Fidelity Services was producing one of my Best Sounds of the Show. Deserving of honors were Verity Audio's Lohengrin IIS loudspeakers ($133,000/pair), mated with the North American premiere showing of the Verity Audio Monsalvat Pre-2 preamplifier ($35,000), Verity Audio Monsalvat amp 60 ($58,000), cables from Signal Projects Audio and Vibex, and Vibex Granada Dual DC and Alhambra AC Mains power filters ($5000). Together they revealed a most impressive range of colors and supreme sense of spaciousness on a Reference Recordings classic, Chicago Pro Musica performing Stravinsky's L'Histoire du Soldat. The sound was absolutely beguiling.
The Pre-2 is a DAC/preamp that can decode PCM up to 32/384 and DSD up to 256, while the Amp 60 is a 60Wpc class-AB amp. I am very eager to discover how the Monsalvat Pre-2 might sound in my reference system.
With the addition of a TW Acustic phono preamplifier ($18,000) and a TW Acustic AC Anniversary turntable with Black Night upgrades and two TW 10.5 arms ($47,000) outfitted with Ortofon A95 ($6500) and Ortofon Cadenza Mono ($1280) cartridges, the system drew an impressive sense of space, along with a touch of warmth, from an LP by Dead Can Dance. At least two other people I encountered at the show were also wowed by the beauty of this system's presentation.
Moving toward the other end of the price spectrum, a $17,000 total Wyred 4 Sound system danced with Acoustic Zen Maestro speakers ($43,000/pair) to produce very smooth, midrange-strong, non-fatiguing sound. Colors were a little muted, but listening was such a pleasant experience that I can imagine many an audiophile finding nirvana with Wyred 4 Sound's new Roon-ready music server ($2999), Recovery USB reclocker ($199), new PS-1 modular power supply ($624), STP-SE Stage 2 preamplifier ($3749), new statement Nextgen amplifier ($3625), and new DAC-2v2SE 10th anniversary ($4499).
PS Audio's Paul McGowan was on hand to provide an advance listen to the forthcoming PS Audio P20 PureStream Power Plant ($TBD), which is expected by January 2018. An integral part of a system that included PS Audio's DirectStream Memory Player ($5999), DirectStream DAC ($5999), BHK Signature preamplifier ($5999), BHK Signature 300 monoblock amplifiers ($7499/each), P10 Power Plant ($4999), and AC12 power cords, PS Audio's front end mated with Focal Sopra No.3 loudspeakers ($19,999/pair), REL Acoustics 212/SE subwoofers ($3999/each), and MG Audio Design Planus interconnects and speaker cables to draw very impressive, tight bass from the Telarc recording of Copland's Symphony 3.
While there was also good bite to the brass, I didn't find the sound as involving as I had expected. Music from Brian Bromberg was plagued by grayness. After my own CD of pianist Murray Perahia playing Handel yielded far more color, I learned that Paul was playing demo CDs that he had ripped via iTunes. No wonder!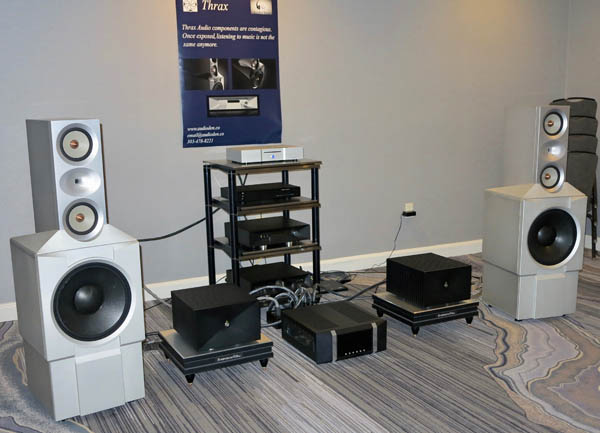 The familiar pairing of Thrax and Enklein lived up to expectations for superior sonics. Sarah McLachlan sounded splendid, with all ranges of voice and accompaniment evenly produced and equally inviting. Switching to an orchestral rendition of Scheherazade, the sound was also even, warm, and decidedly full-range.
Doing the honors in this "What's not to like" system: Thrax Lyra ($19,600/pair) and Basus speakers ($40,600/pair), Dionysos preamp ($19,600), Maximinus DAC ($30,800), Teres mono amps ($30,800/pair), and Ares and Enyo Modular Audiophile Systems ($11,600/each); Symposium racks and stands; Antipodes DX music server ($7500); Sound Application Powerline conditioner ($20,000); and Silversmith Audio speaker and interconnect cables and Enklein power cords and digital cable.
To showcase their latest LPs, Acoustic Sounds set up an excellent system that included Sony loudspeakers, the gorgeous-sounding, one-of-a-kind Pass VFET amplifiers that Nelson Pass gifted to Sony in thanks for their transistors of the same name, an SME 3012 turntable with V-12 arm and Koetsu Onyx cartridge, and Stellavox tape deck. The sound on Johnny Hartmann's One in Every Life and another LP from Art Pepper was immaculate, smooth and warm, with an excellent range of colors.
Although Lou Hinkley of Daedalus Audio offered ample reasons why his sound wasn't up-to-par—the room had yet to be fully treated, and one tube in the DAC was an inferior replacement for another that broke in transit— I thought it the best sound that I can recall hearing from the pairing of Daedalus loudspeakers with ModWright Instruments electronics and WyWires cabling. I loved it.
Drawing the most attention was the debut of Daedalus's dual cabinet, 74" tall, 98dB sensitive, full-range Zeus loudspeaker (price TBD, probably over $30,000/pair). This is a novel design, in that the speaker is stacked upon a passive air chamber that is designed to produce smooth bass. Which is exactly what it did, and more.
Along with Daedalus Audio DiD-SPK and DiD isolation devices, WyWires/Daedalus Power Broker AC distributor ($2495) and WyWires cabling, the system included ModWright Instruments' Ambrose A30 30W class-A tube monoblocks ($16,000/pair), new Ambrose One class-A, balanced, reference tube preamp with external dual-mono power supply ($12,000), PH 150 tube phonostage ($7900), and tube-modified Oppo UPD-205 player/DAC ($2500 for mod, $1299 for unit). Files of music from both Michael Hedges and Jennifer Warnes sounded warm, lovely, and extremely musical. Ditto for the vocal and instrumental sonorities on Paul Simon's "Diamonds on the Soles of her Shoes." This system's winning musicality deserved far more of an extended audition than I was able to provide in a schedule that included covering 54 exhibits in three days.