The Fifth Element #75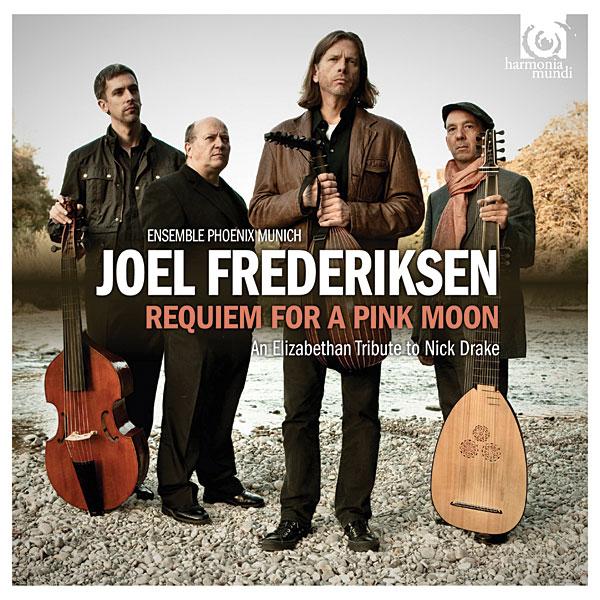 It's once again time for holiday-gift recommendations. These 12 go roughly in order of ascending price, from the very affordable to the rather unaffordable. To be included, a gift had to strike me as being exceptional in quality while also representing excellent value for money. But by "excellent value for money" I don't necessarily mean low-cost; I mean a high return on investment.
12. Requiem for a Pink Moon: $19.98
The idea of classical bass Joel Frederiksen and Ensemble Phoenix Munich's putting together an Elizabethan tribute album to British singer-songwriter Nick Drake (1948–1974), performed on early instruments, might strike you as daft, as it did me. But it works. It's the real deal. There was a melancholic plaintiveness to Drake's music that is not at all far from the Elizabethan temperament. Frederiksen sings both beautifully and unselfconsciously, but what makes this recording one of the most affecting I have heard in years is that the interleaving of Drake's songs with Elizabethan laments and parts of a Gregorian-chant Requiem Mass makes such a powerful connection to the universal human experiences of loss and grief, and not just to a particular artist. Buy one for yourself, and buy several to give as gifts. (CD, Harmonia Mundi HMC 902111)
11. The Dharma at Big Sur: $22
I devoted my August column to recordings of unfamiliar treasures from my Fantasy Symphony Season reader write-in competition. Deciding which of them was the single best holiday-gift recommendation was a tough call. Certainly, Antonio Pappano's fine recording of Puccini's Messa di Gloria, Preludio Sinfonico, and Crisantemi (Chrysanthemums) is tremendously attractive. Enrico Bronzi's recording, with I Musici di Parma, of Nino Rota's Cello Concerto 2, Concerto for Strings, and Clarinet Trio is also very engaging. And who can resist Arthur Bliss's A Colour Symphony? But the appeal of those discs is pretty much confined to classical fans. I wanted a recommendation with broader reach.
So I settled on John Adams's concerto for six-string electric violin, The Dharma at Big Sur, with the composer conducting the BBC Symphony (footnote 1). I believe the work will appeal not only to classical fans, but also to fans of fusion, progressive rock, world music, and New Age. Soloist Tracy Silverman's note bending is very reminiscent of electric-guitar technique, while the concerto's rhapsodic, modulation-free structure may strike rock fans as somehow familiar. At the risk of oversimplification, if you liked John McLaughlin's original Mahavishnu Orchestra, you might like The Dharma at Big Sur.
Be that as it may, this is a great concerto that deserves more exposure. The companion work is My Father Knew Charles Ives, which is interesting, but not as crossover-friendly as The Dharma at Big Sur. (2 CDs, Nonesuch 79857-2)
10. Jazz on a Summer's Day: $26
Bert Stern is best known for having taken, for Vogue magazine, some 2500 photographs of Marilyn Monroe over the course of three days, just six weeks before she died. What Stern is far less well known for is having produced an art film about the 1958 Newport Jazz Festival. (Stern also took a handful of production stills for Stanley Kubrick's 1962 film of Nabokov's novel Lolita. Although Sue Lyon's iconic red-framed, heart-shaped sunglasses were Stern's inspiration, the sunglasses appear only in promotional materials, not in the film itself.)
I enthusiastically reviewed John Fass Morton's book Backstory in Blue: Ellington at Newport '56 in the September 2010 issue. The 1956 Festival put Newport on the map as an international destination for outdoor jazz performances, and revived Duke Ellington's career. Two years later, filmmaker Aram Avakian (brother of Columbia Records producer George Avakian, who supervised the soundtrack recording) collaborated with young fashion photographer Stern on this film. Stern later said that he wanted to make a movie before he was 30. Stern was in charge of cinematography, Aram Avakian of editing, and both are listed as the film's codirectors.
The visual result is immensely attractive. It looks like a succession of 1950s fashion, glamour, and nightclub still shots interspersed with day-in-the-life vignettes filmed on the fly, from a solo cellist playing Bach in a boardinghouse room to children on a playground. There are also "Impressionistic" shots of moving water and of undulating reflections in the water. Many scenes are framed "dramatically," and the colors are oversaturated, as in a 1950s magazine spread.
Adding to the visual interest is the fact that, that summer, the America's Cup international yacht races were being held in Rhode Island Sound, off Newport. (As far as I can tell, most of the shots are of spectator rather than competitor yachts.) This is more an art film than a documentary. There is no dialog or voiceover narration, only occasional stage announcements and a radio interview or two. I think it fair to say that Stern's innovations have had a continued influence on generations of art documentaries, such as Winged Migration, and on films such as Steve McQueen's Le Mans (footnote 2).
Jazz on a Summer's Day is as much about one imaginatively constructed summer day and the evening that follows, as it is a music-performance documentary. That's what gives it its wider appeal. Stern was fascinated by the social juxtapositions the Festival occasioned, so much of the film is devoted to people watching. My favorite performance is Anita O'Day's daytime set.
Other headliners include Louis Armstrong, Mahalia Jackson, an impossibly young Gerry Mulligan, Dinah Washington, George Shearing, Thelonious Monk, Sonny Stitt, Jimmy Giuffre (whose surname is misspelled "Guiffre" in the credits), and Chico Hamilton. (Chuck Berry appears, but his performance of "Sweet Little Sixteen" strikes me as belabored and out of place. Duke Ellington also performed, as did Miles Davis, but neither was filmed; permission to film them and others was not forthcoming.)
The music was separately recorded on magnetic tape. The DVD soundtrack is in Dolby Digital stereo and 5.1-channel mixes. (The soundtrack CD is available as an import.)
This DVD preserves, as in amber, a lost era. Not to be missed. (DVD, New Yorker Video 16500; Soundtrack CD (Spanish import), Soundtrack Factory 33539)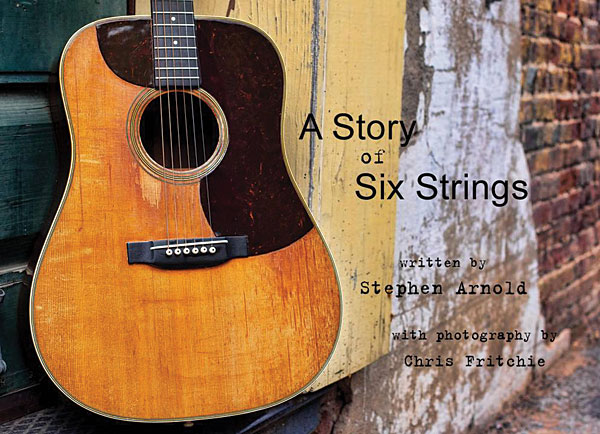 9. Stephen Arnold: A Story of Six Strings: $40
One of my favorite bits of publishing-industry jargon is coffee-tabler, aka coffee-table book—anything from a large-format offering from the National Geographic Society to a large-format art book. This is a guitar-history-nerd coffee-tabler that is surely a winner. A Story of Six Strings is the result of a collaboration of composer and musician Stephen Arnold and photographer Chris Fritchie. They placed guitars from Arnold's extensive personal collection of performing and historical instruments in environments that resonate with their history; in one image, a 1934 Martin 018 leans against a rusted-out pickup truck at sunset.
---
Footnote 1: Adams uses the word
dharma
in the Jack Kerouac sense, which is so vague as to be meaningless. Or rather, it means anything you want it to. In his liner notes, Adams says his inspiration was the first vista of the Pacific Ocean from the heights at Big Sur. "For a newcomer the first exposure produces a visceral effect of great emotional complexity. . . . [a] sense of liberation and excitement, an ecstasy." All fine and good, but the word for that is
epiphany
. But there's nothing in Adams's notes about dharma in the Hindu sense of one's duty to perform those good behaviors and pious acts believed necessary for the preservation of the universe's order.
Footnote 2: Stern took poetic license in two respects. First, he presents performances that took place over several days and evenings as though they all took place on the same day. Second, because he did not have the resources to shoot enough interiors and transitional scenes in Newport, he later staged scenes on Long Island to look as if they'd been shot at Newport during the festival. That explains why one scene prominently features Brooklyn's Rheingold beer. In Rhode Island at the time, it would have been nothing but locally brewed Narragansett.
But I can't hold a grudge against Rheingold, first of all for the Wagnerian resonance of its name. Rheingold also was one of the brave and few corporate sponsors of Nat King Cole's television show—one of the first, though five years after CBS's The Amos 'n' Andy Show, with a black star. Good for them. Furthermore, one of the first "supermodels" was the very first Miss Rheingold, of 1941: Spanish-born Eugenia Lincoln "Jinx" Falkenburg. (Hers was as good an example of an apotropaic (ie, designed to avert evil) nickname as any—and one that seems to have worked.) In the 1940s and '50s, the annual selection of the new Miss Rheingold generated the kind of excitement that the cover of Sports Illustrated's swimsuit issue does today.