The Entry Level #29 Page 2
Some audiophiles will insist that appearances are largely insignificant; that when considering any audio component, what matters most is sound. Other audiophiles will go even further and say that sound is the
only
thing that matters. But
this
handsome and more rational audiophile believes that today's portable headphones must succeed in several competing areas: In addition to providing good sound, they must also be durable, comfortable, and attractive. After all, the things are going to be
worn
on your own lovely head.
In terms of look and feel, the Aviators hold their own against B&W's P3s ($199.99), but can't match the more mature, more sophisticated Sennheiser Momentums ($349.99). Weighing approximately 7oz (200gm), the Aviators also rested lightly and comfortably over my head and ears: I wore them for almost the entire six-hour flight from Newark to Las Vegas and never felt fatigued—a point that should go a long way in describing their sound (but I'll get to that in a bit). The Aviators are also tough: Day after day, I stuffed them into tote bags, crammed them into briefcases, and wrapped them around my scarfed neck; despite their joints loosening up a bit, the headphones maintained their structural integrity.
I have a few complaints: When tapped, the Aviators' metal frames ting and their plastic earcaps tock. Similarly, when the nylon-braided cable made contact with any part of my body or clothing, it made an unpleasant rustling sound. And as far as sound isolation goes, the Aviators fell somewhat short of the B&W P3s, and far short of either the Harman/Kardon CL ($199.95) or Beats by Dr. Dre Solo HD ($199.99) 'phones—wearing the Skullcandys, I was always aware of train announcements, random chatter, and traffic sounds. But, as I mentioned earlier, I'm not interested in complete isolation from the external world. I'd always rather listen to headphones that are momentarily challenged by external noises than a pair that are permanently handicapped by internal weaknesses.
Their suboptimal isolation notwithstanding, the Skullcandy Aviators were just as easy on the ears as they are on the eyes, with an intelligently balanced sound that not only impressed from the start but rewarded long-term listening. The Underachievers' "New New York" provides a fine example. The song begins with a simple four-note electric-guitar riff and some distant, warbling organ. These are soon supplemented by a bit of percussion—an aluminum bat tapped against the post of a chain-link fence, perhaps—then joined by a distorted, lower-pitched guitar playing sustained power chords; a male voice intoning "east coast, east coast, east coast"; and a subtle hint of a boom box producing some crunchy beats. Finally, the initial guitar riff is altogether erased by a third guitar, this one delivering a screeching, high-pitched solo. Through the Aviators, all of these elements occupied distinct spaces in the mix and were rendered cleanly and clearly, with no single aspect of the music given undue emphasis or sacrificed at the expense of the whole.
Although the Aviators' sense of space was not as accomplished as that of the Harman/Kardon CLs—the Aviators' soundstage being significantly narrower and shallower, perhaps due in part to the CLs' superior sound isolation—they nonetheless impressed me with their excellent clarity and presence. And while the Aviators' highs were sharper edged than those offered by either the H/K or the B&W P3 'phones, they never sounded inappropriately etched or fatiguing. Far from grating, the Aviators' sparkling highs were commendably clean, and complemented by a slightly soft, slightly loose lower midrange and bass. But don't for a second think that the Aviators lacked low-end impact: About 20 seconds into "New New York," when the beat finally drops, the Aviators conveyed all the body, weight, and sheer force any sane person could hope to get from such a damn good-looking headphone. And more: they did it without mucking up the rest of the music.
It was enough to make me wonder if Anne Hathaway knows exactly how great her headphones are. Seriously: I'm not yet quite normal enough to know. Do normal people buy Skullcandy Aviators because of how they sound or because of how they look?
While Skullcandy insists that every aspect of the Aviator was designed with consideration for sonic performance, they also acknowledge that their customers' first priority is style. But if the typical Skullcandy customer is at first attracted by the headphones' good looks, they'll stick around for the good sound. A rep for Skullcandy told me, "Over time, listening to music, a user will become generally aware of a product's acoustic performance. A well-tuned [design], which has good balance, frequency-curve smoothness, [and] good [dynamic] range, will be appreciated."
Time will tell if Skullcandy's right. I'm willing to bet that they are. With any luck, thanks in part to products like the Aviator, more and more beautiful people will gain firsthand knowledge of true high-fidelity sound.
Quality, or something like it
The people are out there, and they're certainly willing to pay for quality, or something like it: In January 2012, the retail analyst firm NPD Group reported that premium headphones, defined as those priced above $100, accounted for more than $340 million in sales through November 2011: "Products emphasizing brand, sound quality, and celebrity endorsements have driven much of that growth." No surprise there; what I found fascinating is that many purchasers cited "brand" and "sound quality" as almost equally important factors in their buying decisions. According to NPD's consumer tracking service, 48% of all headphone purchasers said that sound quality was "extremely important" or "very important," while 54% said that brand was their deciding factor.
But who are these people? Are they audiophiles? For an answer to that question, look no further than the next most important factor on the purchasers' list: water/sweat resistance (35%).
Let's take for granted that "sound quality" refers not to just any old type of sound, but to good sound. One can postulate, then, that a headphone manufacturer needn't actually provide high-quality sound: As long as the brand draws a clear line between itself and the mere idea of good sound, the brand will thrive. And the "premium" brands stand to gain the most. According to NPD Group's Ben Arnold, sales of headphones priced over $100 now account for 43% of all headphone revenue, and consumers who've made the initial investment are coming back for more: On average, owners of premium headphones own 2.3 pairs.
Can you guess which headphone brand is the most widely loved of all? The answer is as clear as the gracefully printed "b" on the side of every Beats by Dr. Dre model: In 2012, the company controlled 64% of the $100-and-up headphone market.
In February, I reviewed the Beats by Dr. Dre Solo HD headphones, and though I didn't care for their sound, I never lost interest in the product: If so many people are wearing Beats, the company must be doing something right.
In fact, Beats is doing a lot right. In developing the look and feel for all their models, Beats turned to industrial designer Robert Brunner. A former director of industrial design for Apple, Brunner now leads San Francisco's Ammunition Group, a highly regarded design company whose clients include Amazon.com, Coca-Cola, Nike, and Sony, among other household names.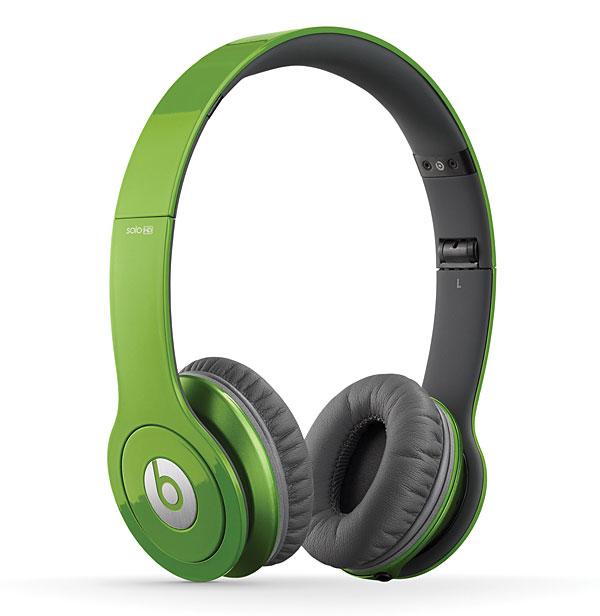 As much as it bores me to see so many people wearing slightly different versions of the same Beats headphone, I'm not immune to the design's appeal. Actually, I'm as seduced by it as anyone: I couldn't help but admire our cover model's flawless metallic-blue finish, its tasteful charcoal accents, the apparent perfection of its size, shape, and ergonomics. It's almost impossible to find headphones that fold as neatly or travel as tidily as the Solo HDs, and all Beats models are extremely durable—which, I suspect, at least partly accounts for their popularity among professional athletes. And while comfort is ultimately a personal matter, I found the Beats Solo HDs just as easy to wear as the larger Skullcandy Aviators.
But industrial design is one thing, acoustic design another. It was easy to trace Beats' industrial design back to Brunner; I had no luck, however, uncovering the person or persons behind the company's acoustic design. Are we to believe that Dr. Dre engineered the Solo's sound? Jimmy Iovine? The question came up, and was pounded to a bloody pulp, in a recent Gizmodo article, "Beat by Dre: The Exclusive Inside Story of how Monster Lost the World," in which Sam Biddle explores the erstwhile relationship between Beats by Dr. Dre and Monster Cable. Did Beats play a significant role in engineering their headphones' sound? Biddle quotes Monster CEO Noel Lee: "Absolutely not. They don't have any engineers." Lee's son, Kevin, who, according to the article, orchestrated the Beats-Monster collaboration behind his father's back, picked up the thread: "Monster engineered the sound in Beats by Dre headphones. They told us what they wanted and they approved it, but we made that sound possible."
When I asked Beats about this, I was told that more than half of their company is currently focused on building products, from the conceptual stage through final production. While Beats always controlled the marketing and final tuning of their headphones, the company now also handles all manufacturing, distribution, and sales. According to my source, today's Solo HD model was developed by Beats' engineers. The exterior design of the original, Monster-branded version has been retained in its entirely, but the sound quality was improved with changes to the earpads and drive-units.
Yet in direct comparisons with Skullcandy's less expensive Aviators, the Solo HDs lacked clarity, detail, presence, and drama, with notably muted highs, a more congested midrange, and overripe bass. All of that would be fine if the Solo HDs somehow managed to convey the music's heart and soul, but they didn't. They missed subtle things, like the schoolboy humor of Eminem's song-stealing verses in Dr. Dre's own "Forgot About Dre," and obvious things like the fist-pumping thrill of Bruce Springsteen's "Thunder Road" (both 256kbps MP3s from download) when, at 2:38, the dueling guitars, drums, and piano all meet in ecstatic embrace.
What the hell, man? Really, how do you miss that?
You miss it because of what I believe to be compromised acoustic engineering. You miss it because of poor tone color, lack of dynamic range, and an unrefined sense of momentum and flow—the stuff that turns sound into music.
So how to explain Beats' absolute control over the luxury headphone market? Why do I, despite intimate knowledge of their sonic limitations, still want to own a pair of Solo HDs? It's simple: I'm just like everybody else, more or less. I want them not so much for what they do, but for how they make me feel when I'm wearing them. Sound isn't everything—sound is never everything—and that's especially true when considering a pair of headphones for portable use.
But which is more important: Sound or style? Beats Audio insists that the two go hand in hand and are equally valued by their customers. Talking to Time magazine's Josh Sanburn for an article recently published on Time.com, Beats CEO Luke Wood explained, "If you're wearing a pair of Beats, it says, 'Music's really important in my life.'"
I think he's right, and had he stopped there, I'd have taken no offense. But he continued: "It's no different than somebody wearing a Run DMC T-shirt and Adidas shoes, or the guy who always wears a Metallica T-shirt."
I know that guy—he can air-drum his way through most of "St. Anger," but he's never heard of Kill 'Em All.
I get the point—today I'm wearing a Frank Ocean T-shirt, yesterday it was Vivian Girls—but for every diehard Run DMC or Metallica fan, there are countless others who are familiar with only the biggest hits, who wear the gear only because they want to fit in. There's nothing wrong with that, but their clothing has little to do with music or sound.
A reader recently criticized Stereophile for devoting valuable space to products from Beats by Dr. Dre. But the way I see it, no product more deserves our attention. To paraphrase CEO Luke Wood, every person wearing a Beats headphone is a potential audiophile. The high-end audio industry needs to embrace these people by designing products that fit their lifestyle. And Stereophile's readers need to stop being afraid of that word. High-end audio is a lifestyle, too. The biggest difference between us and them is that we've somehow forgotten what it feels like to be young and cool.
That's sad, but things are turning around: Companies like Audioengine, AudioQuest, B&W, Meridian, Music Hall, NAD, PSB, Rega, Sennheiser, and Sonos are connecting normal music lovers with even the most radical audiophiles, making the world a little wilder and more beautiful, with a real dedication to music, sound, and style. Add Skullcandy to that list.
Beats, like Apple, can provide better sound quality. But will they? And if so, when? I would love to see a new $200 headphone from Beats, one that retains the outstanding look and feel of the Solo HD but delivers true high-quality sound. If production costs need to be cut, limit the finish options to a single color. Make it black. Call it the Solo Hi-Fi. I'd be the first one to buy a pair.
For now, though, when I want to combine high fashion with high fidelity, I'll reach for the Skullcandy Aviators.