The Entry Level #2 Page 2
Like other lower-priced models in Rega's line, the RP-1 is basically a plug-and-play design: Setup couldn't be simpler. I placed it atop my Polycrystal equipment rack, making sure the turntable was level. The RP-1's bias slider is preset to accommodate the 1.5–2gm tracking weight of the factory-fitted Ortofon OM5e cartridge. The turntable is designed so that all the user need do is install the included balance weight at the end of the RB101 tonearm, then rotate the weight until it's as close as possible to the stop point. This is extremely simple to achieve—there's no guessing or measuring involved—and should take no more than a few seconds. The Rega's power cord and phono leads are hardwired at the rear of the plinth, making external connections almost mindless. Plug the phono leads into the phono inputs on your amplifier (or the moving-magnet inputs on your external phono preamp), plug the AC cord into the wall or power distributor, lay the included wool mat over the platter, and you're all set.
I placed the Wharfedales exactly where the DeVore Gibbon 3s had sat before them: atop 24"-high Target stands, secured by small globs of Blu-Tack, and angled so that their pretty front baffles pointed directly at my listening position. They looked so good like that, nicely matching the dark brown of my IKEA Expedit LP shelves and adding a sophistication, or maturity, to my listening room that I hadn't known was missing. In exchange for the Furutech Evolution speaker cables, I prepared 7' lengths of RadioShack's 14-gauge, braided Flat Megacable speaker wire ($24.99/50', catalog no. 278-1273). I opted against adding banana plugs or other connectors, and instead simply removed small amounts of the cable's clear plastic insulation to expose sufficient lengths of the braided copper wire. In place of the Furutech interconnects I used RadioShack's stereo audio cables ($6.99/3', catalog no. 42-487). On the bottom shelf of my Polycrystal rack I placed a Cambridge Audio Azur 340A integrated amplifier (40Wpc, $359 when last available) borrowed from Uncle Omar. The build quality of this amp is surprisingly robust—it's less tinny than my Exposure 2010S. And atop the Cambridge I set Stereophile's review sample of NAD's PP3 USB phono preamplifier ($199).
I powered everything up and realized I had to address an important question: Which LP to play first?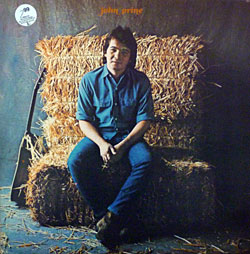 The answer came easy. It would have to be John Prine's self-titled debut (LP, Atlantic SD 19156), a recent gift from my friend Michael Lavorgna. Prine was only 24 when the album was released in 1971, but, as Kris Kristofferson enthuses in the liner notes, Prine "writes like he's two hundred and twenty." Yeah, there's a great and tender wisdom in songs like "Spanish Pipedream," "Sam Stone," "Angel from Montgomery," "Six O'Clock News," and "Donald and Lydia," to name just a few from this masterwork. It's a mystery how someone so young could compile such an outstanding collection. The world is rich.
I started at the beginning, with "Illegal Smile," and my first thought was that this simple little system was doing nothing wrong. In fact, it was doing a lot right: Prine's gentle twang was nicely centered between the Wharfedales, within a surprisingly wide and fairly deep soundstage; the bass guitar was round and taut, the snare drum had good snap, and everything was moving along at a sure and steady pace. Though the system may have lacked some low-end solidity and impact, there was a seductive ease to the overall sound, a quality that would soon lead me happily through many sides of music.
From John Prine I traveled to Archie Shepp and Horace Parlan's Trouble in Mind (LP, SteepleChase SCS1139), recorded by Freddie Hansson on February 6, 1980, at Sweet Silence Studios, in Denmark. Some might write this off as "an audiophile recording"—ie, great sound and little musical value—but that would be an unfortunate mistake. Harlan is deep in the pocket here, and Shepp blows rings of notes as if they were so much cigarette smoke, chuckling and wheezing and whistling into the dark night like some sad blues singer whose woman has just left him for some other musician not half as good. It's all so lovely and lazy, and though Shepp's tenor sax through this system wasn't as round or as full-figured as I've heard it through my previous system, there was enough resolution that I could hear his deft fingers on his horn's keys—and I had no problem following pianist Harlan's graceful blues runs on numbers like the sultry title track and the determined "Goin' Down Slow."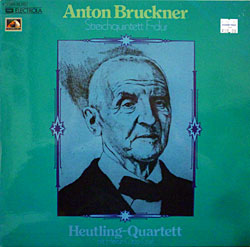 Something about that last song—I won't say what—reminded me of a book I've just finished reading, Gabriel Garc°a Márquez's hot and dirty Memories of My Melancholy Whores. In it, the protagonist, an old columnist and music writer, decides to give himself, on his 90th birthday, the gift of a night with a virgin. The book should be required reading for all audiophiles—as awful as it might sound, it's actually the story of love's crippling and inspiring power, a power that persists even as we approach our final days. In the novel, our bachelor enjoys listening to records. One scene has him "taking refuge in an exquisite program of music: Wagner's Rhapsody for Clarinet and Orchestra [sic], Debussy's Rhapsody for Saxophone, and Bruckner's String Quintet . . ." He describes the last as "an edenic oasis in the cataclysm of [Bruckner's] work," so I knew I had to purchase it (Heutling Quartet with Heinz Otto Graf on EMI Electrola 1C 063-29 100, recorded in 1972.)
From the very start, this music is ravishing, and while it's a chamber work, it approaches in texture and scale the ambition of a symphonic piece. The system seemed to struggle a bit during climactic passages, just hinting at a loss of cool and loosening its otherwise firm grip on the music, but nevertheless managing to follow the lithe, sweeping movements, their swelling themes and sudden downrushes.
This put me in a mood. I carried on from album to album, creating my own exquisite program of music, including Four Tet's There Is Love in You (LP, Domino WIGLP 254), Mark McGuire's Living With Yourself (LP, Editions Mego 107V), and January's "Recording of the Month," the Sun City Girls' Funeral Mariachi (LP, Abduction ABDT045). Each filled my listening room with warmth and light, and memories of people, places, and events that I hold dear. The system played no favorites, but seemed to enjoy each recording as much as I, showing its versatility and impressing me with its ability to impart to me the music's emotional substance, leaving me with nothing to do but look into the sunshine, and with nothing to worry about but what to play next.