Day 3: Countdown to the Finish
With the clock ticking, and three floors to go, I made a hard choice. Skip virtually everything on the lobby level, do what I can of the rest, and promise with all my heart and soul that if I am privileged to return to AXPONA presents Audio Con Chicago in 2016, I will start on Friday on the lobby and lower levels. In doing so, I will remind myself that even though this year, I heeded requests from several manufacturers who pleaded that their rooms would not be up to snuff on Friday, and thus started on the top, that if they're on the lower levels next year and they're not ready for prime time, there's precious little I can do about it.
After happily discovering that there were only three rooms to blog on floor 2, first up was the huge exhibit from one of the most dedicated dealers in the business, Doug White of The Voice That Is. Doug showcased a not-too-shabby system that included several premieres: the US premieres of one of only two pairs yet available of Tidal Audio Contriva G2 loudspeakers ($69,690/pair as shown in Macassar Ebony with options), Tidal Audio Presencio preamplifier ($77,990/pair), and Tidal Audio Impulse 380W monoblock amplifiers ($64,990, presumably for the pair).
These were joined by the Aurender W20 Reference music server ($17,600), Bricasti M1 DAC with USB ($8995), a full complement of Purist Audio Design Luminist Revision cables, Silver Circle Audio Tchaik 6 Isolation Transformer ($9995), and, from StillPoints, an ESS Grid rack (from $8600), Ultra SS Isolators ($249 each), Ultra 5 Isolators ($699 each), Ultra 6 Isolators ($899 each), and a bank account's worth of Aperture Room Treatment ($699 each). Not the most expensive system at AXPONA, but certainly among them.
Doug told me at the pre-show Exhibitor/Press Reception that he was racing back to his room to rip everything down and start from scratch. As he explained later, "The room is horrible. I had to change the whole system orientation. What's missing is more foundation. The bass is not the way I want it to be, and I've sacrificed soundstage and imaging. There's a hollow air-conditioning column overhead. I can't control the room; it's not like my home studio."
This brought back memories. Two years back, when I encountered the big Von Schweikerts in a huge, far higher ceilinged room in AXPONA's first Chicago location, which also had a huge, hollow air conditioning duct above it, the sound was a mess. I also recall an AXPONA in Jacksonville where the ever-resourceful Jeremy Bryan of MBL was stuffing mattresses along walls and, if he had been able, might even have stuffed them into the big hollow area in the ceiling that covered half the room and was mucking royally with the sound.
All of which is to say, maybe this is what accounted for the wiry top, lack of warmth, and monotone color palette on an excerpt from Stravinsky's ever-colorful Firebird Suite, and the hard edge and unattractive timbre of voices on an excerpt from Haydn's The Seasons. A Holly Cole track in 24/192 had more midrange than these other two selections.
As you may have gathered from the rooms I've covered, I have occasionally transgressed, and covered products that were not brand new, and that were in fact blogged rather extensively at either CES or the Montreal Show. Such is the case with Wilson Audio's Sabrina loudspeaker ($15,900/pair), which I first heard at Definitive Audio in Seattle, and which Robert Deutsch blogged in Montreal. But I was so eager to again experience how such a small footprint loudspeaker could produce such a big sound with so much solid low end that I wanted to take a second listen.
Happily, the use of new KT150 tubes in the Doshi Audio V3.01 160W monoblock amplifiers ($26,995/pair), which boost its power from 160W to 225–230W, was my excuse to enter one of two rooms sponsored by Paragon Sight & Sound of Ann Arbor. Teamed with Doshi Audio's V.30 line stage preamplifier, photo stage preamplifier, and tape stage preamplifier ($15,995 each); dCS Puccini upsampling player with uClock; a ton of Transparent Generation 5 cabling plus other Transparent products that I'm not going to list because I'm not sure if the price supplied is for each or for all; and, from HRS, the SXR 1921 3V audio stand ($4995), RXR 1921 3T3 audio stand (R3895), S1 1921 isolation bass ($2195), M3X 1921 isolation base ($2895), and other products that I didn't audition, the midrange was to die for.
Playing the same Vivaldi recording that I had auditioned last on the second floor, during a listening session that is generating lots of comments as I type, I heard gorgeous air and proper tonalities from Rachel Podger's baroque violin, harpsichord, and other period instruments. There was some extra room-related resonance around the bass, but it could not distract from the beauty and rightness of the presentation. Throwing the Channel Classics recording of Mahler 2 into the mix confirmed that the Sabrinas can reproduce a huge symphony without sweat (although I doubt with produce the fullness, dynamic range, and detail of their bigger sisters and brothers, let alone approach the sheer size of the image). Wilson claims a room-averaged frequency response of 31Hz–21kHz: ±3dB.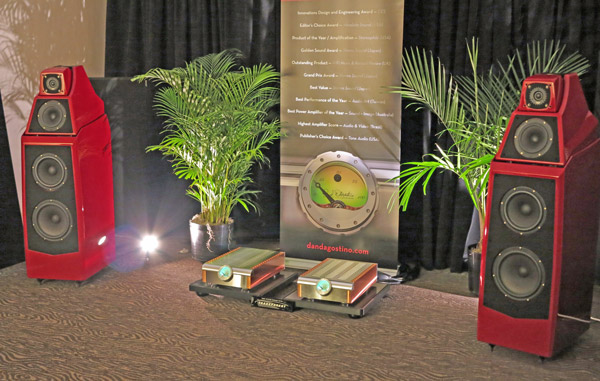 Having only encountered the Daniel D'Agostino Master Audio Systems Momentum Integrated amplifier ($45,000) and newer Momentum Lifestyle amplifier in passive display, I decided to give them a listen in Paragon Sight and Sound's other room. There I was, grooving to the sound of Wilson Audio Alexia loudspeakers, dCS four-stack Vivaldi system, Transparent cabling, and HRS racks when I realized, after less than five minutes, that the fabulous sound I was hearing from Billy Holiday, Jose James-I must get his recording of "When I Fall in Love," which sounded so heart-touchingly soft, warm, and beautiful-and violinist Julia Fischer was produced by D'Agostino Momentum monoblock amplifiers ($55,000/pair, I think) and other products that are neither brand new nor lacking coverage in from Stereophile. Gaah! Another passive display of the products I wanted to hear. So, great sound or not, out of the room I went.
While Stereophile usually leaves headphone show coverage to our resident expert, Tyll Hertsens, editor of InnerFidelity.com, I used an interview with Tyll as my excuse to take a peak at the Ear Gear Expo. After asking Tyll if he could introduce me to the new headphone product at AXPONA he found most compelling, he pointed to the forthcoming HiFi Man HE-1000 cans ($2999), which he loves, and which should ship in a month.
First, Tyll mentioned the background of company founder Fang Bian, 35. "On the one hand," he said, "he's an academic. On the other side, he's an audiophile. When he was very young, wanted a Walkman but couldn't afford it. So, while he was still in middle school, he found a recyclery where he could pick through discarded Walkmans. He brought them home, refurbished them, and started a business selling them to friends and others."
After receiving a Fulbright Scholarship and PhD in Organic Chemistry, specializing in nano technology, Fang Bian has brought academic research and audiophile obsession together in the HiFi Man HE-1000. The headphone's diaphragm is so thin and light that if you drop it, it floats like a feather and takes 30 seconds to fall. And its sound, thinks Tyll, is superb.
Tyll also pointed to the forthcoming HE-560 headphone amplifier ($899), which he called a "solid headphone amp" that he was just beginning to explore. It "might be a little bright," he acknowledged.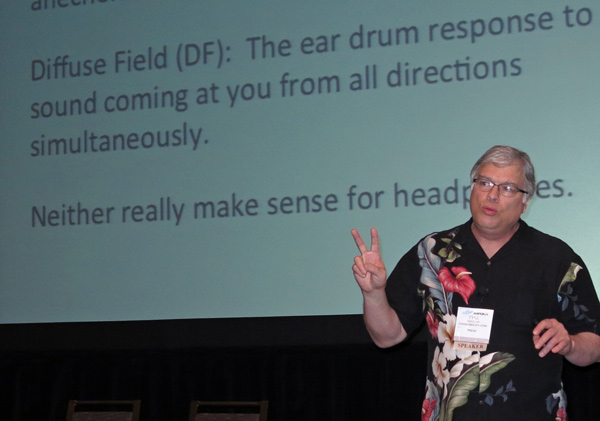 Speaking of Tyll, until now I have neglected to mention the debut of his hour-long seminar, Finding Flat: How to Interpret Headphone Measurements. Presented Saturday afternoon, and illustrated by a copious number of color slides, its goal was to show people how they could have fun looking at squiggly lines. Judging from the large turnout, there are a lot of people looking for a good time.
Here's the write-up from the show guide: "If you find yourself a bit confused looking at all the squiggly lines of the headphone measurements published at Innerfidelity.com, editor Tyll Hertsens will provide an in-depth presentation of how to interpret all the plots and graphs. Understanding headphone measurements help you sort through headphones that are obviously bad, or that might be good, but not to your taste. There it stops, however; from there on, it's your ears that count."
Speaking of Tyll Hertsens, he was one of many editors on the Ask the Editors panel. Seen left to right, yours truly, Contributing Editor at Stereophile and certified senior; Tyll, whose credits you know from the previous blog; Myles Astor, Senior Assistant Editor for Positive Feedback, and Executive Editor at avshowrooms.com; Greg Weaver, Senior Writer, The Absolute Sound and Enjoy The Music.com, Senior Editor Positive Feedback Online; Steven R. Rochlin, Editor and Creative Director, Enjoy theMusic.com; and moderator Dr. David W. Robinson, Editor-in-Chief, Positive Feedback Online engaged in a lively if sparsely attended seminar on guaranteed low attendance Sunday afternoon. What was most interesting about the hour-long gathering is that, once the discussion of high-resolution downloads, questionable provenance, inferior and intentionally unidentified rips, and master recording quality got going, not a single person asked about equipment. The most frequently asked question I've ever encountered while on one of these panels, "What rooms do you think sounded the best?" never came up. Instead, the entire discussion was about music, and how best to access great high-resolution recordings with surety.
Isn't that a great thing?
And you thought this coverage couldn't descend to an even lower level. Think again. After Ask the Editors, down to the Lower Level I went.
First up: Merrill Audio Advanced Technology Labs Veritas monoblocks ($12,000/pair), complete with WaveForm Fidelity HE Mk.II power cords, Stillpoints Ultramini Rises, and Synergistic Research fuses; fabulous looking Sadurni Acoustics Staccato horn speakers ($40,204/set); Blue Smoke Entertainment Systems' Black Box II Windows-based silent PC ($3500), 384/32 digital output converter ($2950), and MSB Signature Transport power base ($3495); MSB Technology DAC-V with Diamond Platinum power base ($41,875 as configured); Running Springs Dmitri power conditioning ($4800); Merrill Audio ANAP and AudioQuest Diamond cabling; Harmonic Resolution Systems rack and isolation bases; and room treatment from Svana Miljöteknik and SMT. Try saying that in one breath.
This story has two parts. On my first listen, I thought strings a little wiry, and some of the images a little cardboard cut out. This surprised me, given my first exposure to this system a year ago when, without the Blue Smoke component, it sounded exceptional. Then, the boys accessed the Behringer DEQ 24/96 equalizer that comes with the speakers, and that controls the crossover point, slope, gain, and more, and brought up the bass just 1dB. The difference was striking. The presentation grew far more rich and colorful, and highs less edgy. The overall warmth of the sound was very, very nice. A DSD transfer of Arnold Symphonies was one of the standouts I heard.
If, perhaps, the MSB DAC had been fully broken in at the time of the show—it was one of those unavoidable situations, I'm told—the room would have sounded as spectacular as it did in 2014.
Channel D offered, on passive display only, the newest iteration of its Stereophile Class A Recommended Seta phono preamplifier, the Seta piccola Mk.2. Described by the company as "a balanced, direct-coupled, battery powered, ultra-wide bandwidth, ultra-low distortion, low-noise preamplifier" for both MM and MC cartridges, you can read all about it here.
Esoteric/Cabasse exhibited, for the first time in many a year at a US Show, the Cabasse La Sphère ($180,000/pair, which Michael Fremer reviewed in 2008). An eye-opening, 4-way, full-range, coaxial design, it comes complete with a 4-way active crossover. Using cables from AudioQuest, power distribution from Shunyata Research, and room treatment from Auralex Acoustics, La Sphère accompanied a full Esoteric system that included-take a deep breath-Esoteric's Grandioso P1 SACD/CD ($40,000), two Grandioso D1 monoblock DACs ($40,000 total), G-01 rubidium master clock ($23,000), Grandioso C1 preamp ($40,000), two Grandioso M1 300W monoblocks ($42,000 total), A-02 200Wpc stereo amplifier ($18,000) for the upper midrange, and A-03 50Wpc stereo amp ($13,000) for the tweeter.
I spent a while listening to the company's extremely expensive Esoteric SACD Classic remasters of historic opera recordings. Both on their own remastering of Böhm's Le nozze di Figaro and my beloved Avie SACD of mezzo-soprano Lorraine Hunt Lieberson, I missed the warmth I'm accustomed to hearing. The lower bass foundation at first seemed to be missing, but was actually overpowered by a disturbingly sharp edge around voices. This sharp leading edge is very hard to reproduce properly, and often gets overemphasized by both speakers and rooms. There was a lot of detail and subtle nuance, as well as unquestionable beauty in the midrange. But the electronic glare was off-putting, and made it difficult to relax into the music.
It was already past closing time when I reached the room shared by MBL, Synergistic Research, and United Home Audio. As tired as I was, one listen had me virtually kicking off my shoes and going along for the ride.
First up, courtesy of MBL's Reference Line Combination B—111 F Radialstrahler loudspeaker ($42,000/pair), 30 year-old 6010D preamplifier ($26,500), 10 year-old 9008A balanced monoblock amplifier ($60,600 total), 1621A CD transport ($28,000), and 1611F 24/96 DAC ($28,700)—and a whole lot more that I'll talk about below, was a Nat King Cole master tape. Once MBL's Jeremy Bryan adjusted the radiators that flanked the loudspeakers, the sound was phenomenal. I'm accustomed to hearing Cole croon softly, so hearing him ramp up this voice and energy several notches was a major delight.
Greg Beron of United Home Audio of Washington, D.C. then explained that he had taken a Phase 12 tape deck, and thrown into it every cost-no-object modifying goody that would work, using his 10-year old MBL Reference system for voicing. That includes Synergistic Research point-to-point wiring, dual-mono amps, no capacitors in the output, and an outboard power supply equipped with two overbuilt toroidal transformers. The outboard power supply eliminates all noise from transformers that would otherwise sit within the deck. Price is $8900–$25,000, depending in no small part on quality of tape head employed. (Entry-level uses stock heads, while costlier models use special tape heads made to Beron's specs. He says a low-impedance, low-output head sounds the best).
Which leads to the significant contribution from Synergistic Research. Start with a new PowerCell 10 UEF ($5995) with optional FEQ PowerCell equalizer ($995). Then add little HFTs all over the walls, the new Black Box that works on low frequencies (price TBD), and the company's fairly new Atmosphere Level 4 interconnects and speaker cables, as well as Element CTS power cords. This is the company's new cabling that doesn't use active shielding, which means you have less of those little blue lights that light up the room (and also make it much, much easier to find the bathroom door in the middle of the night). (Apologies if I got any of models, prices, or descriptions wrong; there was no price sheet supplied for anything besides the MBL gear.)
Next up came a ¼" tape version of an unidentified Wilson Audio disc. The huge brass thwacks were something to behold. Bryan turned the volume up and up, yet there was no pain. This without a single active woofer or separate subwoofer anywhere in the chain. The absolute control and beauty of the deep, subwoofer-less sound had the potential to send many a subwoofer manufacturer running out the door in shame.
We played lots more music, but I forgot to write down what. I was having too much of a good time. Need I even say that, tucked away on the Lower Level, MBL, United Home Audio, and Synergistic Research produced one of the Best Sounds of this Show?