AXPONA Opens Strong
Yes, I too noticed the signs, liberally distributed around the baggage pick-up area at O'Hare, that welcomed visitors to four shows other than AXPONA. "AXPONA 2015 NOT WELCOME IN CHICAGO!"
quipped Michael Fremer
in his first show blog for AnalogPlanet.com. Judging from the comments so far, it's clear that some readers forget that behind Mikey's New York outrage lies a seasoned stand-up comedian.
Carlos Estevez may not have envisioned himself as a poster boy for AXPONA 2015. But when, on the airport shuttle to the Westin O'Hare, the veterinary microbiologist by training told me that he had flown in from Ames, Iowa in hopes of finding replacement speakers for his B&W CM9s, and that he could not possibly audition either the Zu Audio Druids or Harbeth 40.1s in or near Ames, the raison d'être for regional audio shows became clear.
Yes, hotel set-ups present multiple challenges to exhibitors and visitors alike, and there are so many shows that manufacturers, distributors, and dealers must make choices as to where to exhibit. (Even Stereophile will have to miss the Vancouver Show scheduled to take place between AXPONA and the Munich show.) Nonetheless, without these shows, a helluva lot of North American audiophiles have no opportunity to audition the equipment that interests them. Nor do the increasing number of online-only companies have any place to strut their stuff in public.
Carlos has already heard the Druids, the Harbeth HL5s—the 40.1s are not here—and a whole lot more. We are reuniting on the second day of the show, before he has to fly home, so that we can learn what, if anything, he's decided upon. Stay tuned for a report on his quest.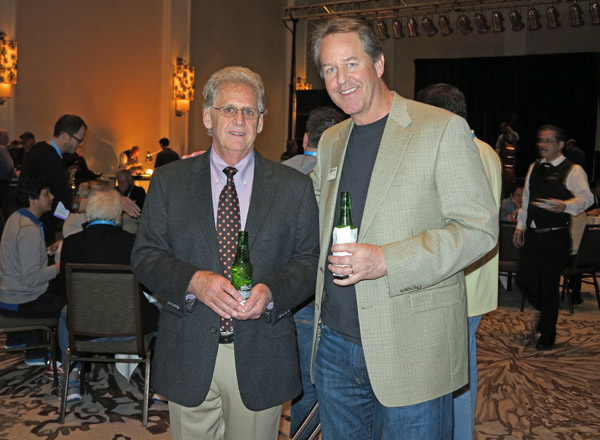 They may not be blood relatives, but together, Steve Davis of AXPONA (left) and Joel Davis of JDEvents make for one dynamo team. Shown standing near the entryway of a large ballroom filled with noshing and chatting exhibitors, the two men welcomed industry and press to Thursday night's most pre-show reception.
The place would have been packed to the gills if everyone who showed up had stayed for the duration. But this being a show, large numbers of exhibitors indulged in a quick sip'n'nosh before dashing back to their rooms to once again wrestle with the demons of muddy soundstage, bass booming, highs that could sear the paint off many a Jaguar, and all the rest that leave press scratching their heads as they wonder, is it the equipment, the room, or both?
My assignment: cover new products, or newer products that Stereophile did not fully cover in our CES 2015 and Montreal show reports. My fate: make some exhibitors happy, disappoint others, and prepare for multiple assaults when systems I did audition do not, for one reason or another, make the final cut. Strategy: Start at the top, on the 12th floor, one of the show's six floors of active exhibits, and work my way down to the lower level.
First room, inviting me in as I disembark the elevator, has, in the back, Simaudio's new Moon Neo 280D ($2200). An entry-level 32-bit DAC, it can process PCM up to 384kHz, 256 DSD (Quad-rate DSD), and, through its more limited Bluetooth aptX input, up to 16/96. Features include remote control, fully balanced circuitry, and 7 inputs, including one for a MIND streaming module that can be added later ($600).
Heard via the Neo 430 HA headphone amp used as a preamp ($3500) and Dynaudio's Excite X14A active loudspeakers ($1999/pair), a Red Book file of Ron Carter and Bill Frisell, and a DSD file of Bryan Ferry's "Slave to Love" both sounded quite full, with a very nice, warm midrange. A nice little package that will make any desktop music listener very, very happy.
In one of Musical Surroundings' many outstanding rooms, the new, substantially built and priced Magico Q7 Mk.II loudspeakers ($229,000/pair), sporting what Magico's Alon Wolf calls "the best tweeter we've ever made," sounded wonderfully smooth and warm, and very clear and inviting on a recording of Schubert's "Trout" Quintet. Equally beautiful was the guitar on an LP of Leonard Cohen's "Live in Frederickton," and an LP to 24/96 rip of a movement from a Mendelssohn symphony.
The midrange was especially strong, and highs a bit toned down but exceptionally beautiful. How much of this had to do with the sound damping, thick black draping that enveloped the entire room was anyone's guess. But even with the draping, the depth on the Mendelssohn LP was balm to the ears. All told, this was a system that let you listen into the soundstage, and discover the wonders of acoustic music-making. No other system I auditioned on the first day of the show left me feeling that I had entered into the soundstage and into the music so completely, rather than observing it from the outside.
All this was possible, of course, because of the brand-new Aesthetix Saturn Romulus Eclipse DAC/CD player ($13,000), equally new Aesthetix Saturn Rhea Eclipse phonostage ($13,000), Aesthetix Atlas monoblock amplifiers, Kubala-Sosna cabling, and other goodies. Garth Leerer of Musical Surroundings explained that the main distinguishing factors of the new top-of-the-line Saturn line Aesthetix products is the use of expensive Stealth caps, and greater power supply isolation and damping.
Tucked into the back of one of the Musical Surroundings rooms was Atoll's new MS 100 streamer/DAC ($1500), HD120 class-A headphone amp/preamp/Bluetooth streamer ($995), and MA100 10W class-A amplifier ($850). "You'd be surprised how good Bluetooth sounds," Atoll's Emilios Mandalios told me. Listening to the first two, a 24/96 file of Charlie Haden and Antonio Forcione, heard over headphones while the big Magicos played at the other end of the long room, sound very lovely.
The combination of Sonus Faber's Chameleon towers ($2000/pair), Sumiko's new Sonus Faber-designed 2.9 subwoofers ($1000/each), Wadia's new 321 decoupling computer with preamp and DAC ($3000), Wadia's A315 150Wpc stereo amp ($3500), and Nordost Frey 2 cabling produced a fine midrange and a more lively top than from the Magico/Aesthetix system in the other room. The subs, which include 350W class-AB amplifiers, can extend from 30–120Hz. In this case, they began to roll off quickly below 38Hz.
Now to turn to the new Sonus Faber Lillium loudspeakers ($70,000/pair), which were introduced a few months back at CEDIA. One step down from the company's flagship Aida loudspeaker, the Lillium consists of four drivers housed in two separate pieces that are married as one. (I know that's a bit confusing, but it does make sense, and it's what I was told.) The entire back of the speaker serves as a subwoofer, and contains a 10" driver and 10" passive radiator. The front, in turn, has three ported 7" woofers, a 6" midrange, and 1.25" Apex damped dome. All drivers are designed from scratch by Sonus Faber of Italy and built to their specifications by ScanSpeak.
Driving the striking Lilliums were the same eye-catching Audio Research G series electronics I heard at Definitive Audio's Music Matters event in Seattle. There, they were paired the new Wilson Audio Sabrinas. In both cases, the sound was quite wonderful.
Less impressive, due to a brighter top and lack of midrange warmth, was the first system I encountered on the 5th floor. Headlined by Tannoy's new DC10A Definition Series loudspeakers ($16,000/pair), whose single 10" dual-concentric driver includes an Alnico magnet system, the system also contained Stealth cabling and PrimaLuna's Dialogue tube preamp, integrated HP, and CD player.
Despite recent raves from the Pacific Northwest Audio Society for Lampizator DACs, the Lampizator Big 7 preamp/DAC ($13,500), paired with Wells Audio's Innamorata Signature amp ($15,000) and power conditioner, Gingko Audio's Claravus 7 Mk.3 loudspeakers ($9000/pair), and the first showing of DanaCable's brand new Ultra Summa speaker cables ($8900/pair), Diamond Reference interconnects ($1500/pair), and USB cable ($895) could not mask the rather bright, midrange-shallow presentation of Saint-Saëns' Cello Concerto.
Discovering my first two rooms on the 5th floor sounding far brighter and hifi-ish than anything I heard on floor 12, I began to wonder if all rooms on the 5th floor would have bright tops. To find out, please read on. . .