AXPONA/Audio Con Chicago 2015: A Major Success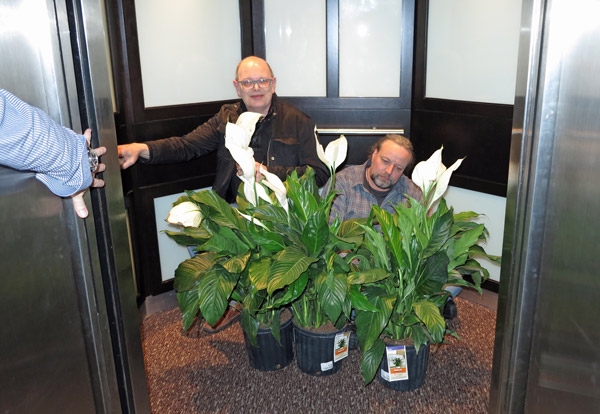 How do you measure success? Some show promoters count the number of lanyards they've given out and call those "attendance figures." That, of course, can be misleading. Exhibitors get lanyards, attendees who misplace their lanyards get more lanyards, assistants get lanyards, and maybe even people's service dogs get lanyards. I saw a coyote amble down the street the other day, and he was wearing a lanyard that claimed he was a senior editor at
Black Sheep Digest.com
.
Other show promoters smile and somehow can't come up with something more than "let's just say 2,326,873 visitors." As for the question, how many of those were "unique" visitors, which means they count as one whether or not they attended for one or more days, they respond, "Hey man, what are you, an elitist or something? Everyone's unique."
Contrast this with AXPONA's extremely well organized promoter, JDEvents, who, for the second year in a row, has come up with solid attendance figures in record time. According to Liz Miller, AXPONA/Audio Con Content and Marketing Director, "We sold 5137 tickets, an 18% increase over 2014. In 2014, we had 3133 unique visitors, and in 2015 we had 3626 unique visitors. So we have a 16% increase in unique buyers. More people are buying multi-day tickets because there is more to see."
This trend, IMHO, has a good chance of continuing next year, especially as positive buzz spreads. Again, according to Miller, "80% of exhibitors have already signed contracts for display rooms in the 2016 event." The fact that AXPONA abandoned some of its most acoustically challenging rooms, and may strive to do even more of the same in 2016 (hint, hint) is part of the reason why people are so quick to return.
I'm in no position to evaluate the entire event. Tasked with writing my on-line reports once the show closed, I spent two nights eating take out in my room, and missed every single entertainment event. I never set foot in the packed Marketplace, and only visited one booth in the Ear Gear Expo on Sunday. Damn, I missed Patricia Barber and Lyn Stanley. I missed all the other fine musicians, the large number of designer presentations in exhibit rooms, and all the seminars except the one I was on.
And I also skipped a lot of rooms. Many were skipped because they had no new products to offer, or had new products that we already covered in our CES 2015 and Montreal/Salon Son et Image 2015 reports. And others, particularly all those on the main floor and many on the lower level, were skipped for lack of time.
But I can tell you about the energy, and it certainly felt good. Visitors seemed sated, and not a single exhibitor complained to me, except about room acoustics, which are always an issue at shows. Not only that, but the attendance figures seem truthful. Any way you look at it, this was a major show, and a major success.
Here's to AXPONA/Audio Con 2016, and to the health of our community. This show serves a very large and devoted contingency. May it grow and thrive.