Music [Absolutely] Matters at Definitive Audio
Nearly 500 audiophiles descended upon Definitive Audio's Seattle location on Thursday, February 26 for the 10th Music Matters event in the Pacific Northwest. The "mother" of all Music Matters, and inspiration for all the other similarly named events that happen around the country, Definitive Audio's definitive four-hour gathering was so large in scope that it qualified as a mini-audio show. With major industry presenters including
Stereophile
's Michael Fremer (above) and John Atkinson, the evening also offered sufficient food and drink to satiate the most ravenous, and enough interesting music to ensure that even an inveterate show attender named Serinus never once experienced that "if I hear this cut one more time" feeling.
With six nicely sized showrooms filled to capacity with attendees who rotated between presentations in staggered 20-minute intervals, this was one equipment and information-packed evening. Even the lobby was doing double duty, serving as both a noshing/schmoozing space and informal showplace for the likes of Dan d'Agostino, who was showing of the new Dan d'Agostino Master Audio Systems MLife integrated amplifier/streamer; David Solomon, who must have convinced hundreds to sign up for Tidal's music streaming service; and AudioQuest, who was showing its new NightHawk headphones. While it was admittedly a challenge to get a good handle on the sound of each equipment chain when time was so short and there was so much information to share, scores of attendees left Definitive Audio with a clear sense of what equipment they intended to audition at length in the future.
Wilson and Audio Research
Peter McGrath of Wilson Audio presented the world debut of Wilson's new, excellent sounding Sabrina loudspeaker ($15,900/pair). The Sabrina should begin shipping by the end of March. It uses the same woofer as in the thrice-costly Alexia, and a similar silk-dome tweeter. About the same size as the original WATT Puppy, it's a 3-way design with ported woofer and midrange.
Dave Gordon of Audio Research showed off the company's new look in its Galileo Series (GS) GSPre preamplifier and GS150 amplifier. Both have entirely new chassis. "The GS150, which uses KT150 output tubes from Russia, is the best stereo amp we've ever made, by a huge margin," Gordon declared. The match with the Sabrina was especially felicitous because Audio Research uses Wilson loudspeakers to evaluate their new designs.
With the source an AMG Giro turntable ($10,000 with the arm, fitted with the Teatro MC cartridge at $2750), all electronics positioned on a 750-lb HRS modular rack (which Brad O'Toole described as designed by "an audiophile from birth") and connected with Transparent GEN 5 XL cabling, the sound was absolutely fabulous. First up was a sensational mono recording of "Blue Indigo," from a 1950 album by Duke Ellington, that Michael Fremer introduced as one of the first recordings made with magnetic tape.
When McGrath next played a CD of Gregory Porter singing a cappella, the man next to me was so transported by the system's mesmerizing midrange that he went, "Wow!" Whether listening to Lucinda Williams' "To the Bones," McGrath's own hi-rez master recording of the music of Leroy Anderson, Mighty Mo Rogers singing the blues, or Garth Leerer of Musical Surroundings/AMG's "Diabolus in Musica" LP of music that showcased Salvatore Accardo's violin to dazzling effect, the system impressed with its gorgeous midrange, absolutely control and authority on the bottom, and sonorous transparency on top.
Devialet's Phantom
The US Consumer debut of Devialet's expected-by-June Phantom Silver ($2400 each) analog-digital-hybrid (ADH), arrayed on prototype stands, confirmed my impressions at CES: this is one amazing music system. Introduced by Manuel de la Fuente (above) and Matt Reilly of Audio Plus Services, the Phantom works via its aggregator app to play in either mono, stereo, and 5-channel in up to 24 different zones.
The bass on Beyoncé's "Partition" (see video below) was outrageous in its strength and depth—the little Phantom descends to 16Hz—and percussion on Ben Harper's "I Want to Be Ready" was impressively sharp, clean, and fast. I heard absolutely no booming, either here or on a high-resolution organ track that John Atkinson played on the Phantoms.
Even from an up front and close seat at the very right of the soundstage, John's 24/88.2 file of Amazing Grace" by the Portland State Chamber Choir was transmitted with amazing depth, wonderful air, and a remarkably coherent soundstage. (This recording has been nominated for the Contemporary A Cappella Recording Award, which is awarded by CASA, the Collegiate A Cappella Society of America.) Hooked up to a computer source or streamer, Devialet's Phantom and Phantom Silver are poised to hold US audiophiles in their grip.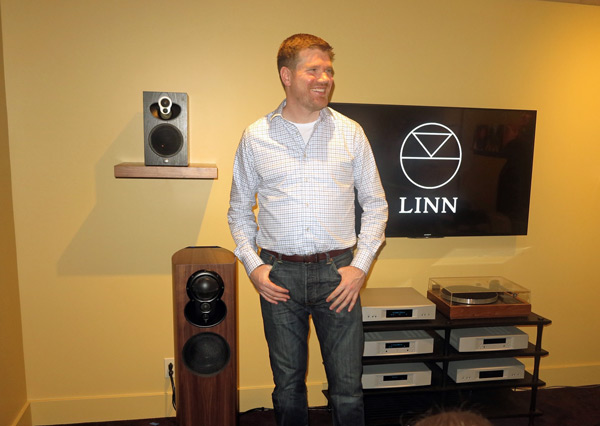 Linn
Keith Robertson, CTO Linn Products (above), began the Linn presentation by outlining the company's history. He began with the first Linn turntable in 1973, moved through its breakthrough Klimax DS computer audio foray in 2007, and then to the integration of Tidal lossless streaming in 2014.
"The business of hi-fi is about losing less," Robertson proclaimed before playing, through the Linn Akurate Exakt DSM and Akurate Exact-Akubarik loudspeakers a 24-bit version of Lorde's "Royals" and, streaming via Tidal, Ryan Adams' "Oh my Sweet Carolina."
Next, he explained how Linn eliminates time domain error-caused distortion by, first, pre-correcting for every driver in the Exakt-Akubarik loudspeakers, and then using their technology to model and pre-optimize the listening environment. After playing Lake Street Dive's "I Want You Back" via Tidal, Robertson, with the assistance of Linn's US Sales Director, Darrin Kavanagh, moved the speakers up against the wall, in far less than optimal position, and turned off Linn's optimization system. Replaying the same track, not only did bass become exaggerated, but treble also sounded far more recessed and distant.
When Robertson then re-activated optimization, but left the speakers in compromised "up against the wall" position, treble regained its natural voice, bass calmed down and balanced with everything above it, and the track sounded as good as before. This was an entirely convincing demonstration of the efficacy of Linn's optimization system.
Vienna Acoustics/NAD/Transparent
Bill Peugh of Transparent cabling began by stressing that Transparent seeks to foster total musical involvement via correct tonal balance, wide dynamic range, and a convincing sense of space. Using new Generation 5 cabling, which was created with the goal of greater dynamic range, he drew extremely natural and spacious sound from Paavo Järvi's version of Stravinsky's L"Histoire du Soldat.
After noting that Bob Ludwig's mastering studio in Maine is wired with Transparent cabling, Peugh and Vienna Acoustic/VANA Ltd's Kevin Wolff (above) played a recording of Sam Cooke sing "Lost and Lookin'" that sounded so natural that I felt totally immersed within the sound rather than listening from the outside.
NAD showed off its M12 digital preamp/DAC ($3499), a modular design whose six bays allow for technological upgrades. All control was accomplished in the digital domain. Also in use was the new NAD BluOS network and streaming module, which did a beautiful job streaming Melody Gardot's "Your Heart Is Black As Night" from, you guessed it, Tidal.
Finally Wolff introduced Vienna Acoustics' new Beethoven Concert Grand Symphony Edition loudspeakers, which just began shipping. The speaker's design obviates the need to use a crossover right in the middle of the tenor voice, as Wolff claims many more conventionally-designed loudspeakers must do. Though no tenor was forthcoming, Rhiannon Giddens' "Tomorrow is my Turn" sounded extremely natural, unforced and perfectly controlled. This was a great sounding system. Pavarotti, Domingo, Beczala, or Fabiano next time, please.
Bowers & Wilkins/Classé/JL Audio
No less than Doug Henderson, President of the Bowers & Wilkins Group, North America; Dave Nauber, President of Classé Audio; and Brian Power of JL Audio showed up for demos that included a most impressive US Debut of prototype Classé 350W class-D Sigma Mono amplifiers ($4000 each, and due in September) in a chain that also included Classé's Sigma SSP multi-channel preamp optimized for 2-channel, and the Consumer Debut of JL Audio's diminutive 10" d110 Dominion Series subwoofer, whose $1100 price makes it by far the lowest-priced subwoofer the company has ever offered. Although all the presenters subsequently cringed at the length of that sentence, as well as its questionable punctuation and syntax, it's fair to say that everyone present was seduced by the sound.
Heard through Bowers & Wilkins' time-honored 802D loudspeakers ($15,000/pair)—Henderson, who said "The best speaker is not the one that gives you the most; it's the one that loses the least," claims that the 802D is the best selling loudspeaker in the industry—plus the JL Audio d110, everything from Michael Hedges' guitar on "Bensusan" and Gotye's totally processed "State of the Art" to Vince Gill's version of the Eagles' "I Can't Tell you Why" and Karen Carpenter's beautiful "Ticket to Ride" exhibited impressive control, optimal authority, and one of the most colorful presentations of any room I visited.
McIntosh/AudioQuest
Steve Silberman of AudioQuest introduced a prototype of the company's teeny weeny, mind-blowing Jitterbug ($49 each, shipping in May). The Jitterbug is designed to be inserted into a spare USB port of a laptop, and can also be used with Airport Extreme or a NAS drive to eliminate noise from a USB bus. AudioQuest claims that, regardless of what brand cable you use, a single Jitterbug used between computer and DAC reduces noise 6–10 dB, and can reduce jitter up to 8%.
The more the merrier, it seems. You can use multiple Jitterbugs in parallel, but not in series. When one or more Jitterbugs were placed in the signal path between computer and DAC on The Lumineers' "Ho Hey," I heard more color, more depth, and more resonance around voice. Color me more than impressed. I've got to try these babies. If they have no down side, they are sure to sell like hotcakes.
Andrew Ward of McIntosh then praised the benefits of the company's line array speakers, which he claims can play loud without ever becoming noisy. He also said that while the volume level of conventional loudspeakers decreases as one moves farther away from them, a line array maintains volume and uniform delivery of sound to the back of the room.
A stereo remaster of The Beatles' "Here Comes the Sun," played through McIntosh tube equipment and AudioQuest cabling, sounded fabulous. This wasn't the fastest or the most perfectly controlled system on display, but it was definitely among the top three in the captivating musicality department.
Somewhere toward the end of this demo, Ward said, "I've been in the industry a long time, and I'm still awed by this event." I second the motion. Definitive Audio's Music Matters 10 was among the most organized and impressive displays of new and familiar equipment I have ever experienced.