Sunday Dawns on AXPONA
Sundays are always slow days at audio shows. Which is a shame, because Sunday is the day when, after several days to settle in, equipment usually sounds the best it's going to sound under show conditions.
Slow Sundays, however, are a gift for reviewers, because it means that there's a better chance of scoring the sweet spot, not having to listen over visitors who think exhibits are best treated as background music for their chatter, and encountering more relaxed (if exhausted) hosts. Hence, even though I began Day 3 wondering how I could possibly cover the rest of floor 4, all of 2, the Lobby, and the Lower Level in something like 4 hours while also leaving time for lunch and participating in an Ask the Editors panel, I did so with the knowledge that I would have an easier time discovering the best sound at AXPONA presents Audio Con Chicago.
As I was leaving the room shared by Daedalus Audio, ModWright Instruments, and WyWires, a couple sat down and said to Lou Hinkley, Dan Wright, and Alex Sventitsky, "This is one of the rooms we had to come back to hear again."
I can understand why. Listening to the classic LP, Ben Webster Meets Oscar Peterson, I heard a lovely presentation of music. The warmth was beautiful, and the top natural sounding. Although ModWright electronics have never seemed, to me, the most transparent or colorful on the planet, this particular combination of ModWright Instruments' KWA 150 Sig. Edition amplifier ($8495), Elyse tube 24/192 DAC ($6900), LS 365 'DM" two-box balanced preamp ($9995), PH 150 tube phono stage ($7900), and ModWright 'Truth' modified Oppo BDP-105D ($1200 for the Oppo + $2500 for the mod); when combined with the new Daedalus Audio Poseidon V.2 ($16,450/pair, or $21,450 pair as shown), Daedalus Audio Custom rack (from $4995) and WyWires Diamond interconnects and speaker cables, Silver Series power cords, Platinum series USB and S/PDIF digital cables (from $899), and WyWires/Daedalus Power Broker AC distributor ($2495) presented the electronics and everything else in the best possible light.
Next up was a 24/96 Jan Chapin cut from Songs of Stevie Wonder. I noted how the soundstage extended beyond the speakers, and how well the speakers controlled bass. I also noted that the man sitting in front of me was bobbing his head as Chapin sang "doo doo wop," which is always a good sign. Rhythms were as tight as, on the next cut, James Taylor's voice was warm. I did note that on full range symphonic music, the solo violin could have done with more color, and the sound of massed violins left something to be desired. Which is not to say that my overall impression was anything but very positive.
There were two things new in the Sonist loudspeaker/Snake River Audio room: décor and even pet-matching custom colors for the loudspeakers, and the new Raven Audio 20Wpc, Limited Edition, triode integrated amplifier ($3295). Together with Sonist Audio Concerto 4 loudspeakers ($6495/pair) and Recital 2 ($2295/pair) bookshelf speakers, George Warren turntable ($4800) with Mörch 4 tonearm ($3000) and ZYX Yatra cartridge ($1750), and, of course, various models of Jonny Wilson's Snake River Audio cables (which are composed of pure gold, pure silver, and pure copper), the system sounded just lovely and color-rich on Hans Theessink's version "St. James Infirmary."
The system also acquitted itself quite well on a track from an old RCA Victrola compilation of Fritz Reiner conducting what Jonny delightfully called, "Music by Angry Russians." Thank you, Johnny. I needed that.
Not playing in the Van Alstine/Salk Audio room was Frank Van Alstine's brand-new The Vision adjustable phono preamplifier ($499). "It has phenomenal dynamic range and transient response," he said while holding up the latest culmination of his 45 years in the audio business. To make things simple for consumers, set-up instructions are printed on the inside of the preamp's cover (which you presumably remove to adjust gain and loading, among other things). Frank notes that there are no caps in the main signal path of this direct-coupled, split passive EQ solid-state baby, whose high current buffered output circuits are claimed equipped to handle long cables and difficult loads.
Despite some electrical problems, the Emerald Physics tri-amped system sounded outstanding. Part of its success can be attributed to the amp used on the midrange, which was one of the first 50 units of PS Audio's Bascom H. King/BHK Signature amplifiers ($7500). The eagerly anticipated amp, a 250Wpc hybrid that combines a tube input stage with a MOSFET output stage, can be included as part of Emerald Physics' tri-amped system ($14,999 with 3 Emerald amps plus the PS Audio BHK Signature amp, or $9999 if you skip the PS Audio and instead purchase 4 Emerald amps).
The other reason for the system's sonic success is that Mark Schifter helped Walter Liederman with set-up. The company will soon offer a service where, for $250, they will supply a loaner computer, mike, and stand that customers will use to measure their room. Schifter, in turn, will use the measurements to equalize the system and fine-tune it to individual taste.
This system sounded remarkably full-range for the price. Bass was very tight and full, and colors were excellent on "The Dance of the Tumblers." Believe me, if the bass had not been tight and full, and colors less than compelling, I would have somersaulted away from what must have been the fifth airing of Rimsky-Korsakov's "Dance of the Tumblers" I encountered at AXPONA. It would have been "Go Serinus" rather than "Go Emerald Physics, Go PS Audio!"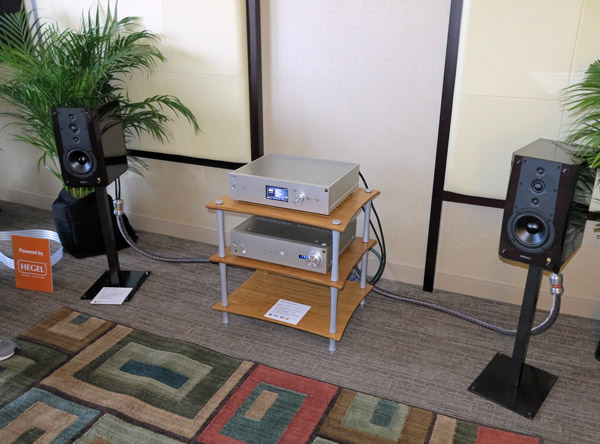 Sony, Sony, Sony. What would a high-end audio show be like without a room from Sony, and the opportunity to again share in the humility and audio knowledge of Yuki Sugiura?
Although they are not new, Sony's SS-NA5ES loudspeakers ($6000/pair) are usually passed over at shows for their bigger brethren. Here, united with the Sony HAP-Z1ES music server ($2000)—I call it the hapzy server—frequently ignored TA-A1ES integrated amplifier ($2000), and $10,000 or so worth of Kimber Kabling, I heard a beautiful low range and fine tonality on a redbook file of the Labeque Sisters playing "Malaguena" on duo pianos. The soundstage was a little flat, but the sound was certainly a major step above mass-market hi-fi. A track from M•A Recording's must hear Sera una Noche exhibited excellent midrange and a tight low end, albeit with a little grayness. Christian McBride's "Night Train" sounded very fast, with good snap.
In response to a question about consumer acceptance of "Hi-Res Audio," which Sony is promoting strongly on multiple continents, Sugiura replied, "It's not just audiophiles who are getting what hi-res is all about. Lots of consumers and custom installers are embracing it." Take that, media cynics!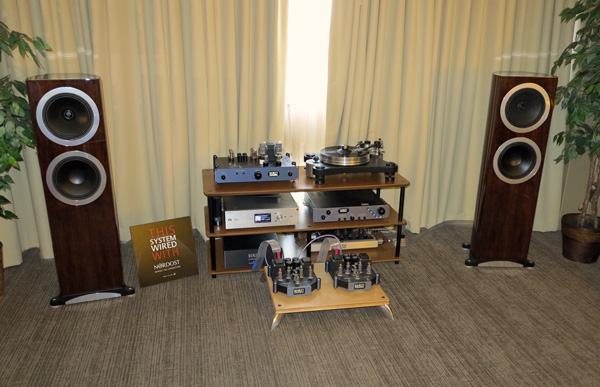 I don't know if it was room interactions or what, but I found my second encounter with Tannoy loudspeakers, this time the Tannoy DC10 ti speakers ($11,000/pair), also guilty of strong, brash, and hard sound. This time, the speakers were paired with a Manley Steelhead phono stage ($8000), Manley Neo Classic 300B preamp ($5850), Manley Mani Mani monoblock amplifiers ($4600), VPI Prime turntable ($3800) with Dynavector 20X low-output cartridge ($950), and a Nordost Norse II series cabling/QB8 AC distribution system ($1599) combo. Past listening strongly suggests that neither the Manley equipment nor the Nordost cabling was to blame.
The first show demo of Meridian's new MQA was not, IMHO, its finest showing. Hence I stuck to ogling the MQA-enabled Meridian Prime reference headphone amp ($2000) with separate Prime power supply ($1250). Both are currently shipping. Although I did not hear them, damn, the Prime (below) is a "reference-quality" analog unit that has both USB and analog inputs, and a preamp output which makes it suitable for use in a main system. (See JA's review of the non-MQA Prime here.) It can handle up to 24/192 files, MQA-encoded or not, and offers "Analogue Spatial Processing," dual ¼" stereo headphone sockets with separate wire grounding, a headphone-only mode, analog volume control, and more.
I understand there will be some very exciting announcements from Meridian at Munich. I'll be there to file a report.