AXPONA Chicago Set To Wow Friday–Sunday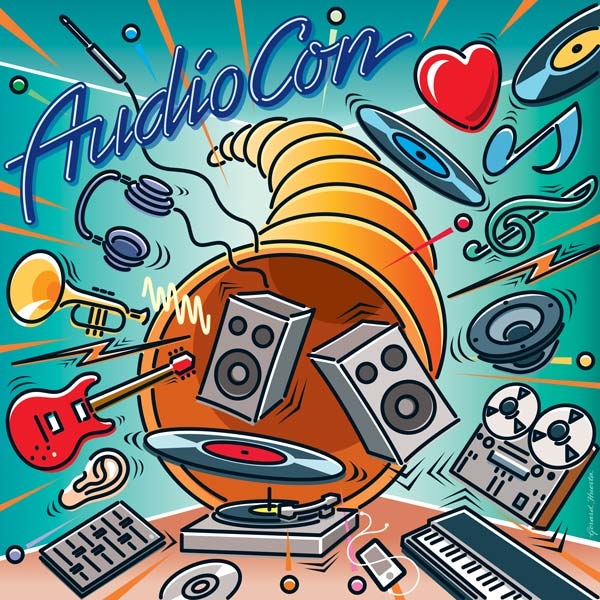 In the consumer audio show arena, the newly rebranded
Audio Con
(after Comic Con) from
AXPONA Chicago
seems on course to claim the crown as one of the three top high-end shows in North America. Taking place April 24–26 in the Westin O'Hare in Rosemont, the show is prepared to welcome a significantly larger number of visitors (pre-registration is up 30% 11 days before show opening) to 105 active exhibits (two-channel and multi-channel), plus an entire ballroom's full Ear Gear Expo (participation is up 50% from last year) and a sizable marketplace area (displays up at least 30%).
Given the somewhat sinister sound of Audio Con—shades of Al Capone and the Daley machine—"AXPONA Presents Audio Con" has launched a major PR campaign that seems to be slaying potential attendees right and left. On the Web, a controversial ad that shows a male audiophile ignoring both his wife and a seductive dancing girl in order to go down on his knees and lovingly embrace a loudspeaker has been making the rounds of social media. Chicago's three major TV network news channels plus the History Channel are running far more straight ahead, whammo 30-second spots that are equally attention-getting. There has already been an in-person appearance by one of the show's live blues entertainers on Fox News, and radio advertising is also running.
Even the show's new album cover-inspired logo, designed by legendary album and logo designer Gerard Huerta, was designed to make people sit up and take notice. It all gives hope that there will be a lot of fresh blood/first timers at the show.
A very impressive 30 dealers from the greater Chicago area and beyond are participating. Even Chicago's venerable dealership, Audio Consultants, who have previously refused to participate in shows, is making an appear at the Ear Gear Expo, helping to introduce Ayre's new Codex headphone amp to the Midwest.
Which brings us to the many special features of the show. There are so many show specials, giveaways, and special happenings that it's best to point you to the huge list here.
In addition to a host of special demos and presentations that include in-person chats with key designers and manufacturers, there are also some very special live musical presentations. Lyn Stanley, who has fast built herself into the audiophile jazz chanteuse of the decade, will chat and sing it up on Saturday, the day after the legendary Patricia Barber appears in concert. That's the same day that John Primer does his "Real Deal" Chicago blues thing. Add to that the list of special events, and it certainly does feel like the joint will be jumping.
The new product list is very, very long. While experience confirms that many of the so-called "new" products on this list, which were submitted by eager dealers and manufacturers without cross-checking by AXPONA, have in fact been shown and blogged before, some are genuine product introductions. One that will certainly attract a lot of attention, given the buzz around MQA, is Meridian's new MQA-ready Explorer2 USB DAC. Among the novel demos is one from Wireworld and Resolution Acoustics in which identical systems will play back identical material in two side-by-side rooms, only one of which will be treated with Resolution Acoustics room treatment. I'm told the difference will be startling.
The seminar list is rich. In addition to appearances by three members of the Stereophile family—Michael Fremer of Stereophile and AnalogPlanet.com, who makes three appearances in vinyl-themed presentations; Tyll Hertsens of InnerFidelity.com, who appears three times to discuss headphones; and yours truly, who appears on Sunday's Meet the Editors panel with Hertsens and others—out-of-town guests include Dr. Rob Robinson of Channel D/Pure Music, Jared Sacks of Channel Classics and nativeDSD.com, and Acoustic Analysis specialist Bob Hodas. Friday's panel, "Future Directions for Headphones;" Saturday's "Creative Immersive Recordings: Content Production for Audiophile Headphone and Loudspeaker Listening," and "Discover the Reel Truth" seem especially out of the ordinary.
Last year, I was quite critical of the echo-ridden acoustics in the Westin O'Hare's 12th-floor standard rooms. To AXPONA's credit, it has heeded feedback from press and dealers alike, and mostly abandoned the floor in favor of the second floor. All told, there will be 35 large-room exhibits at the show. Which, as every veteran show attendee can attest, is not to suggest that the smaller exhibits are not of equal worth.
You'll find out soon enough. Yours truly is doing the blogging honors for Stereophile, and will do his darndest to provide honest evaluations of the sound in as many rooms as there is time for quality listening. Fun! Stay tuned to this very site in the week following AXPONA/Audio Con Chicago for voluminous show reports and any manifestations of PTSS (Post Traumatic Show Syndrome).