Dan D'Agostino Progression Mono monoblock power amplifier Measurements
Sidebar 3: Measurements
I initially measured one of the Dan D'Agostino Master Audio Systems Progression Mono monoblocks (serial no. PMO26P) with my Audio Precision SYS2722 system (see the January 2008 "As We See It"). Before doing any testing of a power amplifier, I precondition it by running it at one-third its specified power into 8 ohms for 60 minutes. This power level results in the highest thermal stress on the output devices of an amplifier having a class-B or class-AB output stage. After an hour driving 167W into 8 ohms, the temperature of the Progression's top panel and heatsinks was fairly high, at 109.8°F (41.3°C). With the amplifier cold, the THD+noise at this power level was 0.04%; after the hour, it had dropped to 0.025%.
The voltage gain into 8 ohms for the balanced input was 29.7dB, and the input preserved absolute polarity, the XLR jack being wired with pin 2 hot. The input impedance at low and middle frequencies was as specified, at 100k ohms, though it dropped inconsequentially at 20kHz, to 70k ohms. The output impedance was high for a solid-state design, at 0.44 ohm at 20Hz and 1kHz, rising slightly to 0.49 ohm at 20kHz. Consequently, the response with our standard simulated loudspeaker varied by ±0.3dB (fig.1, gray trace). The amplifier offered a wide small-signal bandwidth, the output into 8 ohms (blue trace) not reaching –3dB until 180kHz. Consequently, the Progression's reproduction of a 10kHz squarewave (fig.2) featured very short risetimes with, commendably, no overshoot or ringing apparent.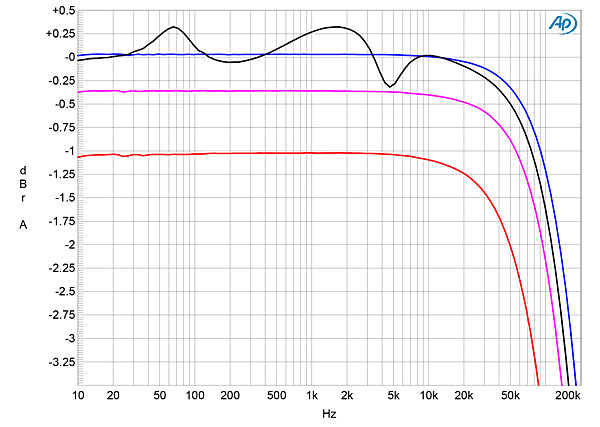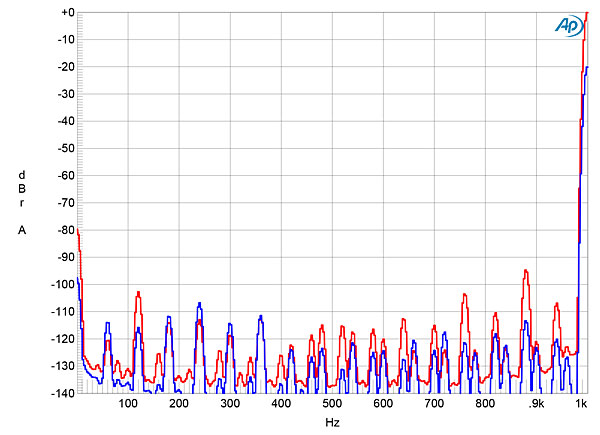 Measured with the input shorted to ground, the Progression offered a wideband, unweighted signal/noise ratio of 57.5dB, ref. 1W into 8 ohms. This was primarily due to the presence of noise with a center frequency of 923kHz. Concerned that the amplifier was picking up some RF interference that was being demodulated, I turned off all the CFC and LED lights in my test lab, but the noise persisted. The ratio improved to 80.1dB when the measurement bandwidth was restricted to 22Hz–22kHz, and to 87dB when the reading was A-weighted. The blue trace in fig.3, taken at 1W into 8 ohms, reveals that the primary source of noise is magnetic interference at 60Hz and its odd-order harmonics, presumably stemming from that massive toroidal transformer. However, at higher powers (red trace), the spuriae at 120Hz and its harmonics increase in level.
When I measured how the percentage of THD+N varies with output power into 8 ohms and 4 ohms, I got lower power than specified. With "clipping" defined as when the THD+N reaches 1%, the Progression clipped at 460W into 8 ohms (26.6dBW), which is 0.4dB lower than the specified 500W, and 690W into 4 ohms (25.4dBW), this 1.6dB lower than the specified 1kW into this load. When I tried to test the clipping power into 2 ohms, the amplifier turned itself off at 750W and just before then, I could hear the amplifier acoustically buzzing, and a burst of static through the FM radio I keep tuned to NPR in the test lab.
When Dan D'Agostino received the initial preprint of this review, he was concerned that this behavior indicated that the amplifier had suffered some sort of damage on its way to me from Jason Serinus. (After it had been picked up from Jason, the amplifier had been shipped to a dealer before it eventually found its way to me.) I was therefore sent a new sample of the Progression Mono (serial no. PMO100P), which had been fully checked out on the test bench, to test.
The voltage gain, input impedance, and frequency response of this sample were identical to those of the first, though the output impedance was slightly lower, at 0.32 ohms, and there was no RF noise present at the amplifier's output. And when I examined how the percentage of THD+N varies with output power, this sample clipped at 595W into 8 ohms (fig.4), which is 0.8dB higher than the 500W specification. Into 4 ohms, the clipping power was 934W (fig.5); though this is 0.3dB lower than the specification, I don't hold the wall voltage constant during these tests, feeling that this is more representative of an amplifier's behavior in a typical system. The wall voltage was 120.1V with the amplifier idling, but had dropped to 115.4V at 934W into 4 ohms.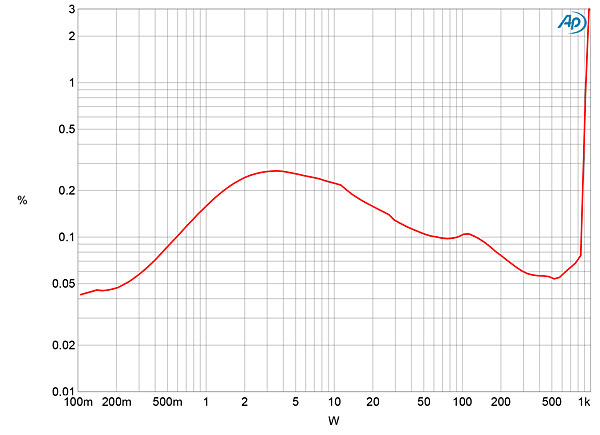 I examined how the THD+N percentage varied with frequency at a fairly high level, 28.3V, which is equivalent to 100W into 8 ohms and 200W into 4 ohms. (The front-panel meter's needle lay halfway between 100W and 500W at this level.) The results are shown in fig.6: the distortion and noise remain low over most of the audioband, with only relatively small rises in the top octave and into lower impedances. However, when I examined the waveform of the THD+N after notching out the fundamental (fig.7), I was surprised. Although the THD+N is low in this graph, at 0.027%, you can see a double spike in the residual waveform (red trace) that coincides with every zero-crossing point in the signal's waveform (blue). This behavior suggests that the Progression's output stage lacks sufficient bias current, something that I find surprising given Dan D'Agostino's history of designing amplifiers with high, even class-A bias.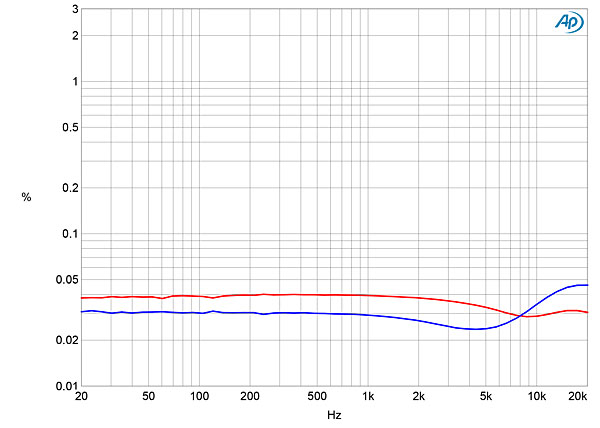 Fig.8 shows the spectrum of the amplifier's output while it drove 50Hz at 100W into 8 ohms; a regular series of high-order harmonics can be seen, correlating with the waveform of the spuriae shown in fig.7. The second and third harmonics are similar in strength in this graph, respectively lying at –76dB (0.015%) and –80dB (0.01%). The harmonic spectrum was almost identical with the amplifier driving 50Hz into 4 ohms (not shown).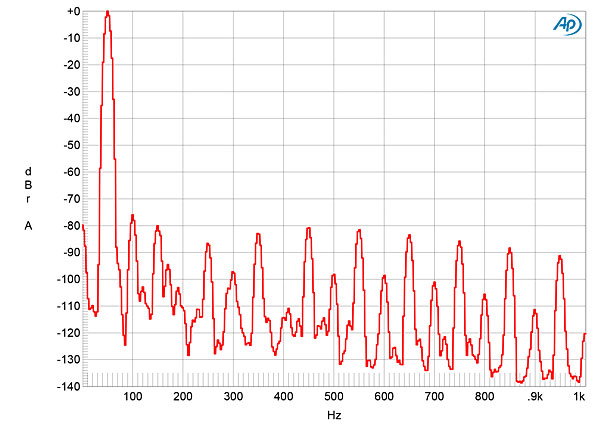 Although the THD+N percentage didn't rise by a great deal at high frequencies, the Progression performed relatively poorly when I examined the spectrum of its output as it drove an equal mix of 19 and 20kHz tones into 8 ohms at a peak level of 100W (fig.9). While it is true that none of the intermodulation products is particularly high in level—the difference product at 1kHz lies at a respectable –80dB (0.01%)—an alarming number of higher-order intermodulation products is visible in this graph. These all disappeared, however, when I reduced the peak level to 1W (fig.10).
The Dan D'Agostino Master Audio Systems Progression Mono is a powerful amplifier indeed, and the measured performance of the second sample does suggest that the first sample I received had somehow suffered during its travels. I was still puzzled by what appeared to be crossover distortion. However, it is fair to note that the Progression Mono measured very similarly to Dan D'Agostino's more expensive Momentum monoblock, which Michael Fremer very favorably reviewed in February 2013 and which I declared to be "well-engineered."—John Atkinson