Dan D'Agostino Momentum monoblock power amplifier Measurements
Sidebar 3: Measurements
To measure the Dan D'Agostino Momentum amplifier, I used Stereophile's loan sample of the top-of-the-line Audio Precision SYS2722 system (see www.ap.com and the January 2008 "As We See It"). Before I test an amplifier, my usual procedure is to run it at one-third power into 8 ohms for an hour. With a conventional amplifier using a class-A/B output stage, this level results in the maximum heat dissipation in the output devices. Unfortunately, after running at this level for 50 minutes, serial no.0265 turned itself off, with its heatsinks way too hot to keep my hand on. Those drop-dead-gorgeous, lacquered-copper heatsinks may not, therefore, be as efficient at dissipating heat as more conventional, finned heatsinks. I let the amplifier cool down, but it wouldn't power up again, although neither the 7.5A fuse on the rear panel, nor the fuse under the bottom-panel access plate, had blown. I therefore subjected the second sample, serial no.0266, to a shorter preconditioning time, 30 minutes. Even so, at the end of that time, my infrared thermometer indicated that the heatsinks were 119.6°F (48.7°C), and the chassis a warm 105.2°F (40.7°C). All measurements refer to this second sample.
The Momentum's voltage gain into 8 ohms measured 26.2dB, and the balanced input preserved absolute polarity, indicating that the XLR jack is wired with pin 2 hot. The input impedance was usefully high, at 200k ohms in the midrange, dropping to 160k ohms at the frequency extremes. The output impedance was moderately high for a solid-state design, at 0.21 ohm at 20Hz and 2kHz, rising very slightly to 0.23 ohm at 20kHz. (These figures include 6' of speaker cable.) The variation in response with our standard simulated loudspeaker was a moderate ±0.2dB (fig.1, gray trace). Fig.1 indicates that the Momentum has a wide small-signal bandwidth, the ultrasonic rolloff into 8 ohms (blue trace) not reaching –3dB until 110kHz—though this is not quite as wide a bandwidth as the specified –1dB at 200kHz. Nevertheless, the Momentum reproduced a 10kHz squarewave (fig.2) with very short risetimes and no hint of overshoot or ringing. The 1kHz squarewave was essentially perfect (fig.3).
The unweighted, wideband signal/noise ratio, ref. 2.83V into 8 ohms and taken with the input shorted, was a good 77.2dB, this improving to 78.1dB when the measurement was restricted to the audioband. Switching an A-weighting filter into circuit improved the S/N ratio to 81.65dB. With the amplifier driving a 1kHz tone into 8 ohms at 100W, the Momentum's noise floor was disturbed by spuriae at the AC line frequency and its odd-order harmonics (fig.4), these spuriae most likely due to magnetic interference from the power transformer. Nevertheless, the spuriae all lie close to or below –100dB (0.001%) and thus can be considered negligible.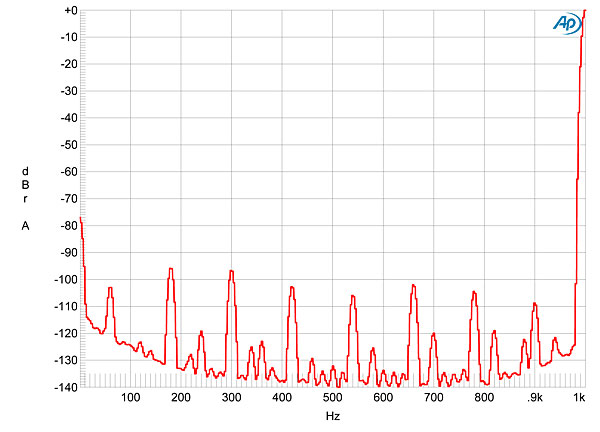 Specified as having a maximum power of 300W (24.8dBW), the Momentum comfortably exceeded that rating, clipping at 405W into 8 ohms (26.1dBW), with clipping defined as the point when the percentage of THD+noise in its output reaches 1% (fig.5). Fig.6 reveals that the amplifier clips at 640W into 4 ohms (25.05dBW), while into 2 ohms (fig.7), the amplifier puts out 1115W (24.45dBW). As with Dan D'Agostino's earlier amplifier designs for Krell, the Momentum is a powerhouse!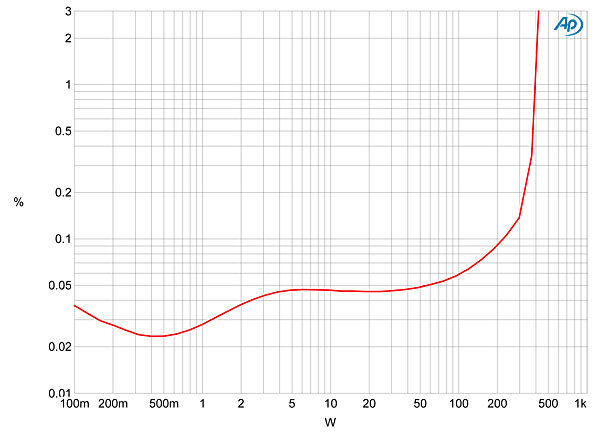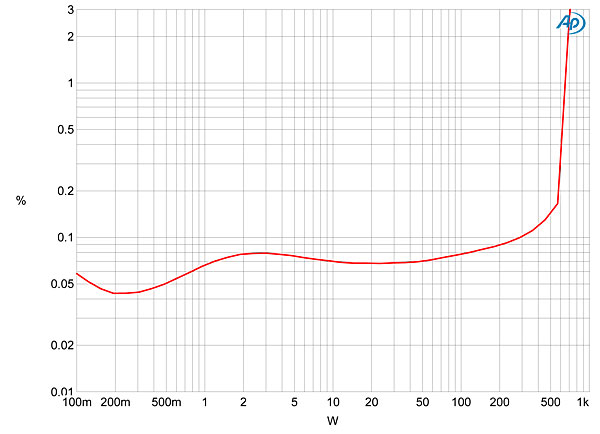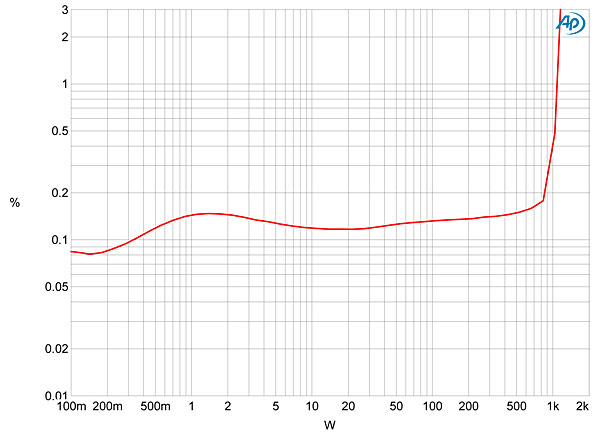 Figs.5, 6, and 7 also indicate that the Momentum offers very low distortion at lower powers, but that the THD plateaus at 0.06–0.08% at moderate powers. I therefore measured how the THD+N percentage changed with frequency at a level, 20V, where I could be sure I was looking at distortion rather than noise. The result is shown in fig.8: THD+N remains constant with frequency below the top octave, though it does increase as the load impedance drops. However, there is very little rise in THD above 10kHz, suggesting that the Momentum has a commendably wide open-loop bandwidth.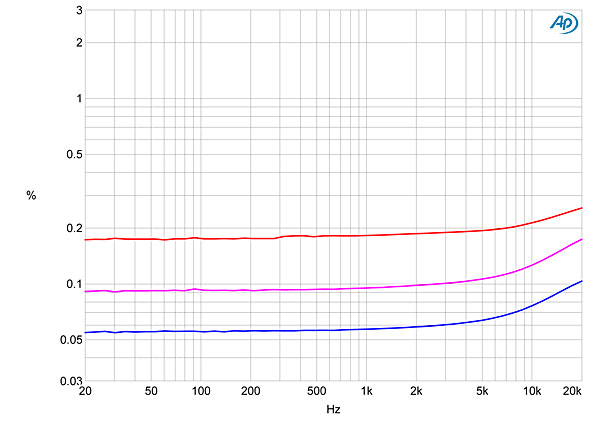 Fig.9 indicates that the distortion is predominantly the subjectively innocuous second harmonic, though there is a suspicious-looking spike in the residual waveform almost coincident with each zero-crossing point. This spike is the result of a picket fence of higher-order harmonics (fig.10), though it's fair to note that these are all relatively low in level. I was a little puzzled, given the excellent high-frequency linearity seen in fig.8, that the 1kHz difference tone resulting from an equal mix of 19 and 20kHz tones at a peak level of 100W into 4 ohms (fig.11) was moderately high in level, at –69dB (0.03%), with the spuriae at 18 and 21kHz at –74dB (0.02%). However, all other intermodulation products lay at or below –90dB (0.003%).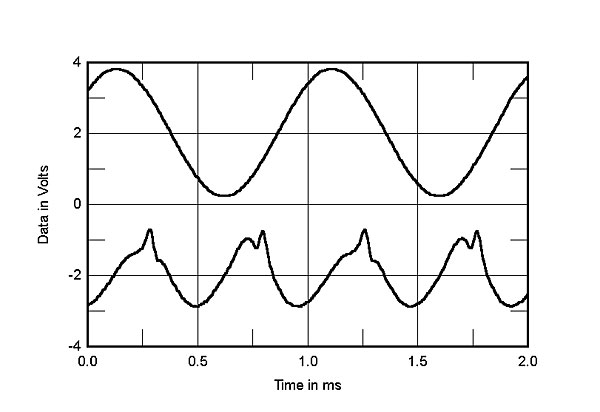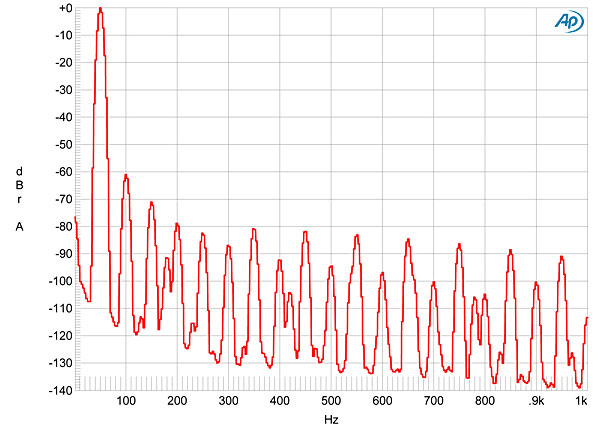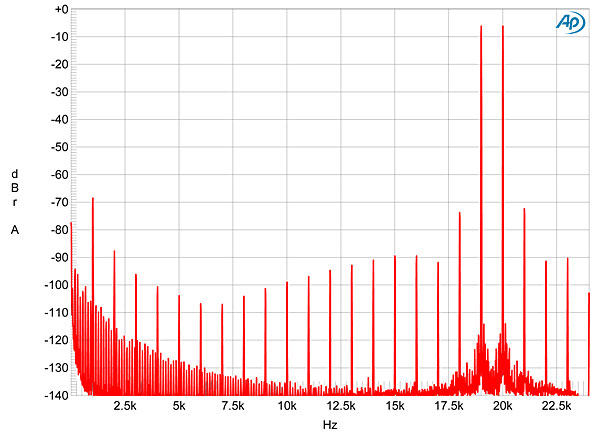 There are no surprises in the Dan D'Agostino Momentum's measured performance. This is an amplifier that is as well-engineered as it is beautiful to look at.—John Atkinson