CH Precision D1.5 SACD/CD player/transport New Firmware
Listening to the New Firmware, May 2022 (Vol.45 No.5):
When I reviewed the CH Precision D1.5 player/transport in the March 2022 issue—I reviewed it mostly as a player—I was very much impressed by its performance (footnote 1). It was at its best as a SACD player. It also sounded very good playing MQA CDs. (It was my first experience hearing an MQA CD on a capable player, so I had little to compare it to except the other formats.)
The sound on CD was exemplary—probably the best CD sound I'd heard—but it was not as good as with the other formats. Which was expected (footnote 2).
When JA measured the D1.5, he found that when playing CDs, the D1.5 was not, however, behaving as expected. In the time domain, he observed a conventional-looking minimum-phase filter, with no pre-ringing but 5–6 periods (about 550µs) of post-ringing. In the frequency domain, he found a very fast rolloff: With CD playback, the response "was flat to 12.5kHz but then was down by 1.1dB at 15kHz, by 3.9dB at 16kHz, and by almost 10dB at 17kHz." At 20kHz (widely considered the top of the audioband, although at 58 years old I can't hear that high), the response was down by a full 50dB. "With the ear's reduced sensitivity in the top audio octave, the premature rolloff will be difficult to hear, but it does suggest an error in the programming of the digital reconstruction filter," JA wrote.
In a manufacturer's comment, CH Precision CEO Florian Cossy acknowledged the error. "John Atkinson's measurements are completely correct in identifying the early rolloff on CD replay, and Jim is also correct in suggesting that this might well be atypical. The measured results suggest that the machine is using a minimum-phase apodizing filter rather than the proprietary PEtER spline filter that should be engaged. ... It seems that the firmware in the (preproduction) D1.5 supplied for review has selected one of the minimum-phase filters from our library of available algorithms." Full-production D1.5s already in the wild had already had their firmware updated remotely.
Almost immediately, CH Precision sent along a file with the new firmware. The installation went smoothly; the procedure was, as doctors write in diagnostic notes, unremarkable. I am not the kind of listener or reviewer who obsesses over filters. In fact, while I understand the rationale for providing a choice, I find user-selectable reconstruction filters slightly annoying. To me, the changes they make to the sound tend to run from inaudible to relatively unimportant—not qualitative, let's say. In any case, I don't like too much choice: Please just give me your best sound and let me listen to music.
Yet, with the new firmware, the transformation in the sound of the D1.5, when playing CDs, was qualitive. It was major. It was also transient, in the sense that my ear-brain adapted to it quickly and then it was gone.
I don't mean to suggest that a window opened up to the studio or the live performance space, where there hadn't been one before. The change was dramatic, but it wasn't necessarily—wasn't immediately—a giant leap forward in absolute sonic quality. It was, rather, simply a major change in sonic character.
The change was a one-off—I couldn't go back and forth (footnote 3)—but as often happens with me, because I get distracted listening to music, I didn't take notes. Here's what I remember: Whatever CD I was listening to at the time, the sound was suddenly more spacious, the soundstage deeper, the experience taking on a silvery, shimmering quality that I had not noticed before.
This was a transient, differential impression. As I continued to listen—as I acclimated to the new sound—I stopped noticing any silvery, shimmering quality. I just heard music. When we listen to music, we don't listen differentially. We just listen. Well, hopefully we do.
I wrote just now that the change, profound as it was, was not an immediately obvious giant leap forward in quality—and yet, as I learned over weeks of subsequent listening, it was an improvement and an important one.
I'm as big a fan as anyone of precision, weight, corporeality of images, fineness and beauty of tone. But I find myself evaluating digital sources in particular in terms of how clearly and intensively they reveal the specific character of each recording. That's not some ethical or abstract principle of reviewing; it's just what I notice first and most.
Also, I don't pretend to know a priori what the recording sounds like. It is, rather, a feeling I have when I listen. Different recordings sound profoundly different, and certain sources reveal those differences much more obviously than others. Instinctively, my mind forms a coherent, semivisual image of the sound of a recording as a whole.
French-American jazz pianist Jean-Michel Pilc was previously unknown to me, but he made me an immediate fan with his new CD Alive (Justin Time JUST275-2), with bassist Rémi-Jean LeBlanc and drummer Jim Doxas. The recording documents the trio's first date playing together since the pandemic started. I am a fan of the music, yes, but also of his (Pilc's) liner notes. He writes, "In my vinyl collection, there are quite a few items I treasure. The sound is not perfect but you can hear improvising musicians in their natural habitat, the jazz club, playing music for the sake of music." Yes, exactly this. What made me laugh out loud when I read these notes is that the album Pilc describes is exactly the album I'd just enjoyed (except that this is a CD, not an LP; it's available streaming, but it does not seem to be available on vinyl).
The sound? Enjoyable. Imperfect (footnote 4). A bit dark and—smokey, like an image of a jazz club that's no longer accurate, since there's no actual smoke these days in jazz clubs. The character of the recording—you could even say the recording's flaws—helps to fulfill the recording's objectives; it supports the feeling of a live date in a jazz club (It was recorded at Dièse Onze in Montréal).
Via the D1.5, this lack of clarity was rendered colorfully, with perfect clarity.
JA sent me test tracks so that I could repeat some of the measurements he made on the D1.5—those that showed severely attenuated extreme highs in the frequency response and a minimum-phase but rather long response in the time domain.
My frequency-response measurements, with the new software, showed a much slower rolloff than before (fig.1). The aliased image of a full-scale 19kHz sinewave, at 25.1kHz, was suppressed by just 10dB (fig.2, blue and cyan traces; the background noise is due to the interface used).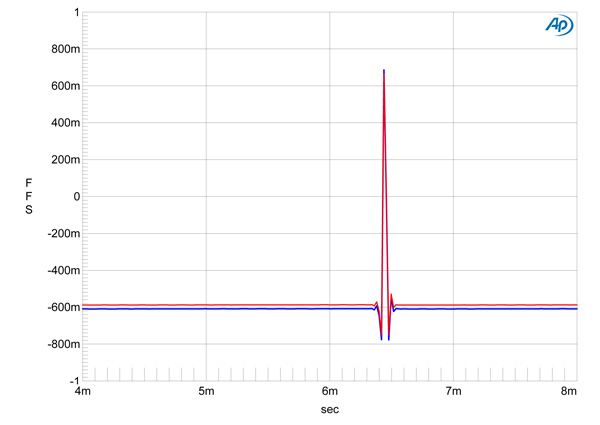 The payoff is in the time domain (fig.3): a remarkably short impulse response—symmetrical, lasting only about 50µs from the first wiggle to the last—far shorter than the 500+µs impulse with the original software (fig.4). It is however very similar to the impulse response of the SR (slow-rolloff) filter with for example, DACs based on the ESS Sabre 9028 Pro, though perhaps a little shorter.
Do changes on such a short timescale make a difference? Apparently they do—a major sonic difference, at least as I heard it. I suppose I could be hearing the frequency-domain manifestation instead, but it hardly seems more likely that I'm hearing a 1.1dB change at 15kHz when that's approximately the current high-end limit of my audible range. This experience seems much better aligned with what I know about the time-domain acuity of human hearing. I'm not entirely sure, though, that it's a meaningful distinction, since the frequency and time domains are complementary ways of conceptualizing the same thing.—Jim Austin
---
Footnote 1: The D1.5 costs $41,000 equipped as transport, $46,000 with two mono analog-output cards.
Footnote 2: Except that those who have convinced themselves, whether on technical or moral grounds, that MQA is inferior would find my conclusion that MQA CD sounded better than regular CD unexpected.
Footnote 3: I could have requested that CH Precision send me the old, faulty software so that I could reinstall it again. It would have been a bit tedious, the process unwieldy, but I could have gone back and forth between the two versions. Still, I didn't.
Footnote 4: In those same liner notes, Pilc acknowledges "the shortcomings of the recording" but attributes to mastering engineer Guy Hébert the fact that the end result is "the final impression is actually pretty close to what you do experience in the venue." Again Pilc made me smile with his writing: I did not read this until after I had drawn precisely that conclusion.