Capital Audio Fest 2015: Day One
These things always start in the parking garage; Chattering fellows unloading boxes from vans with out-of-state license plates. This evolves into dozens of impromptu mini-fetes taking place in elevators with old friends making excited small talk over the tops of hotel carts stacked with amps and turntable boxes. By the time I make it to the Hilton Rockville's lobby Thursday afternoon, I am already in it—I can feel the "Audiofest" excitement building. I have only been out of the car 10 minutes and I've already shook 5 hands and I am staring into the grinning goateed face of Gary Gill organizer and Captain Extraordinaire of this 2015 edition of the most intimate and charming of all audio shows: The Capital Audiofest 2015.
Gary told me, "CAF in reality is an extension of my personality and my (audio) system since I incorporate both new and vintage equipment—analog and digital; in essence I have a little bit of everything." I told Gary how much I loved the diversity and friendly vibe and he responded, "My vendors also reflect my vision. There are well-known manufacturers (like Technics) and also guys just dipping their toes in the market to see what can float . . . and of course, DIY clubs are essential to the hobby."
An hour later I am sitting on a red chair in the DCAudioDIY room listening to the stunning sounds of Cantus ("Wreck of the Edmund Fitzgerald") recorded live in Denver by Michael Morgan of Skye Audio Productions. It was streaming from a pair of Legacy Audio Studio HD speakers driven by Thomas Perazella's 11-watt VFET SET "Cherry Bomb" (the tone quality and soundstaging are popping my eyes and ears wide open). David Berning's super cool MicroZOTL amplifier is sitting on the red chair to my left (I will listen to it Saturday at 2pm) and Mr. Perazella is sitting to my right explaining the virtues of his asymmetrically curved, open-baffle, planar-magnetic, line-array speakers which were not at the show, but "sounded" amazing.
An hour after that, I am sitting on a gold chair, holding the first ever strain-gauge cartridge (The Capehart ca 1930s) in my hand, and listening to Nina Simone at Town Hall via Electrostatic Solutions' Kent McCollum's very exciting custom Quad ESL 57 rebuilds being driven directly (no Quad step-up transformer) by Dave Slagle's (Intact Audio) . . . and the show doesn't even open until tomorrow.
It was early Friday morning, and it was quiet, except for the seductive sounds of Alison Krauss floating through the door from the ModWright/Daedalus room (heading photo). I had never really met Dan Wright but today we got to hang and talk and I was very impressed. While we talked I kept being distracted by the solid but delicate LP sounds of my beloved Alison coming from the Daedalus Poseidon V2 loudspeakers ($16,450/pair) driven by the ModWright KWA 150SE Signature edition power amp ($8995). I asked about the cartridge (a Shelter 901) and the PH 150 Standalone Phono Stage ($7895). The PH 150 is a transformer input–FET gain–transformer output design with single-stage passive RIAA.
He was using the ModWright Elyse DAC ($6900) and the LS 36.5 "DM" two box balanced preamp with external, dual-mono, tube-rectified (I love tube rectification), tube-regulated (I love tube regulation too!) external PS 36.5 power supply—and all of this extraordinary tube-ness costs only (and mean only) $9995! Listen folks, tube rectification and regulation costs money. You could spend $30k on a preamp and just get a couple of boards-in-a-box. I was deeply impressed by the look, the sound, and the Musicalness of everything I experienced in Dan's room.
In the second ModWright/Daedalus room I discovered Dan Wright's beautiful custom almost ready for release ($TBD) single-ended EL-34 amp (which uses Electra Print output transformers) and all I can say is I could feel the light and musical energy radiating from the surface around the tubes and from the smooth and lively Daedalus Athena V2 speakers ($11,950/pair). What really really impressed me was the new SWL-9.0 Anniversary Issue preamp, which will cost under $3k. I requested a review sample.
My first real stop on Friday morning was at ORTO records where I met the hip and totally engaging Chris Armbruster. We spent at least 10 minutes swapping Memphis, Elvis, and Stax Records stories. He and people like him are why I love audio fests and record shows. It is so much fun to chatter and finger through boxes of new and old vinyl. I love black disks a lot—but what I really like is hanging out in rooms full of them and bonding with the other mad LP chasers. It is a club of which I am proud to be a member. I asked Chris, "You got any ska or reggae? He said, "Very little" but he had one I felt I needed for the show: Intensified—Original Ska 1962–66 (Mango MLPS 9524). Which I used to good effect in the ModWright Instruments room and plan to torment "vendors" throughout the three days of the show. How does a reporter take the "control" out of controlled demonstrations? Count Suckle and the Skatalites! "But them can't get no Red Stripe beer fe sell at de dance at night!" That is how.
I am by nature a person who believes that deeply satisfying high-end audio sound can be obtained at minimalist prices and what I experienced in the Well Pleased Audio Vida room served to validate my commitment to the moderately priced sector of our hobby. They had a couch in the back and I just sunk down and started smiling.
The Alta Audio Rhea loudspeakers ($4500) were singing every song with good body and great soul. They were powered by Clones Audio separates: AP2 preamp ($1120) and their 55pm monoblocks ($1400/pair). The source was the Antipodes DS Audio Server ($2700) and the La Voce DAC ($2600).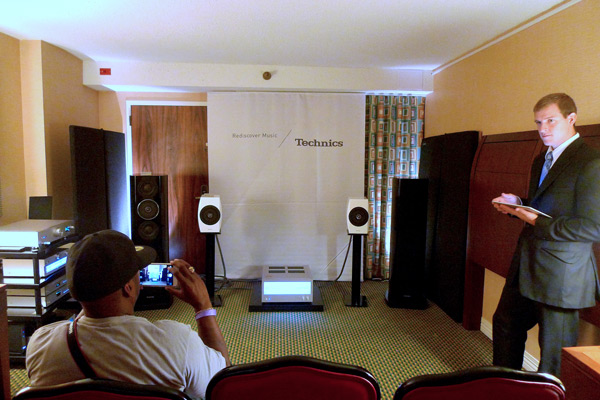 I am in the process of reviewing the complete lower-cost Technics C700 audio system with includes the a server, a beautiful integrated amp, and the SB C700 loudspeakers (which I was listening to while I packed to come here. I am not allowed to reveal my impressions before the review is published but, the whole system cost under $5k and, XX (censored) XX, wow! Today, Technics was "Killing Me Softly" with their giant Reference System. Roberta Flack could not have sounded more clear-voiced or more present. The Reference System consists of the SB-R1 tower loudspeakers ($13,499), the stunning old-school Technics style SE-R1 amplifier ($16,999), and SU-R1 network audio player ($8999). Technics is back in the world of high-end in a very serious way. Check them out.