Capital Audio Fest: Art Dudley's Saturday
People who speak of
running with the big dogs
describe the experience as a good thing; I can't imagine why. I'll take the small dogs any old time: They're more characterful, less self-possessed, and just plain friendlier. And among hi-fi shows, Capital Audiofest is the friendliest and most interesting small dog on the porch, and still one of my favorites.
Gary Gill's regional show, which retains its slight and very pleasant DIY vibe, returned to the Washington DC area on August 28–30 for its sixth year, and drew respectable numbers of people, especially by the end of the day on Saturday. That was, in fact, my only day there: I had been invited there to lead a reviewers' panel at 1:00, in which I was joined by our own Herb Reichert, as well as Alan Taffel of The Absolute Sound and Scot Hull, the interweb's most popular Part-Time Audiophile. The audience was hospitable and warmly inquisitive (but lacking in soundstage width), the questions insightful, my colleagues brilliant to a one.
As Herb has suggested, the sixth annual Capital Audiofest was very VPI: I tried but failed to keep a running count of the number of VPI turntables and tonearms in use and on display throughout the show. Unsurprisingly, of most interest were the record players on hand in VPI's own display room, where the big rig featured a pair of KEF Blade Two loudspeakers ($25,000/pair) driven by electronics from VAS, ModWright, Luminous Audio, Backert Labs, and Dynamic Sound Associates (DSA). The featured turntable was the forthcoming VPI Avenger, estimated to sell for $9000 and up, depending on options. (That price will include tonearm, the base choice being a unipivot with a 10" 3D-printed armtube.) Key to the Avenger's performance is its hybrid drive system, in which a motor and drive belt get the platter started, after which a magnetic drive system takes over.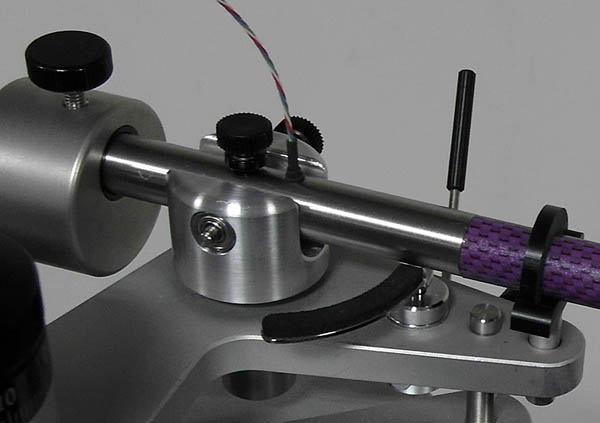 Also on its way from VPI is the Lineage tonearm, which is poised to become the first gimbal-bearing tonearm with interchangeable armtubes (price to be determined). As Harry Weisfeld demonstrated, the single thumbscrew that locks in place the armtube —you can see it in the photo, above the point at which the arm pivots laterally—also serves to pre-load the bearings. The armtube of the Lineage is also made on a 3D printer—a process that now allows for virtually any color the buyer desires. Even purple.
A final note on VPI: The Avenger prototype also used a brand new phono cartridge, made in the USA by Steve Leung of Vinyl Audio Science (VAS). The VAS Nova, a moderately low-output MC design, is on sale now for $1500.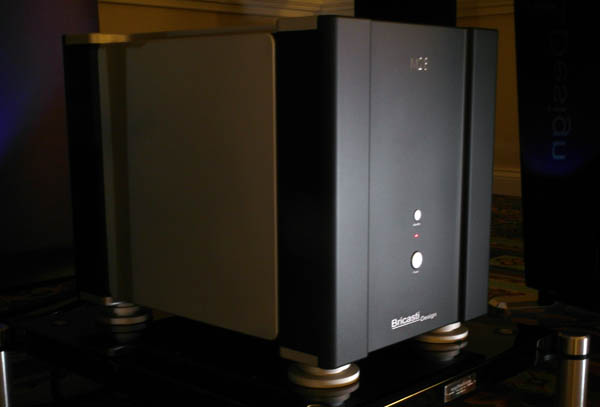 Early in the day I was impressed by the sound in both of the large rooms sponsored by The Voice That Is, the Newtown Square, PA-based dealer that specializes in the typically big, beautiful loudspeakers from Tidal Audio of Cologne, Germany. Of the two, my favorite was the room in which Tidal Agoria loudspeakers ($109,900/pair in "midnight black") were driven by a pair of Bricasti Audio M28 monoblocks ($30,000/pair). The combination did everything one might expect from such a costly combination—scale, openness, convincing spatial effects, and lots of sheer power—but added a wholly unexpected measure of velvety-warm color and texture. And on a Channel Classics recording of Iván Fischer and the Budapest Festival Orchestra performing Mahler's Symphony 9, the Tidal/Bricasti combo exhibited both a fine sense of momentum and very good touch on bowed and plucked strings alike.
Also encountered early on Saturday were two rooms co-sponsored by Vienna, VA-based Viva HiFi, featuring electronics by ModWright Instruments and loudspeakers by Daedalus Audio. The latter company, in fact, has contributed their gorgeous woodwork to a forthcoming ModWright amp (projected price: ca $10,000) that uses one single-ended EL-34 pentode per channel. Both rooms offered seriously colorful, tactile sound, not to mention excellent music choices —Billie Holiday, Russ Barenberg, you name it—and I begged Dan Wright of ModWright for a review sample of that amplifier, when it becomes available. Begged him, I say.
Already running late, I was able to catch only the second half of a demonstration and talk titled The Cable Polygraph, presented by David Salz of Wireworld. I was impressed, not only by the audibility of differences between various cable samples —heard through a system using Bel Canto electronics and Neat loudspeakers—but also by Salz's very thoughtful observations. One memorable example: "Hearing a big difference can often mean there's something bad going on. What I want to hear is: I want to hear the problems go away." The gentlemanly tone of the presentation was also noteworthy; said Salz of one competitor, "I know dealers who use those products, and they make a good sound." Now that's the sort of manufacturer with whom I like doing business.
As they've done in the recent past, Audio Note UK brought to the show the Montreal-based cellist Vincent Bélanger, who delighted visitors with live performances, both rehearsed and impromptu; the former often found the artist performing with his recorded self, played back through an all-Audio Note system using an M3 Phono preamplifier ($11,000), 20Wpc Jinro Shochu stereo power amplifier ($31,000), and the very same pair of AN-E SPe/HE loudspeakers ($9600/pair) loudspeakers, in glossy yew finish, that I owned and loved for years. (They knew me. I could tell.)
Demonstrating playback gear alongside a live performance by a world-class musician is perhaps the most courageous thing an audio company can do. No less notable is the fact that Audio Note has underwritten the expense of a new bow for the artist, and that the company and their US representative, Dave Cope, have contributed materials and talent to the making of a new Vincent Bélanger solo album, which should be available this fall.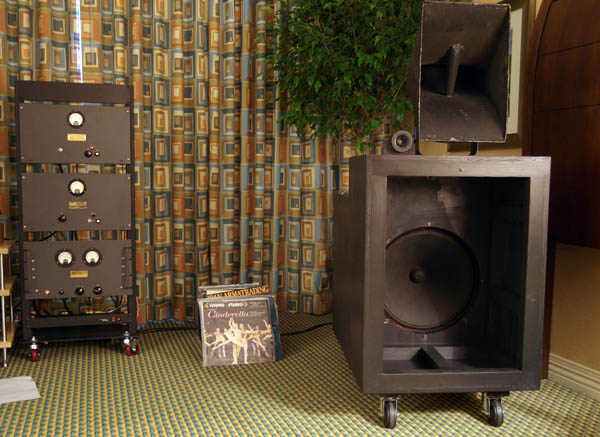 Herb has also written of the room sponsored by McLean, VA-based dealer Déjà Vu Audio in which Aldo D'Urso's system delighted a steady stream of attendees. D'Urso is an audio collector with years of experience in reconditioning and re-purposing vintage Western Electric gear, horn-loaded loudspeakers in particular. On demonstration at CAF were a pair of three-way speakers using '30s-era bass and midrange horn enclosures —the former fitted with low-excursion Jensen woofers—with more modern tweeters, fitted with crossovers of D'Urso's own design and construction. The electronics were also made with vintage components, including Altec step-up transformers for the phono stage and Western Electric 421A dual-triode output tubes for the power amp.
The turntable was a Thorens TD 124 in an original Déjà Vu plinth, modified by Aldo D'Urso, sporting an Ortofon tonearm and contemporary SPU pickup head. Understandably for such one-of-a-kind products, pricing conventions are impossible to describe in just a few words; suffice it to say, the system was costly—but far from the most costly I encountered at CAF. And, with its remarkable levels of touch, drive, and scale, it was my favorite, earning the nickname The Boredom Killer.
Other faves?
The Tzar DST phono cartridge ($10,000), loaded by a Bob's Devices Sky CineMag transformer ($1250), sounded scary-good—honestly, almost creepy-good—in the Robyatt Audio system, where Miyajima electronics drove a pair of Quad ESL loudspeakers that had been reconditioned by Kent McCollum of Electrostatic Solutions. (I am fortunate to have at home a review sample of the DST.)
The gorgeous tone of Johnny Hodges' alto saxophone handily survived the trip through a pair of Living Voice Avatar OBX-RW loudspeakers ($11,850/pair), driven by a BorderPatrol P21 amplifier and USB NOS DAC ($9750 and $1250, respectively, with all cables and AC cords from Triode Wire Labs.
As he usually does, John Wolff of Classic Audio Loudspeakers —seller of Nipper statues and all-around nice guy—made a great sound with Atma-Sphere OTL amplifiers and his Hartsfield ($71,950/pair with the field-coil driver option) and T-1.5 Reference ($72,950/pair, also with field-coil drivers) loudspeakers, plus cables from Jim Aud's Purist Audio Design. (I wasn't sure which pair was in use during my visit to his spacious room, and John Wolff was too busy with real customers for me to interrupt him with inane audio-fiddly questions.)
And I was thoroughly impressed by both the people and the products of Fern & Roby, an artistically minded industrial-design firm from Richmond, VA that has recently branched into domestic audio. Among their products are The Integrated Amplifier ($2350), designed by the excellent Mike Bettinger and built into a cast-iron chassis, and The Turntable ($4500), the chassis of which is also made of cast iron. They impressed me as being among the most aesthetically satisfying, cleverly designed, and, above all, fairly priced American audio products in recent memory.
Best of all, they and a pair of Fern & Roby's no-less-beautiful The Beam loudspeakers ($4500/pair) created a tonally rich, temporally compelling, and altogether compelling sound on a record that, in all candor, I didn't think I was going to enjoy: Road, by the Paul Winter Consort. I expected fiddly tedium from the music, and I didn't know what to expect from the gear; working together, they presented a colorful, tactile experience that was probably as close to an acoustic version of King Crimson as I'll ever hear. I was charmed.
Sadly, that was all I could fit into the six-and-a-half hours available to me before and after our panel discussion: I missed nearly as many people as I saw! Hopefully I'll have more time to spend at Capital Audiofest VII, to which I'm already looking forward.