The 2015 Capital Audio Fest Starts Friday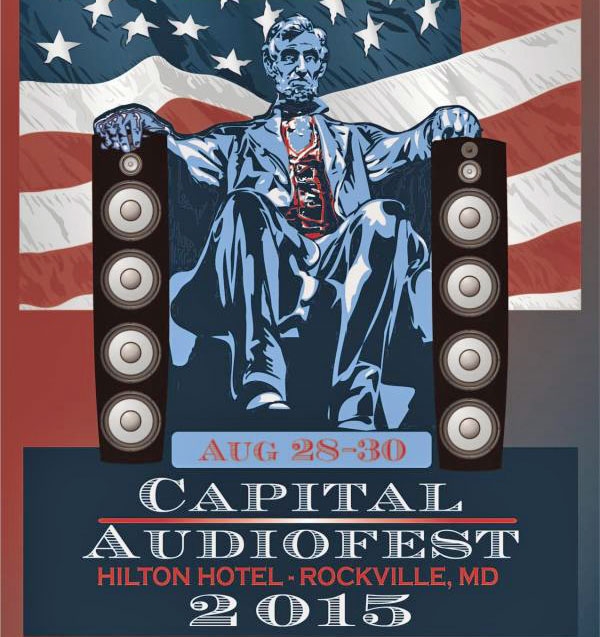 This year's three-day
Capital Audio Fest
(CAF) opens on August 28 in Rockville, MD, relatively close to the nation's capitol. In a new, unquestionably friendlier and eminently accessible location, the Hilton Rockville, the show promises, at press time, up to 39 active exhibit rooms, probably more than the 118 "officially listed" brands and exhibitors, and a potential 300+ products.
While these numbers may represent a decrease from last year, CAF will certainly offer several interesting product debuts. These include the US debut of the new Avenger turntable from VPI, a venerable brand well known to audiophiles. 12 years in the making, the table joins two other analog product debuts, the Fern & Roby turntable and LKV Veros phono preamp. Together with an increased presence by analog software and hardware vendors, CAF 2015 has become an enticing destination for vinyl heads.
Also making their first appearance are Fyssion's "Trinity Engine" speaker debut, DCAudioDIY's VFET SET amplifier, and Greg Takesh's GTA 2.5 hybrid planar loudspeakers. Resurfacing after a break in production is David Berning's MicroZOTL headphone amp. For the first time, Technics will display their new high-end products, and both MartinLogan and Gershman Acoustics will make appearances. Also expect exhibits from several new DC-area dealers, and a major brand presence courtesy of Doug White's The Voice That Is retal store. You can find the latest breaking show news here.
Headphones are another matter entirely. Given that the London CanJam is the same weekend as CAF, lots of US headphone-related vendors have chosen to cross the Atlantic instead. Nonetheless, in addition to 7 or 8 headphone vendors in an expanded Market Place, and other headphone-related offerings in exhibit rooms, the local Head-Fi chapter will hold a meet of its own at the show on Sunday afternoon.
"We're right downtown, at the Twinbrook Metro stop on the Red line," says show organizer Gary Gill. "There are easy transit connections from Reagan National Airport. You can either fly or train down from New York City and get here easily. And because the hotel has more large meeting rooms on the ground level than our last venue, most exhibitors won't have to load their stuff into elevators for set-up. It's far more convenient for everyone."
Noting that the show has grown and matured from its vintage audio roots, Gill says there is now but one vintage exhibitor scheduled for the ballroom. In addition, both the DCDIY and Antique Radio groups will sponsor socializing areas. Of far newer vintage will be the major raffle prizes, available only to those present on Sunday, from Jolida and several cable companies.
Seminars are another thing. While the presenters are distinguished, there is but one seminar each on Friday and Sunday, and three on Saturday. Saturday's seminars are, in succession, David Salz of Wireworld's "The Cable Polygraph;" "Meet the Writers," with Art Dudley and Herb Reichert of Stereophile and Scot Hull of Part-Time Audiophile; and a potentially fascinating presentation, "Recorded Sound at the Library of Congress: A Backstage Tour of the World's Largest Recording Collection," by Matthew Barton of the National Archives. I wouldn't miss that one if someone gave me a plane ticket to DC.
As for entertainment, in addition to the High-End Chanteuse of the Decade, Lyn Stanley, who will be backed by a local quartet, cellist Vincent Bélanger will appear in the Audio Note UK room, and perhaps elsewhere. One earwitness acclaims Bélanger as "sensational" at his Montreal show appearance earlier this year.
As you may have gathered, both Herb and Art will report from Rockville. Please stay tuned to this network. Then check back again in early October, when additional reports from the longest running consumer audio show in the US, the still mighty Rocky Mountain Audio Fest, present further suggestions on how to fill your holiday wheelbarrow with the equipment essential to making Santa's entry very sweet indeed.