Audio Research VT-150 monoblock power amplifier Measurements
Sidebar 2: Measurements
I measured a voltage gain of 10 (20dB) from the VT-150's 4 ohm output tap, 14 (22.9dB) from its 8 ohm tap, and 18.6 (25.4) from the 16 ohm tap. This increase in voltage gain at different output transformer taps occurs because the taps have different turns ratios (the number of turns of wire on the secondary winding in relation to the transformer primary winding). Input sensitivity (the input voltage required to drive the amplifier to clipping) was 2.4V RMS (balanced), which is ideal for the high-gain LS5. Input impedance measured a high 215k ohms across the band.
The VT-150's output impedance was nearly 1 ohm (0.99 ohms) at any audio frequency measured at the 16 ohm tap. This value decreased to 0.56 ohms at the 8 ohm tap, and 0.3 ohms at the 4 ohm tap. These are relatively low values for a tubed amplifier, particularly from the 4 ohm tap, meaning that the amplifier's balance will not significantly track a loudspeaker's impedance variation.
The VT-150's frequency response (not shown) was flat throughout the audio band, but showed slightly different high-frequency rolloffs depending on the transformer tap selected. From the 8 ohm tap, the response was down 0.05dB at 20kHz; from the 4 ohm tap, the response dropped by 0.15dB at 20kHz—still a negligible rolloff. The VT-150's 1kHz and 10kHz squarewave responses at low signal levels were excellent. There is very little rounding of the edges, and just a hint of overshoot on the 10kHz signal (fig.1).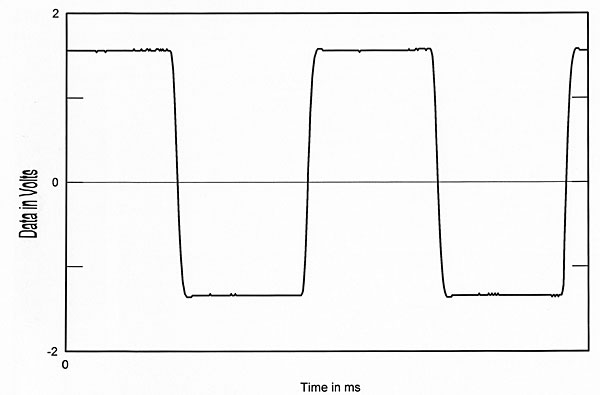 THD+noise levels (fig.2) measured less than 0.1% THD+N across the band at low signal levels into any impedance. The VT-150's THD vs output power plots are shown in fig.3. The solid line is into an 8 ohm load (from the 8 ohm tap), with the VT-150 delivering 150W (21.8dBW) at the 3% distortion level. Four ohm and 2 ohm plots were made from the 4 ohm tap, with each delivering exactly 100W at 3% distortion (17dBW and 14dBW, respectively).
Fig.4 is an FFT of the VT-150's output when driving a 4 ohm load at two-thirds rated power with a 50Hz sinewave. The distortion is odd-order, as would be expected from a push-pull tubed amplifier, with the third-harmonic highest in level. The higher harmonics decrease in level with increasing order—a characteristic that seems to correlate with good sound. At higher frequencies (fig.5), the VT-150's distortion waveform showed the distortion to be primarily second-harmonic with some noise. The distortion waveform looked nearly identical at 2W into 4 ohms, but showed an increase in third-harmonic when driving a 2 ohm load (fig.6).
The VT-150's intermodulation spectrum is shown in fig.7. This plot is an FFT of the VT-150's output when driving an equal mix of 19kHz and 20kHz at two-thirds rated power into a 4 ohm load. The IM products with this demanding signal are much higher than those typical in most solid-state amplifiers, but lower than in single-ended tubed units.—Robert Harley