Audio Alchemy DPA-1M monoblock power amplifier Measurements
Sidebar 3: Measurements
Logistical issues meant that I measured a different sample of the Audio Alchemy DPA-1M (serial no. 10016050098) from those auditioned by Robert Deutsch. I performed a full set of measurements, using my Audio Precision SYS2722 system (see the January 2008 "As We See It"). As the DPA-1M has a class-D output stage, for almost all measurements I used, ahead of the analyzer, an Audio Precision AUX-0025 passive low-pass filter, which eliminates noise above 200kHz that would otherwise contaminate the measurements; for the 1kHz output power tests, I also used a 20kHz brickwall low-pass filter.
The DPA-1M's voltage gain into 8 ohms measured 24.55dB from both its balanced and unbalanced inputs when set to Low gain, and 30.3dB when set to High gain. Both inputs preserved absolute polarity (ie, were non-inverting). The unbalanced input impedance measured 13k ohms across the audioband, the balanced input impedance a consistent 19k ohms. The output impedance was low for a design with a class-D output stage: 0.07 ohm at low and middle frequencies, rising slightly to 0.11 ohm at 20kHz. As a result, the modification of the amplifier's frequency response with the impedance of our standard simulated loudspeaker (fig.1, gray trace) was minimal. This graph, taken with the balanced input and High gain setting, reveals that the amplifier's output rolls off sharply above the audioband, though the response at 20kHz is down by an inconsequential 0.35dB. This increased slightly, to –0.5dB, in the Low gain condition. A 10kHz squarewave was reproduced with a critically damped overshoot on its leading edges (fig.2).
Without the Audio Precision low-pass filter and with the input shorted to ground, there was 42.4mV of RF noise present at the speaker terminals, with a center frequency of 401kHz. This is equivalent to an unweighted, wideband signal/noise ratio of just 37.23dB ref. 2.83V into 8 ohms. With the AP filter, the ratio improved to 74.1dB (High gain) and 75.9dB (Low gain). Restricting the measurement bandwidth to 22Hz–22kHz improved the ratios to 85.1 and 87.4dB; an A-weighting filter gave further improvement, to 88.8 and 92.2dB. Fig.3, taken in the Low-gain condition, indicates that while spuriae are present at the AC mains frequency and its odd-order harmonics, these are at a low level.
Fig.4 plots the percentage of THD+noise against output power into 8 ohms. The DPA-1M exceeds its specified power of 325W into that load (25.1dBW), clipping at 380W (25.8dBW). (We define clipping as happening when the THD+N reaches 1%.) However, into 4 ohms (fig.5), the DPA-1M clipped at 375W (22.75dBW). I plotted how the THD+N percentage changed with frequency at a level—8.95V, equivalent to 10W into 8 ohms, 20W into 4 ohms, and 40W into 2 ohms—at which I could be sure I was looking at actual distortion rather than noise. The result (fig.6) shows that while the distortion is very low into 8 ohms (blue trace), it rises in the treble and into lower impedances (magenta and red).
Fig.7 reveals that the distortion primarily consists of spuriae at the waveform's zero-crossing points. This generally correlates with the presence of high-order harmonics; but at high powers (fig.8), the predominant harmonic is the subjectively benign second, at –84dB (0.006%). The level of this harmonic increased to –70dB (0.03%) into 4 ohms, and a regular series of higher-order harmonics appeared, though at lower levels than this. Intermodulation distortion was relatively low, however (fig.9), even at a level, 100W into 8 ohms, where the red clipping LED was just starting to illuminate.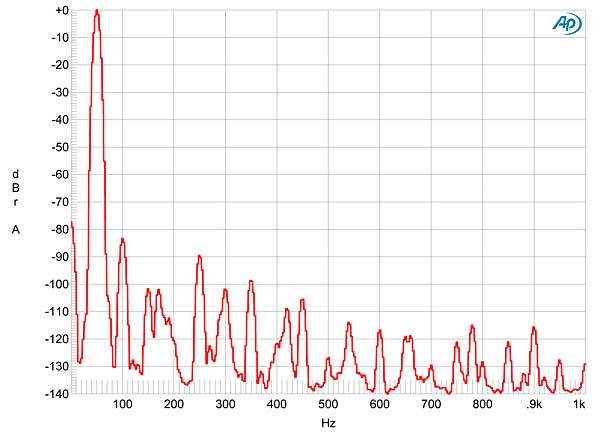 Although Audio Alchemy's DPA-1M offers an astonishingly high output power for such a small, lightweight amplifier, its measured performance reveals that it will operate at its best into higher impedances. Speakers that drop below 4 ohms are best avoided.—John Atkinson