Audeze LCDi4 in-ear headphones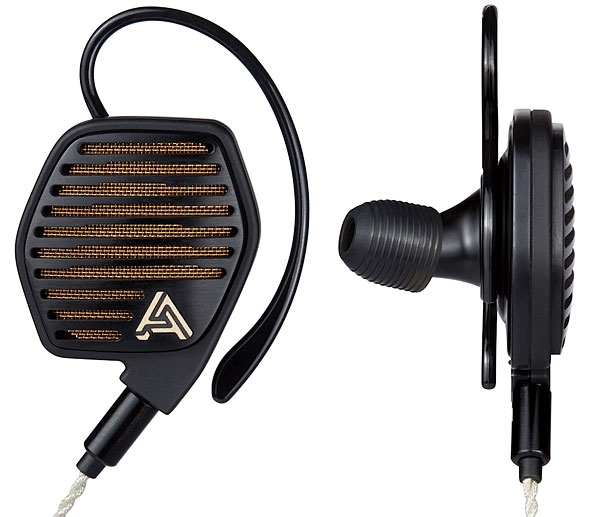 Headphone listening has always been an important part of my audiophile life. In recent years I've been using at home Audeze's large, open-back, circumaural LCD-X headphones, which I bought after reviewing them for the
March 2014 issue
; and a pair of small
Ultimate Ears 18 Pro
in-ear monitors, which provide much better isolation on my subway commute to
Stereophile
's offices in Manhattan. I was intrigued by Audeze's
iSine in-ear models
, which were introduced in November 2016 and are unique in using planar-magnetic drive-units mounted outside the ear. I thought about reviewing a pair of the affordable iSines, but before I could get around to it, I heard that Audeze was to launch a cost-no-object version, the LCDi4, priced at a substantial $2495/pair. Aspiration got the better of frugality, and I asked for a pair to review.
Technology
The LCDi4s superficially resemble the iSines in having a fair-sized, roughly hexagonal, shallow housing, in this case made of magnesium, enclosing a flat, magnetically driven diaphragm. This is coupled to the user's ear canal with a tapered tube, over which is fitted a rubber tip to provide the necessary seal. The LCDi4s are supplied with a variety of different-sized eartips, along with vestigial clips that fit over and behind the pinnae to secure the fit. Unlike the iSines, which have a DAC chip in the cable and are intended to be connected to an iPhone's Lightning connector, the LCDi4s come with a braided 1.2m cable made of silver-plated OCC copper with Kevlar threads and fitted with a conventional 3.5mm stereo plug. Both the earpieces and the cable connectors are marked L and R, so there is no confusion connecting them.
The 30mm drive-unit is derived from that used in Audeze's LCD-4 circumaural headphone, and uses a plastic film just 0.5µm thick. A specialized vacuum-deposition process slowly builds a malleable metal layer on the film to act as the voice-coil. This Nano-scale Uniforce diaphragm is energized by Audeze's Fluxor array of neodymium magnets. The LCDi4s are assembled in Audeze's factory in Orange County, California, and in the first part of a video shot by our editorial coordinator and videographer Jana Dagdagan and posted to our website, you can watch how the headphones are made, followed by the testing, burn-in, and packaging. (The narration is by Sankar Thiagasamudram, Audeze's founder and CEO.) In the second part of the video you can watch me unbox the LCDi4s in the Stereophile office and give them a first listen.
The LCDi4s come packed in a classy leather and plastic box, with a leather travel case, the cable, a 3.5mm-to-¼" adapter, a USB stick with the user guides for Audeze's LCD and iSine models (but, peculiarly, not the LCDi4), a certificate of ownership, and a variety of rubber eartips and clips. Because my ear canals are larger in diameter than average, I needed to use the largest rubber tips to get a good seal.
Listening
I started my auditioning of the LCDi4s in the magazine's office with the Pass Laboratories HPA-1 amplifier (our "Headphone Product of 2017"), and with my 160GB iPod set to Shuffle. With Robert Silverman's performance of Liszt's Piano Sonata in b (16-bit/44.1kHz AIFF ripped from CD, Stereophile STPH008-2), the combination of low-frequency clarity and bass extension was unexpected for in-ear headphones. The Liszt was followed by "Flamenco Sketches," from Miles Davis's Kind of Blue (16/44.1 ALAC ripped from CD, Columbia Mastersound CK 52801), which begins with that familiar falling-fifth motif on Paul Chambers's double bass; the differences in character between John Coltrane's tenor sax and Cannonball Adderley's alto were delineated with superb clarity. Similarly, such details as the sudden "splash" of the spring-reverb unit in the middle of "Dream Brother," from Jeff Buckley's posthumous Mystery White Boy: Live '95–'96 (16/44.1 ALAC ripped from CD, Columbia 4982652), sounded palpably correct. (Back in the 1970s, I built a reverb unit using a Hammond organ spring unit I found in a dumpster outside a studio, and am well familiar with the "splash" you got when you accidentally knocked it.)
The iPod's Shuffle mode followed Buckley with pianist Angela Hewitt performing the Prelude in e-flat from J.S. Bach's Well-Tempered Clavier, Book 1 (16/44.1 ALAC from CD, Hyperion CDA66714/4). Hewitt's appropriately delicate playing was reproduced by the Audeze 'phones with space between the notes. The same thing was true with "The Horses," from Rickie Lee Jones's Flying Cowboys (16/44.1 ALAC file, Geffen), a recording of deliciously wide dynamic range produced by the late Walter Becker, of Steely Dan.
It was time to finish listening for pleasure and leave the office. Listening to the Audeze LCDi4s on the subway with my PonoPlayer proved fruitless: though they played acceptably loud with the iPhone, the headphones offer almost no isolation from external sounds. But when I got home, I plugged the LCDi4s into the 3.5mm output jack of Ayre Acoustics' QX-5 Twenty D/A processor, fed it S/PDIF data from NAD's M50.2 server (also reviewed in this issue), and settled down to some critical listening.