2012 Records To Die For Page 5
---
MICHAEL LAVORGNA
---
LOWELL DAVIDSON: Lowell Davidson Trio
Lowell Davidson, piano; Gary Peacock, bass; Milford Graves, percussion
ESP 1012 (CD). 1965/2008. Tom Abbs, prod. manager; Steven Walcott, tape transfer, remastering; Art Crist, eng. AAD? TT: 44:08
This is Lowell Davidson's only recording, and what a beautiful piece of music it is. Davidson studied pianoforte at age 4, composition at 8, harmony at 12, organ and then piano at 15. He graduated from Harvard on a full scholarship with a degree in biochemistry. Davidson's playing is not familiar in a directly referential way, yet it's melodically and harmonically rich and generous and inviting. I've never heard Milford Graves's fury sound so enmeshed, and Gary Peacock is stunning. This is a strange amalgam of musical stuff that adds up to one musically magical experience. "It's about evolution," said Davidson.
BILL DIXON ORCHESTRA: Intents and Purposes
Bill Dixon, trumpet, flugelhorn; George Marge, English horn, flute; Robin Kenyatta, alto saxophone; Byard Lancaster, alto saxophone, bass clarinet; Jimmy Cheatham, bass trombone; Catherine Norris, cello; Jimmy Garrison, Reggie Workman, bass; Robert Frank Pozar, drums; Marc Levin, percussion
International Photograph LSP-3844 (CD). 1967/2011. Jonathan Horwich, reissue prod. AAD? TT: 41:66
Recorded in 1967, Intents and Purposes sounds like Debussy covering Miles transcribed by Webern for a small army of free-jazz improvisers. This music simmers and shimmers with voices, sounds and silences stepping in and out of time, and really doesn't sound like anything else except great art. To my way of thinking, anyone and everyone interested in music should own their very own copies of Bill Dixon's Intents and Purposes. It would make the world a more thoughtful place. "When I play, whether you like it or not, I mean it," Dixon said.
---
RICHARD LEHNERT
---
LEROY ANDERSON: Orchestral Music, Vols. 1–5
Leonard Slatkin, BBC Concert Orchestra. With: Jeffrey Biegel, piano; Kim Criswell, soprano; William Dazeley, baritone.
Naxos American Classics 8.559313, 8.559356, 8.559357, 8.559381, 8.559382 (5 CDs). 2008. Neil Varley, prod.; Marvin Ware, Neil Pemberton, Paul Waton, engs. DDD. TTs: 61:54, 54:51, 61:49, 60:26, 52:16 (4:51:16)
When did Americans of a certain age imprint on the music of Leroy Anderson (1908–1975)? When they heard "The Syncopated Clock" at the beginning of CBS's The Late Show? Played "The Phantom Regiment" in eighth-grade band, or "A Trumpeter's Lullaby" in high school, or "The Typewriter" in college? The thousandth hearing, on any given Christmas, of "Sleigh Ride"? The first hearing of "Blue Tango," "Serenata," or "The Girl in Satin"—to certain 12-year-olds, the heights and depths of dark romantic mystery? I don't know. All I know is that this stuff spouts from a vein of American music as deep and vital as any romanced by Greil Marcus in Mystery Train. A definition of kitsch is "something that appeals to popular or lowbrow taste and is often of poor quality." Poor quality? Anderson composed and arranged with the meticulous care of a master craftsman. To say that he wrote light music with great tunes is like saying Wagner wrote long operas: obvious but irrelevant. When he wasn't writing hits for Arthur Fiedler and the Boston Pops beginning in the 1930s, Anderson worked as an orchestral arranger, and those skills are everywhere audible here. His four suites of Christmas carols, one each for strings, woodwinds, brass, and full orchestra, are a collective tour de force of the orchestrator's art. And if sentimentality is unearned feeling, Anderson worked hard to earn his sentiments, writing perfect countermelodies; in nearly every composition here, a haunting descant casts a darker shadow for the (usually) sunny main theme. His senses of rhythm, syncopation, counterpoint, contrary motion, orchestral voicing, and gentle musical wit are as impeccable as Gershwin's, and as authentically American. Among the 60-odd works on these five discs are 10 world-premiere recordings, all worth hearing. The piano concerto will surprise you in its fluidity and tunefulness, even for Anderson, and pianist Jeffrey Biegel does not condescend to the work. All of Anderson's arrangements for his single musical, Goldilocks, are here.
Anderson's music has never been better conducted, played, or recorded. Leonard Slatkin lovingly sculpts each phrase as if it were the most evanescent Delius, the most gracile Mozart; the BBC Concert Orchestra are eager accomplices. The acoustic of The Colosseum, Town Hall, Watford is palpable in recordings miked at a distance that sounds . . . respectful. This music limns in sound the world that every character of Mad Men, and most of my and my parents' generations, believed we were being prepared to take our roles in. It was not our or Anderson's fault that that world was a lie, or no longer tenable, or never quite existed, or was fast vanishing even as Anderson so lovingly embodied in sound its ideal of perfectly poised geniality. I'm glad his music is what remains.
---
ROBERT LEVINE
---
MOZART: Violin Concertos 3–5, K. 216, 218, 219
Andrew Manze, violin, conductor; The English Concert
Harmonia Mundi HMU 807835 (CD). 2006. Robina G. Young, prod.; Brad Michel, eng. DDD. TT: 75:45
Andrew Manze, like, totally rocks, dude; he has a stupendous ear for detail. Concerto 3 opens with an instantly catchy melody, and Manze tapers the end of it oddly but interestingly—he make you wonder what's next and softens its cocky attitude. His solo entry in the Adagio is exquisitely ghostly; he walks into the divine setting on tiptoe and keeps the mood of sweet sadness going. The lack of vibrato in the higher registers is haunting here and in the first movement of Concerto 5, where it shows up with a whisper of an Adagio in the midst of a nicely jolly Allegro. And the facts that Manze's tone can be full and his attacks startlingly strong tell us that he's making a choice. Again, in Concerto 4's opening movement, Mozart keeps the orchestral register low and the solo violin very high-flying; he must have wanted just such a textural difference, and Manze is careful to make it clear. By the time we get to the rambunctious "Turkish" music in this concerto, with its bows bashing wildly into the strings, we realize that Mozart's love of contrasts, which he found funny, is being gloriously honored here. The English Concert is more than adept: the horns and winds are just right, and the strings—16 of them—think and play as one. Manze composed all of the cadenzas, and they're as interesting and idiomatic as if Mozart himself had written them. The recording is ideally balanced; the soloist comes out of the orchestral fiber exactly as needed, and all balances are natural. (XXIX-4)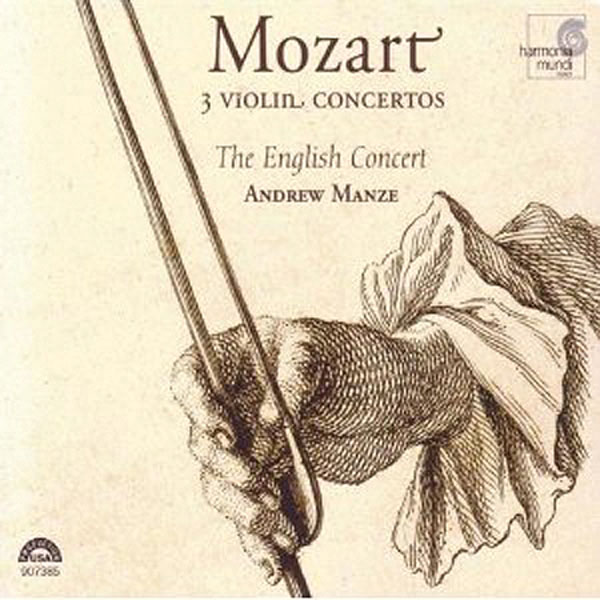 SZYMANOWSKI: Songs of a Fairy-Tale Princess, Harnasie, Love Songs of Hafiz
Iwona Sobotka, soprano; Katerina Karnéus, mezzo-soprano; Timothy Robinson, tenor; City of Birmingham Symphony Orchestra & Chorus, Sir Simon Rattle
EMI Classics 44352 2 (CD). 2006. Stephen Johns, prod.; Mike Clements, eng. DDD. TT: 65:13
The two song cycles recorded here are more than tinged with Orientalisms, the East filtered through French pastels. The first, Songs of a Fairy-Tale Princess, consists of just three songs, each a coloratura gem that sometimes lapses into sheer vocalise, the texts left behind. Bird-like soprano Iwona Sobotka sings them splendidly. Love Songs of Hafiz is based on translations of 14th-century Persian poetry; their late-Romantic textures, the use of percussion both high and low, and their expressive honesty are warm and tempting. Szymanowski wisely uses a darker, mezzo-soprano voice to express the intermingling images of nature and desire, and Katarina Karnéus caresses each languorously. Sandwiched between the cycles is a ballet, Harnasie, peculiarly scored for tenor, chorus, and orchestra. This is forwardly propulsive, rhythmically jerky, occasionally Stravinsky-like music that perfectly suits the subject of a bride being willingly abducted on her wedding night by bandits in the Carpathian Mountains. The textures are on a grander scale here, still strangely ethereal at times, but intercut with more earthbound sounds: blocks and, possibly, a whip enter the soundscape, and the xylophone goes wild. All of the music is gripping and thrilling, filled with harmonic and orchestral surprises, and Sir Simon Rattle and the City of Birmingham Orchestra and Chorus obviously feel passionately about it. The performances and sonics are exemplary.
---
ERICK LICHTE
---
THE BEACH BOYS: The SMiLE Sessions
Capitol T2580 (2 CDs, HDTracks hi-rez downloads). Mark Linett, Alan Boyd, Dennis Wolf, compilation prods. ADD. TT: 79:20/64:06
While Brian Wilson's 2004 completion of his abandoned SMiLE project may have been a personal triumph, I was left with the feeling I was listening to a competent cover band trying to recapture the feel, and perhaps the reason, for Wilson and Van Dyke Parks's phantasmagorical trip through America. The 2004 album lacked Wilson's modular recording, his "wrecking crew" session musicians, and, most important, the sun-drenched yet melancholic harmonies of the Beach Boys themselves. The SMiLE Sessions restores his original vision, and offers a glimpse of what might have been had Wilson been able to find the mental energy and emotional support to finish his magnum opus in 1967. Hearing The SMiLE Sessions, I finally understood that this album truly deserves its mythical status as one of music's greatest unfinished works. I also recommend you find online the bootleg Alternate Brian Wilson Presents SMiLE.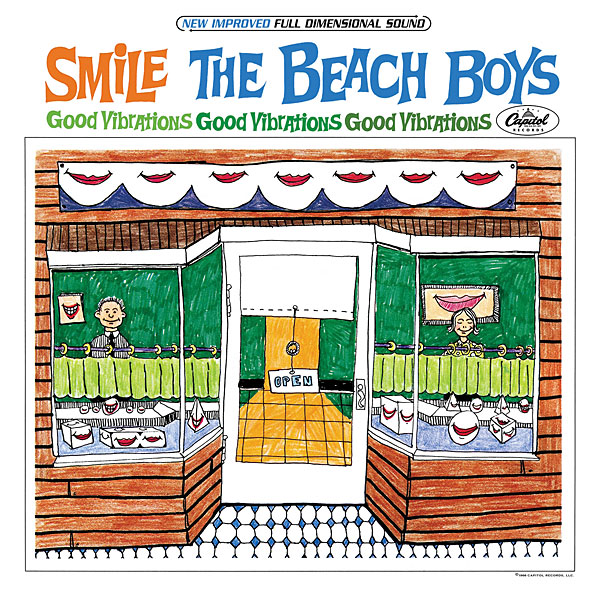 TRIO MEDIAEVAL: Folk Songs
Anna Maria Friman, Linn Andrea Fuglseth, Torunn Østrem Ossum, vocalists; Birger Mistereggen, percussion, Jew's harp
ECM New Series 2003 (CD). 2007. Manfred Eicher, prod.; Peter Laenger, eng. DDD. TT: 61:35
In my opinion, Trio Mediaeval have redefined the art of ensemble singing. With their amazing match of voices, fearless singing, and peerless taste in music, Anna Maria Friman, Torun Østrem Osum, and Linn Andrea Fuglseth are the greatest girl group ever. Among their many great albums helmed by ECM's Manfred Eicher, my favorite is Folk Songs, a collection of ancient Norwegian songs that brings out all of the group's vocal beauty, humor, and pathos. Lightly accompanied by percussionist and Jew's-harp player Birger Mistereggen, this album is at turns searing, icy, sensual, and stoic. Each song bears witness to the group's ability to make music as a triune organism that thinks, feels, breathes, and sings as one. The sound quality is among the best I've heard.
---
JOHN MARKS
---
MICHEL LEGRAND: Legrand Jazz
Michel Legrand, arr., conductor; Herbie Mann, flute; Phil Woods, alto saxophone; John Coltrane, Ben Webster, tenor saxophone; Donald Byrd, Miles Davis, Art Farmer, trumpet; Bill Evans, piano; Paul Chambers, bass; others
Universal Music France 830 074-2 (CD). 1958/2003. No prod. or eng. listed; Alexis Frenkel, remastering. A?D. TT: 44:41
This has to be the ultimate 1950s Phenomenal Jazz Sleeper Recording. Michel Legrand is usually thought of as the composer of syrupy movie music such as "The Windmills of Your Mind," from The Thomas Crown Affair. However, that's less than entirely fair. Legrand was always at least one rung above the level of a journeyman Tin Pan Alley songsmith. His score for The Umbrellas of Cherbourg was a truly epochal achievement, in that there is no spoken dialogue in the entire film: it is all sung. Legrand also cowrote "What Are You Doing the Rest of Your Life" and "You Must Believe in Spring."
The total outlier in Legrand's discography is this oft-overlooked product of three 1958 sessions at Columbia's 30th Street studio in New York, where he didn't play piano and isn't credited as a composer. Instead, the 26-year-old Legrand shaped up the sessions, wrote the charts and conducted 11 standards by Armstrong, Basie, Beiderbecke, Ellington, Gillespie, Goodman, Monk, Reinhardt, among others—from "A Night in Tunisia" to "'Round Midnight." The earliest session is the attention magnet; it features Miles Davis, John Coltrane, Phil Woods, Bill Evans, and Paul Chambers. (Tracks from the three sessions are interleaved in the running order.) There's not much variability in the quality of the sessions, because Legrand's inventive arrangements are so engaging. Miss it at your peril. (XIX-2)
KLAUS TENNSTEDT: The Great EMI Recordings
Music of Beethoven, Brahms, Bruckner, Dvorák, Kodály, Mahler, Mendelssohn, Mussorgsky, Prokofiev, Schubert, Schumann, R. Strauss, Wagner
Klaus Tennstedt, Berlin Philharmonic, Chicago Symphony, London Philharmonic & Choir, BBC Chorus
EMI Classics 94433 (14 CDs). 1978–91/2011. Various prods., engs. ADD/DDD. TT: 15:54:44
I think no one said it better than Norman Lebrecht in The Maestro Myth: "Perhaps this was [Tennstedt's] secret, the sensation that each performance could be his last. Each event was both an undreamed privilege and an act of desperation, the fulfillment of a lifelong ambition and a confrontation with naked fear." If I had to sum up Tennstedt's approach to conducting in one phrase, it would have to be "monumental architecture full of luscious sound and self-evident sincerity." Standouts here include a disciplined but charming Dvorák Symphony 9, a deliberate and very dynamic Brahms German Requiem—and, with the Chicago Symphony, an electrifying, majestic live performance of Mahler's Symphony 1 that is more matter-of-fact than numinous. As good an introduction to the "big" classics as many boxed sets and better than most, and therefore a great gift.
---
STEPHEN MEJIAS
---
SONIC YOUTH: Experimental Jet Set, Trash and No Star
DGC DGC24632 (CS/CD/LP). 1994. Butch Vig, prod., eng.; John Siket, asst. eng.; Howie Weinberg, mastering. ADD? TT: 47:37
THE FLAMING LIPS: Clouds Taste Metallic
Warner Bros. 45911 (CS/CD/LP). 1995. The Flaming Lips, Dave Fridmann, prods., engs. ADD? TT: 47:37
Experimental Jet Set, Trash and No Star, Sonic Youth's 10th record and the last to feature their classic lineup (Thurston Moore and Lee Ranaldo on guitars, Kim Gordon on bass, Steve Shelley on drums), was released during my senior year in high school. I owned it on cassette, and I'd be sure to grab it before jumping into Kim's car for long rides down Interstate 4, from Deltona to Orlando or Daytona Beach or nowhere at all. All we ever needed was a full tank of gas, the highway's broken white lines, and a starlit sky to lead us on and on. Up front, Kim and Stephanie would roll down the windows and exhale thick smoke from their Marlboros, while in the darkness of the cluttered back seat I nodded my head to the confident, relentless rhythms, searched for meaning in the strange lyrics, and committed to memory every bold and violent guitar line. Inside our minds, I imagine, we heard the same thing: the sound of freedom and possibility. Perfect and purposeful from beginning to end, Experimental was recorded by Butch Vig at New York City's Sear Sound and mastered by Howie Weinberg at Masterdisk. The sound is just like the music—open, beautiful, alive. (XVII-11)
A year later, I had moved from Florida back to New Jersey and was attending Fairleigh Dickinson University, where I fell in love with a blue-haired, red-lipped girl named Michelle. One painfully cold winter night, just before Christmas, she grabbed my hand and pulled me along as she raced to catch the last bus from Teaneck to Hoboken. We arrived at a small rock club called Maxwell's, to see a band I knew nothing about. "The Flaming Lips," she told me, "are amazing!" I was skeptical until the band took the stage. After four clicks of the drum sticks, the side walls and ceiling and everything within sight—mike stands, monitors, even the band's gear—went ablaze with strings of bright Christmas lights. It was in this dream of color that the Lips tore through "Christmas at the Zoo," "Lightning Strikes the Postman," "Kim's Watermelon Gun," and the rest of Clouds Taste Metallic, making very clear that the band was on the verge of superstardom. While that live performance remains one of my all-time favorites, listening at home is an experience completely different but no less magical. Recorded by Dave Fridmann, Clouds Taste Metallic leaps, whizzes, and twirls through the listening room with enough vibrant, realistic color and impact to pull me back in time and send chills through my entire body.
---
PAUL MESSENGER
---
SYD BARRETT: Wouldn't You Miss Me? The Best of Syd Barrett
Harvest/Capitol 5 32320 2 (CD). 2001. Syd Barrett, Peter Jenner, Malcolm Jones, Roger Waters, David Gilmour, Rick Wright, prods. AAD? TT: 73:24
In my opinion, when Syd Barrett left Pink Floyd, he took the band's sense of humor with him. Much of that humor reemerged in the two solo albums, The Madcap Laughs and Barrett, that he made at either end of 1970, and which make up most of this 22-track compilation. Barrett's humor is classic British whimsy, very much in the tradition of Walter De la Mare and Lewis Carroll, so it might not have universal appeal. But humor is a rare flower in the rock jungle, and the tunes are as imaginative as the lyrics; this is a rare treat, and a poignant reminder of what might have been.
JONI MITCHELL: Mingus
Asylum AS 53 091 (LP), Warner Bros. 7559605572 (CD). 1979/1986. Joni Mitchell, Steve Katz, mix; Henry Lewy, Jerry Solomon, eng., mix; Bernie Grundman, mastering. AAA/AAD. TT: 37:20
One of the least well known of Joni Mitchell's albums, Mingus is frequently and unjustly overlooked. Yet it's the default Mitchell that finds its way onto my turntable, thanks to a combination of fine musicianship from the Weather Report crew (Wayne Shorter, and Jaco Pastorius at his very best) and excellent sound (on my LP). Although the rap interludes between tracks can become tedious with repeated playing, it has arguably the finest version of "The Dry Cleaner from Des Moines" I've ever heard, with Mitchell's impeccable timing matching the band's.
---
FRED MILLS
---
LED ZEPPELIN: IV
Atlantic SC-7208 (LP). 1971. Jimmy Page, prod.; Andy Johns, eng. AAA. TT: 42:25
Everyone's heard the tale, possibly apocryphal, of Robert Plant driving around the Northwest one afternoon when he hears a local radio station, in the middle of a fund drive, cue up "Stairway to Heaven." As the story goes, Plant phones in and pledges 50 bucks if the DJ promises to never play it again. Well, recently, my 10-year-old discovered Led Zep in a big way, to the point where he's making me play "Stairway" in the car every morning on the way to school. We're at 23 spins and counting. But you know what? The song is just as thrilling now as when I first heard it in the winter of '71, and played it over and over. Other tracks on the LP—the Sandy Denny–powered "Battle of Evermore," the thuggish blooze of "When the Levee Breaks," the tight-pants swagger of "Rock and Roll"—still thrill, too. I'm a teenager all over again. (XXV-11)
THE LONG RYDERS: Native Sons: Deluxe Reissue
Prima SID-024 (CD). 2011. Henry Lewy, Paul McKenna, Earle Mankey, Ethan James, prods./engs. AAD. TT: 75:47
The term "alt-country" is a cliché nowadays, but in 1984 it was decidedly outré for a group to come out sporting buckskins and Levi's to serve up twangy, pedal steel–adorned ditties of a Gram Parsons/Burrito Brothers/Byrds tilt. Cali mavericks the Long Ryders did just that, and their Native Sons album was groundbreaking enough to carve out a niche on college radio. This reissue adds their debut EP and early demos, proving that while they were well versed in country, bluegrass, and folk, at the end of the day they were an American band fully immersed in rock'n'roll and its many variants, from cosmic cowboy and country-rock to jangly pop and garage/psych.