2012 Records To Die For Page 4
---
MICHAEL FREMER
---
HENRY MANCINI: Combo!
RCA LSP-2258 (LP). 1961. Dick Pierce, prod.; Al Schmidt, eng. AAA. TT: 36:47
A combination of cool jazz and what's today referred to as "space-age bachelor pad music," this Mancini outing features top West Coast musicians including Art Pepper on clarinet (!), Pete Candoli, Shelly Manne, Larry Bunker, and "Johnny" Williams (the John Williams of Star Wars fame) on piano and harpsichord. The harpsichord gimmick wears a bit thin, but Mancini's arrangements remain otherwise fresh and inventive. The opener, Bobby Timmons's "Moanin'," will floor you thanks to the astonishing Living Stereo sound, engineered by the still great Al Schmidt at RCA's Music Center of the World. Not one of Mancini's more commonly found RCAs, but well worth finding, even if you use it only as a demo disc to show your friends what CDs just can't do.
TOM RUSH: The Circle Game
Elektra EKS-74018 (LP). 1968. Arthur Gorson, prod.; Bruce Botnick, Brooks Arthur, engs. AAA. TT: 38:16
This quintessentially moody New England winter's evening album is where many listeners first heard the songs of Joni Mitchell, James Taylor, and Jackson Browne. Rush covers "Tin Angel," "Something in the Way She Moves," "Urge for Going," and "Sunshine, Sunshine," among others, and sequences them to chronicle the arc of a relationship. Crack studio cats Bernard Purdie, Eric Gale, Buddy Lucas, and Herbie Lovelle provide backup, along with the occasional string section. Preppy and tasteful (perhaps a bit too), with cover photography by Linda Eastman—and, of course, given the engineering pedigree, the sound is superb on the tan Elektra label.
---
LARRY GREENHILL
---
ARNE DOMNERUS QUINTET: Jazz at the Pawnshop, Vol.1
Arne Domnerus, saxophone; Lars Erstrand, vibraphone; Bengt Hallberg, piano; George Ridel, bass; Egil Johanson, drums
Proprius PROP 7778-7779 (2 LPs), PROP 7778 (SACD/CD), 24-bit/88kHz FLAC files (HDtracks). 1977/2005. Jacob & Erland Boethius, prods.; Gert Palmcrantz, eng.; Andrew Lang, digital remastering. AAA/AAD? ADD. TT: 69:12
Jazz at the Pawnshop, released by Proprius in the late 1970s on two LPs, also became an audiophile classic. It was recorded with two Nagra recorders in Stockholm at the Stampen Jazz Club in December 1976 by Gert Palmcrantz, who used two microphones to capture the five musicians. He also captured ambience cues, the musicians talking, audience movements and whispers, the clinking of cutlery—even the sounds of another music session taking place downstairs. The LP and the hi-rez digital files best render the amazing sense of space Palmcrantz captured, as heard in "Limehouse Blues" and my favorite recording of solo vibraphone, "I'm Confessin'." Though now in its fourth decade, the album continues to sell over 4000 copies a year, and to be a standard test record for ambience, soundstaging, and upper-midrange values.
OSCAR'S MOTET CHOIR: Cantate Domino
Works by Adam, Berlin, Bossi, Gruber, Handel, Olsson, Reger, Rutter, Vogler, Walther
Marianne Mellnäs, soprano; Alf Linder, organ; Torsten Nilsson, Oscar's Motet Choir
Proprius 7762 (LP), SACD 7762 (SACD/CD). 1976/2005. Jacob Boethius, prod.; Bertil Alving, eng.; Torbjorn Samuelsson, remastering. AAA/ADD. TT: 51:37
In the early 1980s, a series of LPs produced by the Swedish label Proprius quickly became standards for testing new equipment among the New York audiophile community. Bossi's Cantate Domino, for choir, trumpets, trombones, and organ, opens the album, followed by Swedish folk songs and music by Handel, Olsson, and others. One friend began calling the second track, "O Helga Natt" ("Oh Holy Night"), "the audiophile anthem." No wonder—it's an astounding recording. Marianne Mellnäs's startlingly clear and lovely soprano, suspended in a huge space, is confronted by a powerful chorus and a thunderous organ. Although my LP has been played to death and now has prominent ticks and pops, its dynamic range—between the crystal-clear Mellnäs, the powerful chorus, and the solid organ notes—still tests the limits of my system.
---
STEVE GUTTENBERG
---
DOROTHY ASHBY: Afro-Harping
Dorothy Ashby, harp, unknown musicians
Cadet B0000027-02 (CD). 1968/2003. Richard Evans, prod., arr.; Kevin Reeves, mastering. AAD? TT: 36:00
Dorothy Ashby's Afro-Harping is a time capsule of sorts, a late-1960s soul-jazz romp that perfectly evokes an era. Deep, string-driven grooves like "Soul Vibrations" and "Life Has Its Trials" had me reelin' back in the days of black lights, beads, and incense. Ashby's harp playing owes a lot to guitarist Wes Montgomery, and she's funkier than Alice Coltrane. The title track's live-in-the-studio soundscape is deep and wide; play this CD in the dark to get the full effect.
YIM YAMES: Tribute To
ATO 8 80882 16672 4 (CD). 2009. No prod. or eng. listed. AAD? TT: 26:35
I just recently stumbled on My Morning Jacket's frontman Yim Yames's heartfelt EP, Tribute To: covers of six George Harrison songs recorded in 2001, just days after Harrison passed away. When Yames sings "A lifetime is so short," from "Love You To," it's impossible to hold back the tears. Recorded on Yames's cousin's analog Fostex eight-track reel-to-reel machine, Tribute To's feel is blissfully free of Pro Tools, and the stripped-down acoustic arrangements provide a new opportunity to appreciate Harrison's exquisite songcraft. The "quiet" Beatle indeed.
---
JON IVERSON
---
JAH WOBBLE: Molam Dub
30 Hertz HZCD12 (CD). 2000. Jah Wobble, prod., mix. ADD? TT: 68 ecstatic minutes
Pull up a seat and watch two musical universes collide. Jah Wobble has created a series of Asian Dub discs, each focused on a different region. They're all good, but this is my favorite. Wobble craftily assembles a stack of tracks capturing 1000-year-old Southern Laotian folk styles, then melts them down with 1000-foot-tall dubby bass lines. On the Laotian side are beguiling male and female singers and the insistent reedy sound of the khene, a Laotian bamboo mouth organ. On the Wobble side are his circular subterranean bass lines, guitar, and mashed percussion. The result is possibly the best East Meets West collaboration ever. If you buy only one Laotian Dub record this year, this should be it.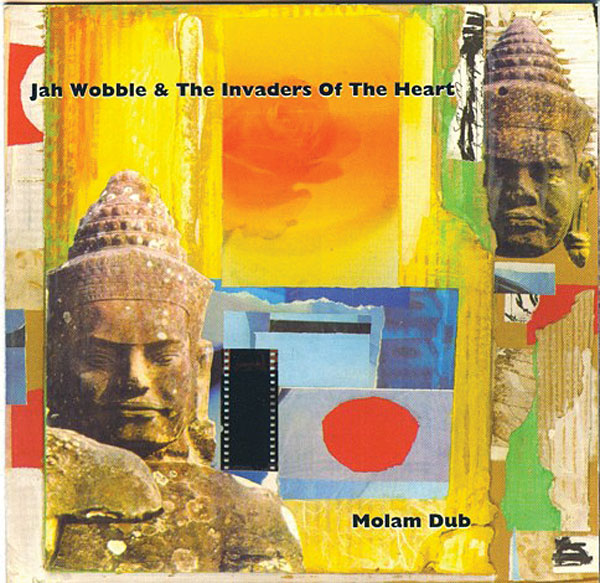 ROXY MUSIC: For Your Pleasure
Virgin 8 47449 2 (CD). 1973. Roxy Music, Chris Thomas, John Anthony, prods.; John Middleton, John Punter, engs. AAD. TT: 42 groovy minutes
In a pivotal scene in the 2008 film Flashbacks of a Fool, set in early-'70s England, two kids mime to Roxy Music's "If There is Something" in a way that so perfectly captures the era it had me flashing back and playing Roxy albums for weeks. Which reminded me that their second album is the best of the bunch, by a note or two. It features Bryan Ferry's Count Chocula voice and the classic lineup, including Eno, and nothing can beat the closing numbers on each side of the original LP: "In Every Dream Home a Heartache" and "For Your Pleasure." Nothing.
---
FRED KAPLAN
---
ORNETTE COLEMAN QUARTET: The Shape of Jazz to Come
Ornette Coleman, alto saxophone; Don Cherry, pocket trumpet; Charlie Haden, bass; Billy Higgins, drums
Atlantic/Rhino SD 1317 (LP). 1959/2010. Nesuhi Ertegun, prod.; Bones Howe, eng. AAD. TT: 38:14
A revolutionary album (its title proved truly prophetic), forever fresh and bracing, it's also melodic (a point widely missed back in 1959)—even sometimes romantic, and rivetingly so. The news here is that Rhino's LP sounds so much better than not only the CD (whew) but the original Atlantic pressing: wider dynamics, pluckier bass, brassier trumpet, an airier alto sax. It's not the best-sounding jazz album or the best-sounding Ornette, but it's one of the best jazz albums, and it's now worthy of a high-end stereo. That's worth celebrating. (XIX-2, XXXIV-2)
DUKE ELLINGTON AND HIS ORCHESTRA: Masterpieces by Ellington
Duke Ellington, piano
Columbia/Legacy CK 87042 (CD). 1950/2004. George Avakian, prod.; Fred Plaut, eng.; Mark Wilder, DSD remastering. ADD. TT: 55:24
The Duke stretched out some of his classics for his first LP, and the result is one of the most gorgeous jazz albums ever. The arrangements veer, within one song, from straight swing to Ravelian tone poems to Tin Pan Alley riffs with Sondheimian harmonic complexity. It was recorded in 1950 (by Fred Plaut, who later miked Kind of Blue), yet the dynamics, depth, and timbral accuracy are astonishing. Mark Wilder did the DSD remastering from the original analog tapes, but this is a conventional CD. Somebody, put this out on 24/96 digital or 180gm vinyl! (XXVII-9)
---
DAVID LANDER
---
ROBERT JOHNSON: The Complete Recordings: The Centennial Collection
Columbia/Legacy 88697-85907-2 (2 CDs). 1936–37/2011. Stephen C. LaVere, prod.; Steve Berkowitz, A&R supervision; Seth Winner, mastering. TT: 111:16
BOBBY SHORT: Celebrates Rodgers & Hart
Bobby Short, vocals, piano; Beverly Peer, bass; Richard Sheridan, drums, percussion
Atlantic 81320-2 (CD). 1975. Lew Hahn, prod.; George Piros, mastering. AAD. TT: 76:05
Robert Johnson, the consummate country bluesman, and the urbane club singer Robert "Bobby" Short epitomize disparate musical genres. Their lives differed radically in span and style. Johnson had some success as an itinerant musician before dying at age 27 in 1938, while the dapper Short dished out tunes at Manhattan's posh Café Carlyle for more than three decades after his star was lit by a 1968 concert with Mabel Mercer, the patron saint of cabarets.
They did have things in common, these Roberts who sang in saloons. Short left home to begin his career at age 12 in 1936, so they were briefly contemporaneous performers. Both were black, and though Short was spared the life in the Jim Crow South that Johnson endured, he experienced his share of bigotry while touring early on. Both also achieved prominence at about the same time, Johnson via 1961 and 1970 reissues of his recordings that fed the era's appetite for authentic acoustic blues, and Short on a wave of interest in more sophisticated fare.
Eric Clapton, Bob Dylan, Keith Richards, and a host of others are Johnson disciples, but many listeners have yet to hearken to his message. If you still doubt the power of Delta blues, consider this album of all 29 songs the master recorded. It's chapter and verse, replicated from newly obtained originals, and it could convert you. (XXXIV-7)
If you care to sample the cabaret music menu, begin with this recording or another showcasing Short's sizzling selections from the American popular songbook. Prior to his death in 2005, Short became the darling of supper-club society by interpreting its creators with irrepressible ebullience, from Harold Arlen, Irving Berlin, and Cole Porter through Vernon Duke and Vincent Youmans. His singing was as heady as the atmosphere at his Christie's estate auction, where photocopies of the lavish commemorative catalog were needed to meet demand, and Short's Bechstein piano fetched $132,000.