Meridian, Ferrari Collaborate on a One-Piece System
Oooohh! Aaaahh! Coochy-coo!
are not the usual spontaneous reactions from hard-boiled audio journalists to the unveiling of a hi-fi component. Nor is the Silverstone Circuit, the self-proclaimed Home of British Motor Racing, the usual venue for such a launch. But the news that UK audio manufacturer
Meridian
and Ferrari were cuddling up together on a joint project was enough to drag yours truly halfway across the country to deep Northamptonshire on a miserably wet February morning.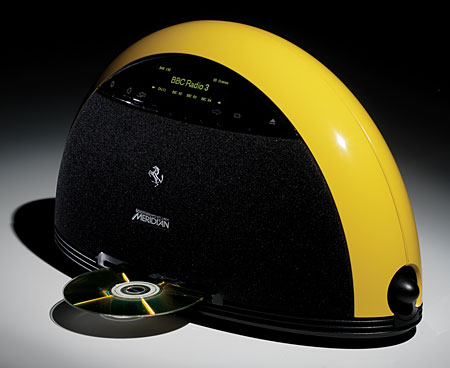 The Meridian F80—an ultrastylish, one-box audio system—is a complete departure for Meridian. But when I saw it in the flesh, it was obvious why Ferrari has lent its name and marketing muscle to the project. My impression was that the F80 is capable of a much higher standard of performance and sound quality than is normally associated with such devices—more, indeed, than one has any right to expect from something so small.
Meridian equipment has tended to look quite conservative in recent years, but the partnership of founders Allen Boothroyd (industrial design) and Bob Stuart (audio engineering) has a history of innovative design and styling that goes all the way back through Meridian's early years, to the wonderful Lecson amplifier and preamplifier of 1973. The F80 has given Boothroyd a great opportunity to come up with something radical, original, and beautiful, while doubtless providing Stuart with some taxing engineering problems along the way.
Inspired by art-deco designs from the golden age of radio, the F80 has an elliptical plan and a semicircular elevation. It may be small—just 16" W by 9" H by 7.25" D—but its +14-lb weight is a clue to how much engineering is packed inside. The F80 incorporates a high-quality DVD/CD transport, plus a radio tuner covering the wavebands appropriate to the country in which it's sold (the UK version has AM, FM, and DAB). What really distinguishes the F80 from any competition, however, is its built-in 2.1-channel speaker system, backed by 80W of amplification and advanced digital signal-processing (DSP) techniques, to ensure remarkably muscular sound from something so small.
The electronics are housed in a cast alloy base. The drive-units—two alloy-cone forward-firing main drivers and a long-throw, rear-firing woofer—are mounted in a complex molding—which is where Ferrari's engineering expertise with composite materials proved useful. Flexible analog and digital input/output connectivity extends to the radio side, with accessory antennas available to supplement the built-in antenna. Playing DVDs requires an additional video display, of course.
The F80's finish is exemplary; it's available with its arch lacquered in a choice of five classic Ferrari colors. The UK price is £1495 ($3000). A 230V version of the F80 will be launched throughout Europe, but no dates have yet been set for release in the US or Japan.