Trade Day at High End 2015
Ready, set go. It may not look crowded at 9am on the first morning of High End 2015 in Munich, but we who were dashing in an hour early for the Devialet press conference soon found Atrium 4.1 (shown) filled with people. Attendees included, in addition to consumers, dealers from multiple continents, some of whom are now skipping January's CES in Las Vegas because they find the trip to Munich more productive and far more enjoyable. Also present were manufacturers and reps who prefer to make the rounds rather than display. All in all, it's fair to say that, for many in the industry, High 2015 is as much a trade show as it is a consumer showcase.
As one of seven major display areas, Atrium 4.1 consisted of a large central area flanked by enclosed rooms. It also contained several small meeting areas in its center, as well as an eating area. Flanking the exposed center area of Atrium 4.1 were two long hallways, each of which contained 18 exhibit rooms. Put that all together, and I counted 59 exhibit spaces in Atrium 4.1 alone. Add another 20 in Atrium 3.1, 57 (more or less) in Atrium 4.2, several hundred exhibitors in Halls 1–4, and, and you had an extremely large show. In fact, in private conversation on the first day, Renate Paxa, press liaison for High End 2015, opined that it has gotten too large.
Despite its expansion, the show was superbly managed. Guards stood before all first-floor entrances and at the top of every stairway, ensuring that everyone with a badge also wore the day's specially colored wristband. This made switching badges outside or sneaking in under wraps far more difficult than usual. (Some US shows could learn a thing or two from the Germans.) Floor maps in the small show guide made perfect sense, and wide hallways and expansive Atriums added a sense of space to the show. Which is not to say that later in the day, especially on trade day and Friday, the stairways and hallways were not totally packed with people.
As I was soon to discover, going from point A to point B when you're a familiar face to so many in the industry is not so simple. Sometimes, even before I had exited an exhibit room, someone I knew came up to me and asked if I could please come with them to their room. Why not, I thought, since most of my time-consuming press conferences and appointments were confined to Trade Day and Friday? But once I had finished with them, I had to navigate back to where I had intended to go next. Sometimes I made it, and sometimes I was intercepted once again. Day 1 went by slowly because of the long press conferences and newness of the layout. Day 3 seemed to go especially slow, as each exhibitor insisted that they tell me virtually everything about their product and life in general save for the name of their pet tarantula. Somehow, without falling over myself or flying down a hallway, I managed to make up for lost time on Day 4.
But I get ahead of myself. On to Devialet...
The folks at Devialet must have been really proud of themselves. Before a large group of press, who were seated theatre style before a huge display screen, they unveiled their new products and offerings via the slickest three-screen video projection set-up I have ever witnessed.
Claiming to be "the world leader in amplification," with 3500 units sold last year —I know, I know —as well as "the world's most critically acclaimed start-up for the excellency of its innovations in sound technologies" and its 88 patents and 44 awards, Devialet followed up their verbal and visual presentation with both printed materials and a USB stick filled with information and images. Thus, even the most clueless press person left fully equipped to regurgitate what Devialet had hoped we would pass along.
New this year for Devialet's multi-function units, all of which include amplifier, preamplifier, DAC, streamer, and phono stage and claim "the best measured performance ever, 0.00025% distortion at full power" (regardless of their actual sound), is firmware upgrade 8.0. The upgrade includes Devialet's latest RAM (Record Active Matching) technology to equip their phono stage with correct EQ curves, as well as cartridge sensitivity and load settings for 130 different cartridges. MAT (Minimal Arithmetic Transform) lossless processing now extends to DSD64, which Devialet converts to PCM. SAM (Speaker Active Matching), complete with a new portable measurement system that can measure "all elements of a loudspeaker in less than 10 minutes," is now equipped to optimize performance for 220 different loudspeakers. Other upgrades include Intelligent Cinema Mode and Dynamic Power Management.
The press conference ended with a major listen to Devialet's eye and ear-catching Phantom. Phantom incorporates four ADH (Analog Digital Hybrid) amplifiers in bridged 2x2 configuration. The top model, the Silver Phantom ($2000), delivers 3000W, up to 105dB in room shaking power, and a frequency response of 16Hz–25kHz.
Devialet socked it to us with a demo that began with one Phantom, and then continuously added in more until something like a dozen units were pumping out music before and behind us. The bass was indeed impressive, but seemed strangely disconnected from the treble above it. This, however, may have resulted from the site's ever-present acoustic roadblocks, which affected the majority of rooms and made sonic hash of many a demo.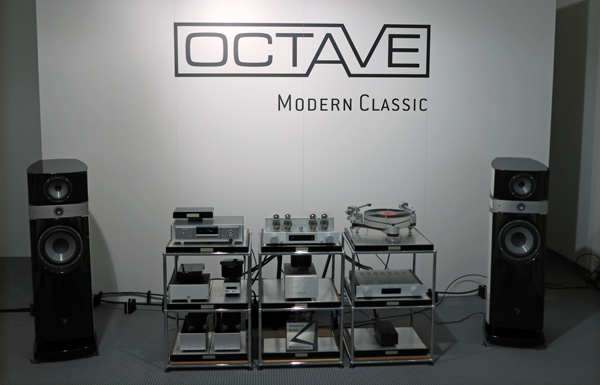 As the show opened, Michael Manousselis of Dynaudio took me to the various rooms that contained products distributed by the company. First stop was Octave, where a system that included Octave's due in June V80SE integrated amp ($9250) mated with a Swoboda-modified NAD network player and Swoboda cables to produce nice, warm, and well-controlled sound. The V80SE is KT-150–based, outputs 130Wpc, and includes all new power output transformers, a new preamp stage, and a new headphone amp. "Everything is new to the point where they could have come up with a different name for the unit rather than just calling it Special Edition," he said.
T+A showed four new components. These included the MP 2000 R ($6500), a CD transport/network player/DAC/wireless streamer combo that can play up to 8xDSD and does everything but analog and wash your windows; PA 2500 R amplifier ($8700) that outputs 140Wpc into 8 ohms and 280Wpc into 4 ohms —there is also a lower powered PA 2000 R ($6500) that outputs 100Wpc into 8 and doubles into 4.
There are now also two versions of the G 2000 R turntable, the first ($7400) with a Clearaudio arm and Clearaudio MC2 cartridge, the latter ($5400) with a Rega arm and Ortofon 2M Bronze cartridge. Add in T+A Criterion TCD 210 S loudspeakers ($10,800/pair in gloss black), T+A cabling, and T+A power bar, and you had a very nice but slightly gray presentation. Then again, as I discovered in no short order, the majority of systems at High End 2015 sounded a little gray around the edges.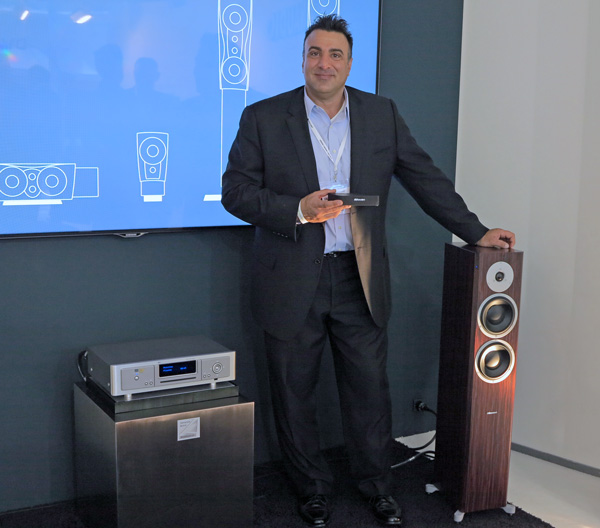 Manousselis looks rightfully proud as he stands next to Dynaudio's Focus 400 XD high-resolution self-powered loudspeaker ($11,000/pair). The Focus 400 XD boasts three times the power of the XEO loudspeaker and has more advanced DSP.
In his hand rests the new Dynaudio Connect wireless transmitter ($TBD). Shipping by July, the Connect, which works with both the Focus XD (for optional fully wireless operation at 24/96) and XEO self-powered wireless loudspeaker models, offers two analog inputs (stereo mini and RCA) and three digital inputs (Toslink, coax and USB), Bluetooth connectivity, an Ethernet input that allows full Dynaudio App control of the system, and DNLA compatibility.
Dynaudio Connect sends a pure digital signal all the way to the speaker's internal digital amplifiers, which are optimized to the drivers via advanced DSP. Room position response can be fine-tuned via the Speaker Position EQ feature. With the source an NAD M50 with Swoboda mods, music sounded the warmest, clearest, and most natural of the three rooms I had visited so far. Color me impressed.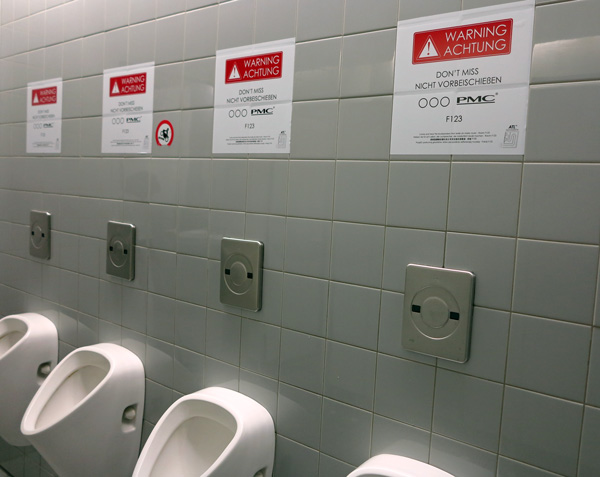 I sometimes cannot resist including, in show reports, unintentional show art in the form of boxes and gear piled up in exhibitors' bathrooms. But nothing tops this shameless ad for PMC that adorned some of the Men's Room urinals at High End 2015.
Losing track of time amidst the splendor had me arriving at the official press conference for High End 2015 after the conclusion of the presentation by the all-male board of the High End Society, headed by chairman Kurt Hecker (second from right). What struck me in the brief time I listened to questions and answers was how one of the society's goals, "to teach people that music is essential to life," is shared by audiophiles worldwide. Another wish that many industry members hold in common is the ability to "let young people hear concert quality sound reproduction at home, and at a price they can afford."
"The society can be catalysts, but we can't launch an embargo on a list of bad or heavily compressed music," we were told. As I dashed out to more rooms, it was sounding just like the discussion that dominated the Ask the Editors panel at AXPONA 2015. We are all connected.