Stereophile's Products of 2015 Analog Component of the Year
Analog Component of the Year
Swedish Analog Technologies tonearm ($28,000; reviewed by Michael Fremer, July 2015, Vol.38 No.7 Review)
This year's analog winner is nothing less than an all-out, engineering-driven assault on the state of the art of the 9" pivoting tonearm. Made from stainless steel, brass, and carbon-fiber laminates, the dynamically balanced Swedish Analog Technologies arm features a removable headshell with integral azimuth adjustment, and point-and-cup bearings with user-adjustable loading. The arm comes with two differently sized counterweights, to suit a variety of cartridges, and is shipped in a foam-lined Pelican case.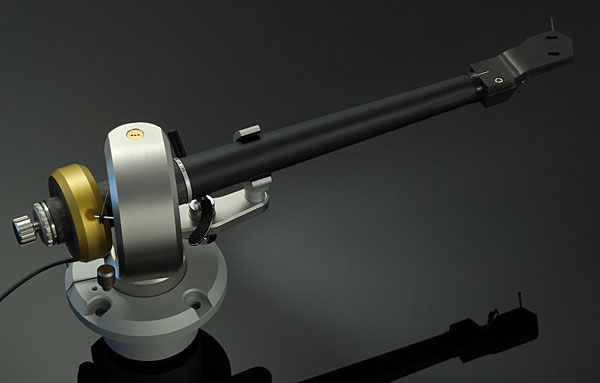 In noting the retail price of last year's Analog Source Component of the Year, the VPI Classic Direct Turntable with JMW Memorial 3D-Printed 12" tonearm ($30,000), we wrote that it "may be a stretch for most enthusiasts." A tonearm that, on its own, sells for nearly the same amount will find its way into even fewer—far fewer—homes, yet is significant for all phonophiles in showing how much further the vinyl envelope can be pushed. And indeed, as Michael Fremer wrote in Stereophile's July issue, "the SAT fundamentally and dramatically changed and improved the sound of my system in ways I had not imagined a tonearm could." After using the SAT arm on his reference Continuum Audio Labs Caliburn turntable—thus making possible a direct comparison with his reference Continuum Cobra tonearm ($22,500)—MF said that the Swedish arm delivered sound quality that "far exceeded, in every parameter, that of any other arm I've heard."
Notes on the Votes: The SAT arm didn't get as many votes as the second-place finalist, the Brinkmann Spyder turntable, but of the votes it did receive, all but one were for first place (ie, fewer votes, but more points). The takeaway: An unsurprisingly smaller number of Stereophile reviewers have actually heard the Swedish arm—but those who have were mightily impressed.
Finalists (in alphabetical order)
Brinkmann Spyder turntable ($14,000 without tonearm; reviewed by Michael Fremer, May 2015, Vol.38 No.5)
Lamm Industries LP 2.1 phono preamplifier ($8990; reviewed by Michael Fremer, March 2015, Vol.38 No.3)
Leema Acoustics Essentials phono preamplifier ($749; reviewed by Art Dudley, October 2015, Vol.38 No.10 Review)
Miyajima Labs Madake phono cartridge ($5895; reviewed by Michael Fremer, December 2014, Vol.37 No.12)
Soundsmith Carmen phono cartridge ($799.95; reviewed by Herb Reichert, June 2015, Vol.38 No.6 Review)