RMAF's Day One Capped by Awards
A few hours before Friday evening's Rocky Mountain International HiFi Press Awards 2018 got underway, Jeremy Bryan of MBL North America once again blew me away with the sound of his company's system. Capped by the mbl 101 E MKII Radialstrahler four-way omnidirectional loudspeaker ($70,500/pair), the combination of Wireworld cabling with mbl's N31 DAC–CD player ($15,400), N11 stereo preamplifier ($14,600), and two N15 mono power amplifiers ($17,800/each) created an extremely wide, solid, and deep soundstage in which music flowed naturally and with great beauty. Rodion Shchedrin's sometimes wacky arrangement of melodies from Bizet's
Carmen
sounded entrancing in the sweet spot—there is definitely a sweet spot with MBL loudspeakers—and even CDs exhibited excellent dynamic range and true timbres.
I usually expect a sweet coloration from MBL electronics, but here the sound was surprisingly neutral. Cristina Aguilar sounded simply fabulous in her pairing with Herbie Hancock on "A Song for You," and drum whacks and percussion were demonstration class. On a familiar track (whose name escaped me until Don Gifford of Las Vegas helped me out), the 24/88.2 version of "Spinning Wheel" by David Clayton Thomas with Blood, Sweat & Tears, images were large and the sound just great.
As longtime readers of show reports may recall, Bryan is a setup wizard who insists that nothing get in the way of the sound he wishes to create. Here, in an 18' wide space, he placed the speakers 9' feet apart, and used twelve SMT Wings from Sweden, set atop six Helmholtz Resonators, to literally change the acoustics off the room by compensating for its asymmetrical dimensions. The man will stop at nothing.
Jeremy capped the demo by playing a tape of Jobim's classic "The Girl From Ipanema" on a new United Home Audio (UHA) tape deck. The extra transparency and liquidity of music from this source were to die for.
Outside the room, UHA's Greg Beron spoke a bit about his new Ultima 4 tape deck ($22,500), which uses pure class-A electronics, fully discrete dual-mono tape head amps, and Synergistic Research internal wiring. The Ultima 4 also made use of the new UHA Pure DC outboard power supply ($6000) and a new take-up reel (pictured above) machined from billet aluminum. Claimed to spin true, which makes for perfect tape packing, it comes in red, black, and silver. "Ergonomically, it's easier to work with," Greg said.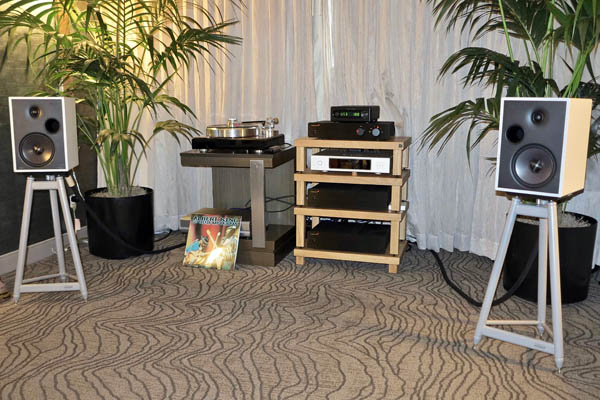 Given that shipping delays handicapped Fidelis Music Systems' new Exposure 5010 power amplifiers ($6595/pair) and equally new 5010 preamplifier with DAC ($2795)—they were fresh out of the box just hours before I heard them—a detailed evaluation of the sound of a system that also included Stenheim Alumine Two loudspeakers ($12,990/pair) with Stenheim speaker cable, Acoustic Signature Double X turntable ($4995) with AS TA 2000 tonearm ($2999) and MCX3 cartridge ($1690), Aurender N10 music server ($8000), and Tellurium Q interconnects would be unfair. Having said that, Rickie Lee Jones's rendition of "Up the Lazy River" sounded quite captivating, with the sounds of vibes and bass special standouts.
RMAF 2018 was one of the few times that I've heard MSB's DAC and electronics paired with Magico speakers. (If memory serves me right, the last time was in Munich in 2015.) Judging by what I heard, I'll be hearing them together again before long.
Here, the MSB Select DAC with Femto 33 clock and Mono Power Base options ($119,450), Reference Transport with Reference Transport Power Base ($30,000), and M204 200Wpc mono power amplifiers with zero negative feedback ($39,500) joined Magico M3 speakers ($76,000/pair) to transmit a CD recording of John Lee Hooker and Hammond organ with wonderful air around the voice and believable organ timbres. The midrange was especially beautiful.
Listening to a favorite track on my Channel Classics SACD of Rachel Podger's La Perla Barocca, I again found the air around instruments exceptional. The sound was exceptionally beautiful, but a mite dry around the edges and lacking the last iota of liquidity. Ultimately, I missed the riotous fun I usually experience when Podger and her ensemble go to town improvising all over the place on this track, and thought the midrange a bit congested. (Vince admitted that he still had some work to do with speaker placement.) Having said that, the Select DAC with all the trimmings nailed the complex overtones of Podger's instrument as few DACs can.
Also in the system: AudioQuest Fire, K2, and Dragon cabling, two AudioQuest Niagara 5000 power conditioners ($4000/each), and a Tweak Geek Dark Matter Stealth power conditioner ($6000).
When the Rocky Mountain International HiFi Press Awards finally got underway at the Hilton across the street, moderator Roy Gregory of The Audio Beat and the beloved Marjorie Baumert of RMAF had an oft-riotous time of it. The event was co-sponsored by the above two organizations plus Fidelity magazine of Germany—it was Fidelity's Ingo Schulz who initially came up with the idea of an award ceremony judged by members of key audio publications worldwide. (Scroll to the bottom of this page for a list of the 13 publications, including Stereophile.)
IMHO, the 38 awards were not only comprehensive, but also well-considered. In fact, the only thing lacking was enough free food to satisfy the hunger of industry members and journalists who had just spent no less than 8-10 hours at work. Happily, there was plenty of gratis liquid refreshment to help people mellow out before the awards were announced.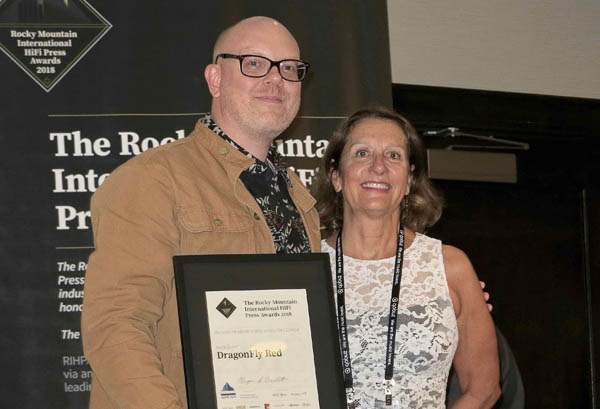 It's always a joy to see one of our own accept an award. In this case, former Stereophile columnist Stephen Mejias came forward twice to accept awards on behalf of AudioQuest for the manufacturer's Niagara 7000 power conditioner (designed by Garth Powell) and DragonFly Red USB DAC. The only other companies to receive multiple awards were Wilson Audio for the Alexia Series 2 and WAMM Master Chronosonic loudspeakers, Astell&Kern for the Kann and SP1000 mobile players, Roon for the Roon Nucleus server and Roon software, Sennheiser for the HD 660 S and Momentum Wireless headphones, and Chord for the Dave and Hugo TT 2 D/A processors.
When Roon received its second award, the company's Rob Darling, in an especially generous move, kept inviting more and more people up to join him and Roon's Steve Silberman in accepting it. Sorry I caught you with eyes closed, Steve.
There were lots of other familiar names amongst the winners: Esoteric, Auralic, MoFi, Technics, Hana, CH-Precision, Hegel, McIntosh, VTL, Audio Research, Dynaudio, Bowers & Wilkins, SVS, HiFiMan, Audeze, IsoTek, Nordost, and Kii. There were also a few companies—Campfire Audio, Subbase, and Acoustical Systems—with which I'm not familiar. I was especially happy to see the late Charley Hansen honored with a Lifetime Achievement award.
The only disappointment, from my perspective, is that both Audiophile Recording awards went to reissues rather than present-day recordings. Doesn't anyone except reviewers listen to new recordings, specifically those of new works by living composers? Anyone ever hear of Andrew Norman, whose latest premiere, with the Los Angeles Philharmonic, received a glowing review in the New York Times? I'm sure Pentatone's remastering of Kubelik's Beethoven Symphony 9 with the BRSO sounds great, but what about DG's ongoing Shostakovich Symphony series with the Andris Nelsons and the BSO, or new recordings from A Far Cry, Eighth Blackbird, Kronos Quartet, John Adams, Nico Mulhy…it goes on and on.
Take a look at the huge number of living composers the LA Philharmonic has commissioned for its Centennial Anniversary season. How many audio reviewers and dealers even know the names of most of these people? (Not that I do, alas.) Then there are all the pop, rock, jazz, and genre-crossing groups that younger potential audiophiles and most adventurous amongst us listen to. I rest my case.