JA's Final Report from RMAF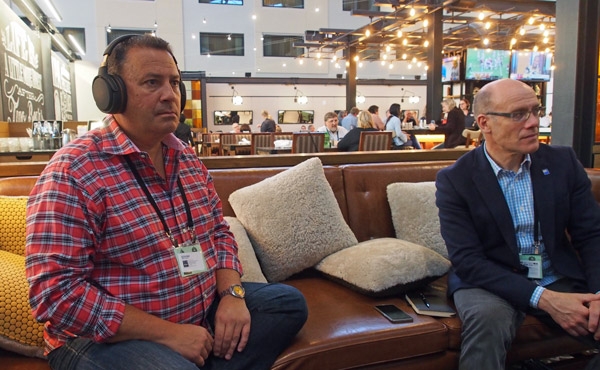 There are always chance encounters at an audio show, and when I went to meet AVTech America's general manager Keith Pray (left) and
Hi-Fi News
editor Paul Miller (right) to discuss, among other things, November's
Hi-Fi News
Show in Windsor, England, Audeze CEO Sankar Thiagasamudram was with them holding a sample of the California company's new Mobius head-tracking headphone ($399). The Mobius uses planar-magnetic diaphragms like the upmarket Audeze cans, but once zero'd in the forward direction, will keep the soundstage aimed at that direction when the user moves his head. In this the Mobius is similar to the Smyth Realiser, but is both considerably more affordable and doesn't need an external control unit. This headphone is not aimed at the high-end audio market but is ideal for gamers, who need the stereo soundstage to remain aligned with the image on the screen.
Despite the power-hungry DSP inside, the Mobius's battery life is said to be 10 hours—charging is via a USB port—and the Mobius also has Bluetooth connectivity, with a mike included for phone calls.. Keith, Paul, and I all tried it and the Mobius works as claimed. Impressive.
Jason Serinus has already reported on the PS Audio room at RMAF, where the Colorado company was playing the late Arnie Nudell's final prototype loudspeakers. As Jason wrote, this speaker's design features will become the basis for a new line of Arnie Nudell loudspeakers from PS Audio, which should debut, God willin' and the creek don't rise, in Q4 2019.
PS's Paul McGowan handed me his iPad and asked to choose something from streaming service Qobuz and in a Rachmaninov mood, I chose André Previn's performance of the Symphony 2 with the Royal Philharmonic Orchestra on Telarc. I had been present at one of the sessions for this recording and such was the powerful sweep of the sound produced by the Nudell speakers, driven by PS Audio BHK Signature monoblocks, that I was transported back to England's Walthamstow Town Hall in March 1985. Audio system as time machine!
Herb Reichert is a big fan of the version of the classic BBC LS3/5a minimonitor produced by Falcon Acoustics, but when I went into this English manufacturer's room on the 5th floor of the Marriott's Atrium wing, I was greeted by their new Reference GC6500R towers ($26,000/pair), bathed in violet light. The sound with the speakers driven by a Primare A60 amplifier and Primare CD35 Prisma CD player and hooked up with StraightWire cables, was full-range, uncolored, and transparent. The GC6500R combines a true ribbon tweeter with a waveguide-loaded 2" soft-dome midrange unit, but it was the twin 7" woofers that caught my attention. These use what Falcon calls a "Graphene Enhanced Nano-Platelet Composite Cone."
Graphene is a form of carbon where the atoms are assembled in a thin sheet just a few atoms thick. In Falcon's woofer cones, the graphene sheets are suspended in the resin that's used to make the diaphragm from woven carbon-fiber mats. When the composite material is cured, the graphene provides crosslinking between the carbon fibers that dramatically increases stiffness.
While I was in this room, Falcon's Jerry Broomfield appeared and took me to the other Falcon room in the Marriott's tower, where he was doing a unique comparison between several versions of the LS3/5a produced between 1968 and 2018, including a remake of the first LS3/5 version. (He repeated the comparison the following day in a seminar that should be available on YouTube, but I had already hit the road for home by then.)
We rushed forward publication of our November issue so we would have it at the show. One of the reviews in that issue was of the Doshi monoblock V3.0 power amplifier and that was I was expecting to see and hear when I went into the room shared by Doshi and Joseph Audio. Speakers were the $12,999/pair Joseph Perspectives I favorably reviewed in July 2014 but the amp, hooked up with Cardas cabling, was a Doshi stereo design ($19,995), using paralleled push-pull EL34s to produce 75Wpc. Nick Doshi told me that the amplifier was intended to have the minimum number of gain stages and that the input stage used JFETs.
The rest of the system was an Aurender A10 server/DAC ($5000) streaming files from Qobuz, a Dosji Line Stage V3.0 ($17,995) and an open-reel recorder fitted with Nick's tape-head preamp, these sitting on an HRS rack. I listened to a lot of music in the room, including a demo of Paul Simon's "Train in the Distance" from Hearts & Bones, where Simon accompanied himself on guitar, a live recording of jazz vocalist Cecile McLorin Salvant singing in French, and one of Jeff Joseph's own recordings of a superb high-school big band, which he had used a spaced pair of Joe Grado omni mikes. It was difficult to tear myself away from this great-sounding room but I was running out of time and had miles to go before I could sleep!
Jason has written how impressed he was by the sound of the million-dollar Verity system in the High Fidelity Services room. I was also impressed, this system offering high dynamic-range music with an enormous sweep of sound, superb stereo imaging, smooth, detailed highs, an uncolored midrange, and extended lows without a trace of harmonic distortion. But the star of the Verity Montsalvat speaker system was the Pro-6, which provides all the DSP correction, crossover functions, and time alignment of the subwoofer towers (these working below 60Hz) with the main speakers.
It digitizes analog input signals at 384kHz with 24-bit word length, or accepts USB and S/PDIF digital inputs—PCM and DSD data are handled—and performs all the necessary processing with an FPGA chip capable, I was told, of performing 93 billion operations per second, before converting the resultant drive-unit signal back to analog. A two-channel version, the Pre 2, is in development.
"Say a prayer for the cowgirl. . ."— the over-familiar lyrics from Jennifer Warnes' and Rob Wasserman's recording of Leonard Cohen's "Ballad of the Runaway Horse" was playing when I entered the CH Precision room. But such was the inviting nature of the sound that I stayed a while. Michael is a big fan of the CH phono preamp and Jason Serinus is about to review the CI1 integrated amplifier (with DAC and phono stage ($38,000); the C1 DAC DAC ($73,000) was hooked up to an external power supply ($17,000) and an external clock ($28,600), but I was drawn to the Göbel Epoque Aeon Reference loudspeakers ($220,000/pair) that were being driven by CH M1 monoblocks ($108,000) and a L1 preamplifier ($58,000).
The room was well-treated acoustically but the speakers must have also been doing things right as the stereo imaging was superb, stable and palpable images hanging between and behind the speaker plane, and the low frequencies were extended, powerful, and without boom. The Göbel speaker uses a single bending-wave drive-unit to cover the range from 160Hz to 30kHz, and despite the low efficiency of this kind of drive-unit, the Epoque Aeon's claimed sensitivity was a respectable 86dB.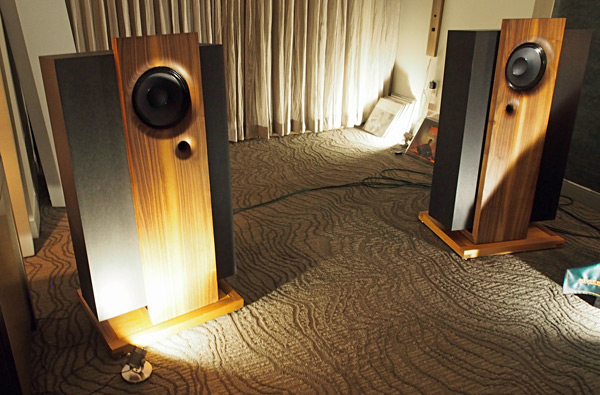 Another unusual loudspeaker was to be found in the Tone Imports room. The two-way Meyer Tonapparate Yonna speaker ($14,500/pair) doesn't have a crossover but combines a horn-loaded tweeter with a 10" paper-cone woofer loaded with both a horn and a unique "flapping baffle" made from spruce to its rear, this reminiscent of a Bösenforfer speaker from a decade ago. Claimed sensitivity is an extraordinary 97dB/W/m! With the front end a Verdier La Platine turntable ($13,995) fitted with Art Dudley's favorite EMT 997 tonearm ($5995) and a Sumile Stereo MC cartridge ($8495) and preamp ($35,000) and amplification ($40,000) from Italian company Riviera Labs, a Count Basie recording sounded warm and friendly, but with a rather boxy lower midrange.
I suppose it fair to say that Wavelength's room featured a similarly idiosyncratic system. However, the sound of this room, the second-to-last one I visited, was superb. I listened Elvis Presley, Bonnie Raitt, John Lee Hooker . . . I didn't want to leave. The big Vaughn speakers were used with (I think) a REL subwoofer and were being driven by Wavelength's SET amplifiers and use a remanufactured Dukane plasma tweeter. I was tempted to name this as "Tweeter of RMAF," so clean and uncolored were the high frequencies.
Wavelength's Gordon Rankin showed me a NOS tube he was using in his preamp, a 6418, which I had never heard of and is, of all things, a directly heated small-signal triode! This isn't rare, was made in 1982 for "mobile headphone use"—my mind boggled—and is available from resellers for just 73¢ each.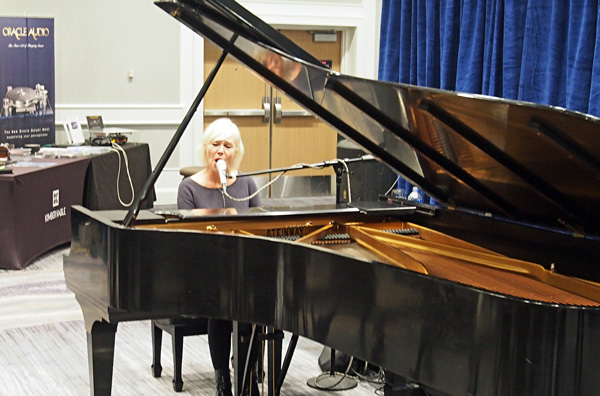 The firs time I went into the huge Kimber room to listen to the 4-channel system based on the ginormous Focal Grand Utopia EM Evo 4 speakers—see Jason's report for the system details—playback had been suspended for a live performance by Canadian singer/pianist Anne Bisson. Time, too, was suspended as I listened to Ms. Bisson perform two songs—and props to Ray Kimber for making sure the 9' Steinway was perfectly in tune! But as with the Legacy room I mentioned in my first RMAF report, some of the visitors in the room didn't feel any need to suspend their conversations to listen to the music. What's wrong with these people!?!?!
When I returned to this room at the end of the next day, I listened to a surround IsoMike recording—a track from tenor sax player Joe McQueen's Ten at 86—and was blown away by the envelopment of the sound. Experiences like this are what make attending audio shows worth the effort, I mused as I started my 1855-mile drive home to Brooklyn Sunday morning. (Three days on the road with my thoughts, my music, and some occasionally spectacular scenery are what passes for a vacation in a magazine with a monthly publishing schedule :-)