More on Jason's RMAF Day 2
I almost missed the huge EMM Labs exhibit on the ground floor until John Atkinson told me that he had visited it, and the sound was exceptional. Don't quote me on the adjective, please. Instead, I'll own it for myself. When a system makes a recording of a 9' concert grand—in this case, Murray Perahia's instrument—sounds like it really is a 9' grand, color me very, very impressed. As one should be, given a system price tag of near $1,000,000.
When I entered the room, a recording of Dave Brubeck's Take Five delivered an extremely neutral presentation, ideal life on top, and near-ideal bass save for a bit of room-related booming. On Murray Perahia's recording of Handel's joyous Harpsichord Suite in E, HWV 430, the system not only presented amongst the most timbrally-accurate renditions of piano I've heard, but also conveyed the relaxation and delicacy of this wonderful music's initial passages. "Microdynamics" was no longer some audiophile concept; it was an organic component of a brilliant performance that ended with astoundingly fast, perfectly executed runs up and down the keyboard that reminded me of the smile on the exquisite Ms. Daisy Mae Doven's face when she runs down the beach after a ball.
Because I couldn't play high-resolution files—I had a ton of those on hand, stored on three 256GB solid-state USB drives—we fell back on my Channel Classics SACD of Mahler's Symphony 2, performed by Ivan Fischer and the Budapest Festival Orchestra. The sound was tremendous, simply tremendous, in every respect. If you were to hand me one of the audiophile checklists that some reviewers use, there would be a 10 next to every one of them.
While I did not hear EMM Labs' new Ed Meitner-designed, MQA-capable DV2 Integrated DAC with high-resolution volume control ($30,000 and shipping soon—review forthcoming), I did hear the new PRE reference preamplifier ($25,000, available now), DA2 reference DAC ($25,000), TX2 CD/SACD Transport ($25,000), MTRX2 1kW class-AB amplifiers for the main stereo pair of speakers ($85,000/pair), MTRX reference 1.5kW amplifiers for surround ($130,00/pair), and PRE2 stereo preamplifier for surround channels ($15,000). Kimber Silver Select cabling and four Focal Grand Utopia EM Evo 4 speakers ($229,000/pair) for stereo and surround completed the chain. And what a chain it was!
Raidho Acoustics joined with Moon by Simaudio's 780D D/A processor, 740P preamplifier, and 860 power amplifier for the world premiere of Raidho's new Scansonic brand MB-5 loudspeaker ($7500/pair). Made in Denmark, the specs of the three-way, ribbon-tweeter-equipped speaker include a frequency response of 29Hz-40kHz, 4 ohm impedance, and 90dB sensitivity. Compared to the old model, internal construction has changed to include a ported cabinet, modified woofer and midrange drivers, and a completely redesigned crossover that aims to time-align all drive units at listening distance.
Connected by Nordost Valhalla 2 cabling, the speakers created an immersive soundstage in which Pink Floyd sounded really, really fine. (I suspect the electronics and cabling had more than a little to do with the system's success.) Judging from my short time in this room, this is definitely a speaker to consider if it's within your price range.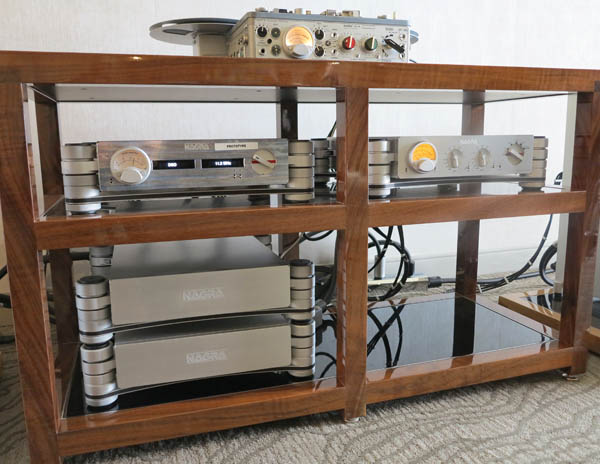 Although Nagra and Musical Artisans were forced to make do after the new DeBaer Saphir turntable with 9" Onyx tonearm ($77,000 with all the trimmings) plus Top Wing Red Sparrow MC cartridge ($16,500) were lost in transit, Nagra's recording and remastering specialist, René Laflamme, was still able to wow yours truly with a number of recordings, including his own, that he managed to cobble together. Of all of them, a hi-resolution 2xHD Storyville Records remaster of either Sonny Boy Williamson's The Blues or The Sky is Crying, the latter recorded when he was perhaps 66 years old, blew me away. The intimacy of the recording, the huge contrast between the man's aged speaking voice and still intact, surprising sweet singing voice left me breathless.
I also loved the full-range reproduction of Matthew Honeck and the Pittsburgh Symphony Orchestra's sometimes curious take on Shostakovich Symphony 5, and the sweetness of the solo violin. Air and life at the top of the range were special standouts. A track from a DSD-only release of Carmen Gomes Sings the Blues also sounded superb. And if that were not enough, a beautiful sounding 1948 recording of Peggy Lee, rescued from acetate masters on which the noise level was unacceptable until René stepped in, left me in a state of wow.
Heard: the debut Nagra HD-DAC-X ($65,000, shipping in September) along with Nagra's HD preamplifier ($59,500), HD monoblock amplifier ($86,000), IV-S/QGB open reel (N/A), and Seven Hi-Fi recorder ($5100); Rockport Technologies Cygnus loudspeakers ($62,500); Argento Audio FMR cabling; and Box Furniture equipment supports.
A "preliminary" listen to DeVore Fidelity's forthcoming four-box Orangutan Reference System loudspeakers ($85,000/set estimated price) presented a first opportunity to hear John DeVore's newest design. The system has two components. The first, the O/Ref/A, has a 10" paper-cone woofer with a new motor using a pure AlNiCo magnet; a 1" silk-dome tweeter loaded by a cast and machined bronze horn, also containing an all-new motor; and 3/4" silk-dome super tweeter. The second box on each channel, the O/Ref/B, has a 10" paper woofer that is naturally reflex-loaded to below 20Hz in-cabinet without the use of equalization, a custom-designed 300W class-AB amplifier with linear power supply, and an all-analog signal path with user-adjustable EQ at 20Hz and 35Hz. Preliminary specs include a bandwidth of 16Hz-45kHz, 98dB sensitivity per watt @ 1 meter, and 12 ohm impedance.
Connected to a Brinkmann Spyder turntable ($14,900) with Air Tight Opus-1 MC cartridge ($15,000), SME V-12 tonearm ($8995), additional Brinkmann extended arm base ($2700), and Air Tight ATH-3 step-up transformer ($3000); TotalDac d1-tube-mk2 DAC ($11,000); Air Tight ATC-5 preamplifier ($9500) and ATM-211 mono amplifiers ($22,000/pair); Box Furniture Company equipment stands; and Auditorium 23 cabling, I thought the sound a little wiry but filled with sweetness. Ultimately revealing, the system let me hear the rumble on the old LP of Mendelssohn's A Midsummer Night's Dream with the LSO under Peter Maag, as well as extremely detailed treble and beautiful warm colors. Unquestionably addictive, it felt a bit as though I was listening under a microscope.
From here we went to a recording of François Carrier's saxophone. Again, thanks to Air Tight electronics, the presentation was warm, with excellent, in-tune bass. Once again, the top was a mite wiry. Spying no power conditioning in the system—maybe there was—I'm inclined to think that the wiriness was not caused by the Orangutan Reference.
Parasound's system sounded exquisite on a 16/44.1 recording of voice and drums, but boomed some on bass. I can't remember who was singing "She's so Wonderful," but I heard fine bite on highs, and mellow loveliness lower in the accompanying saxophone's range. Switching to a redbook file of soprano Arleen Auger's incomparable rendition of Fernando J. Obradors's "Del cabello más sutil," on her exquisite Love Songs recital, I greatly admired the beauty, but missed the last iota of time-held-still magic. That, of course, may have had little or nothing to do with the electronics.
Components were the John Curl-designed Halo JC 5 stereo amplifier ($5995), new Halo P6 preamplifier ($1495) with ESS Sabre32 DAC and support of PCM 384/32, DSD256, and DoP DSD, and Halo JC 3 Jr ($1495); Marantz turntable TT15-S1 turntable with Clearaudio Virtuoso MM cartridge ($1495); Oppo 105 Blu-ray player ($1000); Aurender A10 network music server/player ($5500); and Tekton Electron SE speakers ($4000/pair).