Discovered in Denver...
The RMAF T-Shirt Award of 2018 goes to Denver's own Chris Hoffman, whom I spied on the ground floor of the Denver Marriott Tech Center. "I'd been threatening to make this T-shirt for a couple of years," he confessed after being caught in the act. (For more on this subject, please see my piece
"Don't Play it Again, Sam!"
from the September 2016
Stereophile
).
At the press conference sponsored by Sony Corporation and Acoustic Sounds, Marc Finer, Director of Communication Research, Inc., introduced speakers Hayami Robise, Acoustic Engineer, Sony Corp., Chad Kassem of Acoustic Sounds, and Tomoaki "Tomo" Sato, Senior Electrical Engineer, Sony Corp. (pictured L to R, above). The men from Sony introduced two forthcoming high-end products they helped design: The transportable DMP-Z1 Signature Series Digital Music Player ($8500, due in January), and the IER-Z1R in-ear headphones ($2200, also available in January).
The DMP-Z1 will play native DSD up to 11.2MHz and PCM up to 384kHz/32bit, as well as MQA. It sports a customized analog rotary volume controller, and includes a dual DAC with the Asahi Kasei Microdevices AK4497EQ DAC chip, and an analog amplifier for high headphone output power. To reduce noise, the unit has five battery cells with separate digital and analog power systems. Music lovers have the option of using the DMP-Z1's DSD Remastering Engine to convert PCM into DSD5.6MHz. The unit comes with 256GB internal storage plus dual micro SD card slots that expand memory up to 1TB. It also includes a Bluetooth receiver.
The three drivers in the IER-Z1R in-ear phones include a 5mm dynamic driver constructed with an new aluminum-coated LCP (Liquid Crystal Polymer) diaphragm and external magnetic circuit, a 12mm dynamic driver with a magnesium alloy dome, and a balanced armature unit with a magnesium alloy diaphragm. Together, they can reproduce signals up to 100kHz. An optional Kimber Kable cable is available.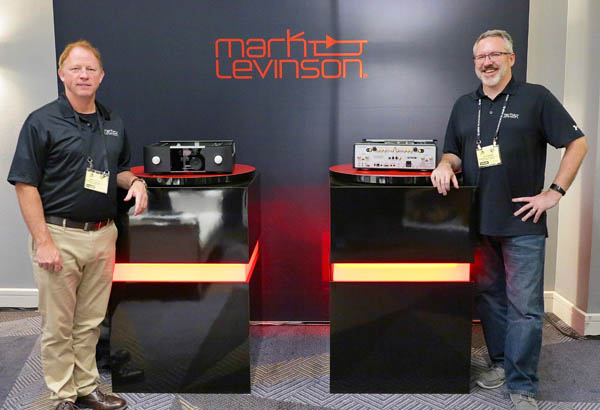 At another pre-show press conference, this time presented by Mark Levinson, Terence Dover, Senior Global Production Manager, Harmon Luxury Audio, and Jim Garrett, Senior Director, Product & Strategy Planning for the same (shown L to R, above) unveiled two units available in the first quarter of 2019: the new Mark Levinson No.5802 integrated amplifier ($7000) with fully discrete PurePath circuitry, built in Precision- Link II DAC with ESS Sabre 32-bit D/A processor, headphone amp, Bluetooth receiver equipped with AptXHD, and dual-mono class-AB amplification; and the Mark Levinson No.5805 integrated amplifier ($8500). The latter boasts fully discrete, direct-coupled, dual-monaural, class-A preamp circuitry, Precision-Link II DAC, class-A headphone amp, 125Wpc class-AB amplification, and all the other features of the 5802. Both units can play back PCM up to 192/32, DSD up to DSD5.6, and MQA.
Here's a look at the handsome system described above…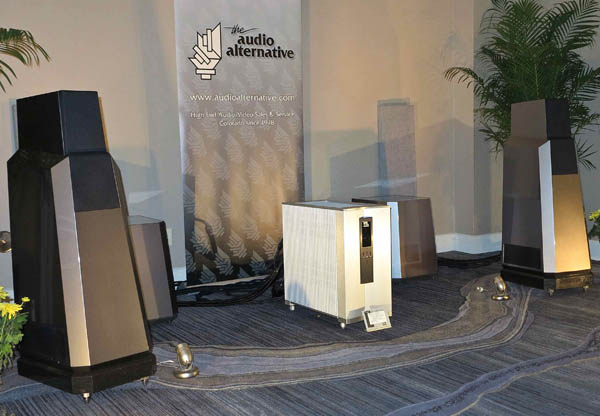 In the Ponderosa Room on the lobby level of the Marriott, The Audio Alternative of Denver presented an extremely musical system in which VTL joined with Vandersteen Audio and AudioQuest.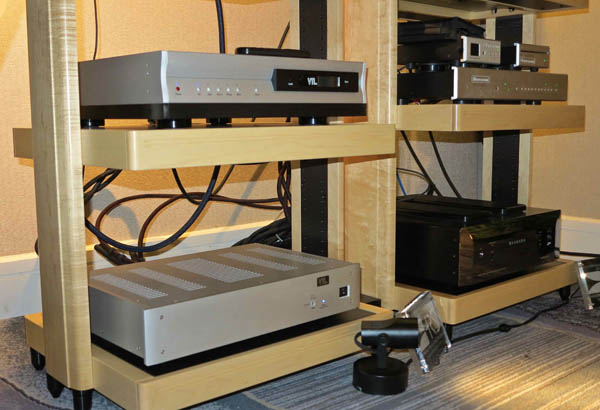 The system described above occasionally included VTL's brand new 2.5 phonostage ($3750), seen here in the left-hand equipment stack, below the VTL TP-6.5 Signature phonostage with MC step-up ($12,000).
In an A/B/A comparison between the two phono preamps, in a setup that also included VTL's S-400 Series II Reference Stereo power amplifier ($33,500) (which won a Rocky Mountain International HiFi Press Award on Friday evening); Vandersteen Model Seven MKII loudspeakers ($62,000/pair) with Sub Nine Subwoofers ($18,900) and Vandersteen Model 7 System 9 Granite Upgrade ($10,000); AMG Viella turntable with 12JT Turbo arm and cable ($23,750) and Lyra Atlas phono cartridge ($11,995); AudioQuest Niagara 500-0 ($3999) and Niagara 7000 ($7,999) Low-Z noise dissipation systems (the latter also won a RMAF International HiFi Press Award), both connected by AQ Hurricane power cords and Wind, Dragon, and Thunder audio cables; HRS RXR audio stands with all trimmings; and Bryston digital equipment that I didn't audition, the more expensive TP-6.5 offered more air around solo instruments, increased depth and bite, and, most important, far more fleshed-out and individuated instrumental lines. Both preamps, however, shared the same sonic signature in a very open, clear, and full-range presentation that included very tight bass and extremely good musical flow.