Up to the Wire on RMAF Day 3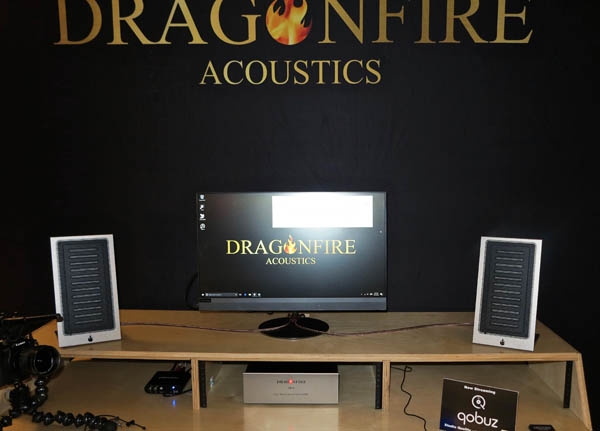 Although most rooms I visited at the end of RMAF 2018 offered fine sound, I single out the new Dragonfire Acoustics Mini Dragon self-powered desktop system ($10,000 total) for two reasons: a) its designer, Dragoslav Colich (aka Dr. C), who continues to design every Audeze headphone, calls these first desktop planar speakers from his new company his "life achievement…the finest transducer I have built," and, b) they sound fantastic.
This "totally absolutely impressive" system, to quote from my ultra-articulate show note scribble, includes digital volume control and room correction. Displayed were two Mini Dragon Planar Satellites ($4995/pair), MD-4 amplifier/DAC with DSP ($2995—this has four amplifier modules, four DAC modules, and a "super high power" DSP engine, and can decode up to PCM 24/192 or play DSD that has been converted to PCM by music playback software such as Roon, Amarra, and Audirvana), an 8" subwoofer ($495), and a set of Kimber Kable cables ($1495).
From a typical desk chair position, the bass on a 24/96 file of deep-voiced Cassandra Wilson's "Dance to the Drummer Again" was deep and totally in control (as in tight). Equal satisfaction came from very different music, a bit of Mozart's Sonata for Two Pianos, on a 2L recording in 24/192 format. This was a system in which musical flow reigned supreme.
Warmth and midrange smoothness were the strengths of a Vinnie Rossi/Triode Wire Labs / Harbeth loudspeaker system comprised of the new Vinnie Rossi L2 Signature preamplifier ($14,995, or $21,985 including the optional new L2 DAC module and L2 phono stage), new Vinnie Rossi L2 Signature monoblocks ($14,995/pair), Harbeth 40.2 40th Anniversary Edition loudspeakers ($17,990/pair), and Triode Wire Labs cabling. A Mozart LP sounded absolutely warm and lovely. It was hard to avoid noticing an edge on violin on my 24/48 files of Lou Harrison's Violin Concerto, and an equally sharp edge on a 24/96 file of soprano Sandrine Piau singing Loewe (from Chimère) to Susan Manoff's piano accompaniment; I wonder if power conditioning would have made a difference.
Having said that, drums and percussion were depicted with excellence, the low tones of piano and instruments were conveyed with perfection, and the artistry and emotion of all concerned came through loud and clear. In fact, the brilliance of music and interpretation was such that, for one of the rare times in my 15 years at audio shows, absolutely no one left the room or even fidgeted during a long piece of relatively obscure, heart-rending German lieder that was impeccably sung with deep feeling. This is a tribute not only to Vinnie Rossi, Harbeth, and Triode Wire, but also to the quality of show attendees whom Vinnie tends to attract. Thank you, one and all.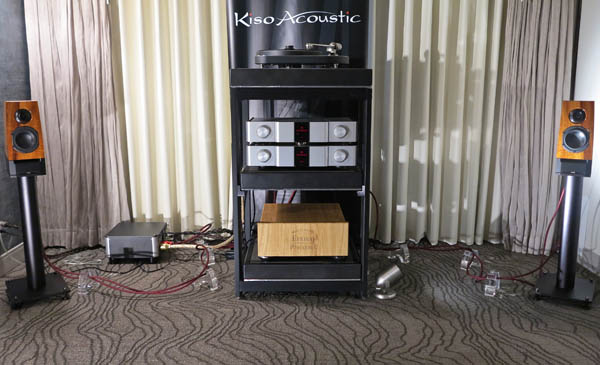 Wynn Audio, headed by Wynn Wong, presented a small, intriguing, and hardly inexpensive system that contained the Thales TTT-Compact II turntable ($14,850) with Thales Statement tonearm ($21,090) and EMT JSD-VM cartridge ($5000), Karan Acoustics KA PH1 phono stage ($15,000) and KA-I180 integrated amp ($10,000), Kiso Acoustics HB-X1 speakers in "exotic" Hawaiian Koa finish ($20,000), Entreq Poseidon Ground Box ($5000), and ZenSati cabling. I took what I thought was a fabulous picture of the two-stick linear tracking tonearm, whose headshell constantly adjusts to changing groove angle, but for reasons that some would blame on the devil (or MQA—the two seem interchangeable in certain circles), my camera treats it as "unidentifiable."
Why the pricing? Well, for one, the special stabilized aluminum in Thales's top-of-the-line tonearm is aged underground, and the tonearm is assembled by watchmakers who usually use this particular aluminum in their finest creations. The choice of this material is also said to affect the tonearm's resonance properties.
After listening to some Johnny Cash, we turned to one of those old, quasi-New Age standbys, Swiss harpist Andreas Vollenweider. I thought the soundstage depth very fine, but the sound a little sharp and tilted toward the treble region. The captivating voice of Switzerland's Sophie Unger, who dared perform the Jacques Brel standard, "Ne me quitte pas," sounded gratifyingly warm, but also displayed some sharpness.
Lord knows what was affecting the electricity on the 4th floor of the Marriott Tower on the last day of the show, but even with a debut Isotek Genesis One power regenerator ($3495) on the debut Dr. Feickert Volare turntable (price TBD) with Origin Live Silver tonearm ($3495), My Sonic Lab Eminent Ex MC cartridge ($3995), and Little Fwend automatic tonearm lifter high ($249), and (if you're still following the syntax of this very long sentence) a debut Isotek Nova power conditioner ($7995) on the rest of MoFi's system, there was a bit of an edge on tenor Christoph Prégardien's rendition of a lied (song) by Mendelssohn. In all fairness, that edge may have been recording-specific, because I heard it on none of the other three fine-sounding selections I auditioned.
In fact, the midrange on everything I heard—that includes Diane Katz's "Drowning Slowly," a cut from Eric Clapton's Unplugged LP that Soundcloud refused to recognize, another from Bill Evans's Sunday at the Village Vanguard, and "Chan Chan" by the Buena Vista Social Club—was demonstration class. I really enjoyed sitting for a while and listening to music in this room, whose operators deserve Five Stars for Music Quality.
The new Isotek Nova power conditioner actually combines two Isotek Sigmas power conditioners with a EVO3 Syncro power cord that is designed to regulate DC offset so that components operate more efficiently. Note that Isotek's EVO Ascension won the RMAF 2018 International HiFi Press Award for power cable (Nordost Odin 2 won for signal cable).
Doing the honors, besides the two debut power conditioners and turntable set-up: Manger S1 Active loudspeakers ($24,995), debut Primare Pre35 Prisma ($4495), discontinued Primare R32 phono stage (the new R35 is expected by year's end), Solidsteel HP-4 rack, Finite Elemente footers, Isotek power cables, and Cardas signal cables.
The time was past 4:00, and the show had already closed. Back to my room for a little nibble and nap, followed by cold leftover Chinese delivery from the day before and a night of writing show reports.
After a decent night's sleep, it was off to the gym for 20 dedicated minutes on the elliptical trainer. Thanks to a boost from Roy Gregory's darling wife, Louise Ford, who was burning up the treadmill three machines to my right after reminding me that people who really work hard cannot possibly talk to each other, and an additional push from Denver's mile-high elevation, which made me work harder, I got my heart rate up to 148. I think that means I should be dead. By the time I had flown back to Washington state and driven into our driveway in Port Townsend, WA, it was past 11:00pm, and I really was dead.
Thank you for reading my first series of show reports from beyond the grave. As long as the worms don't eat through my internet connection, there will be many more.