Polk Legend L100 loudspeaker Page 2
The specifications indicate that the L100 need power to sing. In this, the specifications are correct—but I found that the connection between amplifier power and musical satisfaction wasn't linear. My workhorse
Heed Audio Elixir
integrated amplifier ($1195, 50W into 8 ohms, 65W into 4 ohms) proved insufficient; with the Heed, the L100s sounded soft and lacked dynamics. The bass was better with the
Schiit Audio Ragnarok II
(60Wpc into 8 ohms, 100Wpc into 4 ohms, $1799), but the L100s still seemed underdriven.
Polk and Mytek
Paydirt came in the form of the Mytek Brooklyn AMP+ (250Wpc into 8 ohms, 400Wpc into 2 ohms, $2495), controlling the volume with the Mytek Brooklyn DAC+ ($2195). The Polks responded well to the Mytek pair, producing fast, precisely drawn images with good timbre, weight, and texture. Dynamics were first-rate, and the L100s bestowed a coherent, dialed-in sound that caught me up in the drama of every recording.
A good example of the Polk's ability to recreate the feeling of live music came when I spun tenor saxophonist Joe Henderson's In 'N Out (Blue Note BST 84166), recorded in 1964 with trumpeter Kenny Dorham, pianist McCoy Tyner, bassist Richard Davis, and drummer Elvin Jones. This and Henderson's other Blue Note sides are among the cream of the Blue Note crop. Henderson's compositions here are on par with Wayne Shorter's, and each member of the In 'N Out quintet was at a career peak (footnote 2). It's also one of engineer Rudy Van Gelder's finest recordings.
Through the Polk L100s, with the Mytek amplifier, my 1973 repress (dark blue label with black "b") sounded particularly alive, tactile, and punchy. It's known that Rudy Van Gelder boosted upper midrange frequencies,2 but the L100s sometimes pushed upper midrange to treble (of piano, cymbals, reeds, brass) a tad forward, regardless of record or recording engineer. The Polks' emphasis on these frequencies benefitted some instruments, for example making every pluck of Davis's acoustic bass clean and easy to follow; on his solo on "Serenity," his quick left-hand slide from upper to lower neck positions was especially clear and taut.
Low-end warmth from Davis's bass (if not the absolute body) was also present. Good tone, clarity, and extension were steadfast L100 traits. The L100s often fooled me into believing they were replicating bass notes lower than those small mid/bass drivers should allow. The speaker's midrange was reliably distinct and rich-sounding. The soundstage was on the small side although good for such a small speaker. Overall, the L100s reproduced the music of In 'N Out with lots of personality, gusto, and groove.
The L100s can swing. But can they boogie?
On ZZ Top's 1973 breakthrough, Tres Hombres (LP, London Records XPS 631), via the L100s, guitarist Billy Gibbons, bassist Dusty Hill, and drummer Frank Beard practically appeared in my listening room performing a deep cavity frisk of my senses. I've heard other speakers play this record with more weight, depth, and deep-boweled tone, but I've never heard it sound more alive, gritty, and gutsy as it did through the L100s.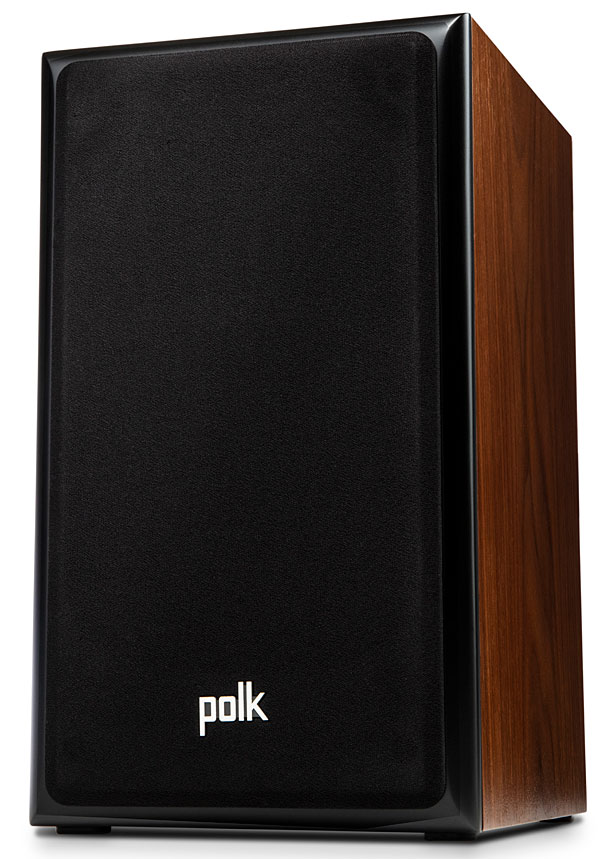 On "La Grange," the Polks practically tattooed Gibbons's harmonic-twisting solo on my forehead. They facilitated deep immersion in this Texas-blues-boogie feast. I was transported to the North Carolina nights of my youth cruising country back roads in my friend's Camaro, drinking Boones Farm and passing illegal smokes among my southern brethren.
The L100s' upper mid-to-treble forwardness worked to the music's benefit on Tres Hombres, the speakers' sunlit emphasis supercharging Gibbons's guitar and the stick attack and spread of Frank Beard's ride cymbal. The deepest weight of Hill's electric bass was missing, but there was so much textural energy and transient power emanating from his instrument that I didn't miss that last bit of low-end grunt.
Part of the magic I'm hearing is down to my Kuzma turntable and tonearm and my Hana phono cartridge. But a limited speaker can conceal the finest source. These little Polks didn't. Their fine transparency passed along the detail, punch, and energy the Kuzma combo extracted from recordings.
The Polks acquitted themselves well even with electronic music. On Everything But the Girl's Walking Wounded (LP, Buzzin' Fly Records EBTG010V), Kruder & Dorfmeister's The K&D Sessions (4LP, G-Stone Recordings !K7073LP), and Kraftwerk's Tour De France (4LP, STUMM 310 5099996610916), the L100s dug in, crafting precise images within a wide stereo spread. On deep synth-bass, they had grunt. The AudioTools iPhone app showed that these little speakers were delivering some room-reinforced energy down to 30Hz.
Polk and Cary
The L100s sounded even better with the Cary SLI-80HS integrated amplifier, even in its less-powerful triode mode, where it manages a mere 40Wpc into 8 ohms. The Polks with the Mytek delivered grunt; with the Cary they produced deep, soulful lows. Now, with electronic dance music, the Polks took me to the club, with swelling, physical bass notes. Further up, colors were more saturated. The soundstage was wider and deeper than with the Mytek combo (although images were not as precisely rendered). Images had more flesh, warmth, and weight. The L100s' characteristic upper-mid forwardness wasn't as conspicuous, and the top end was more liquid and richer than it had been with the Myteks.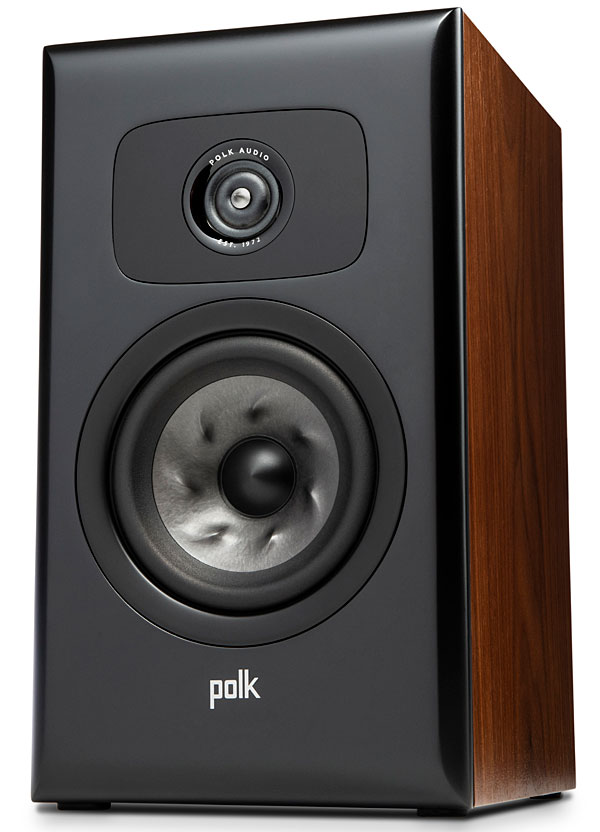 I can immerse myself in EDM for hours, but I always return to more natural realms of acoustic jazz and classical music. The L100s' transparent-to-lush midrange made acoustic instruments and vocals tangible. I enlisted Ella Fitzgerald's Ella Swings Lightly (LP, Verve MG VS-64021), Melanie de Biasio's A Stomach Is Burning (LP, Igloo IGL193LP), and Mildred Anderson's No More in Life (LP, Prestige Bluesville 1017). The L100s mapped myriad textures in Ella's voice and all of de Biasio's warmth and smoke. Blues belter Anderson was also well served, the L100s framing her coarse, hoarse vocals and Pascal Paulus's stinging Hammond B3 and Steve Houben's tenor sax in high relief. The L100s treated female vocals kindly, especially with the Cary.
The Polks like power, but they seem to like tubes—including the Cary's tubes—even more. It was easy to fall under the Cary/Polk spell.
Compared to the Quad S2
The Quad S2 is a similarly sized, ported, $1000/pair standmount loudspeaker featuring a ribbon tweeter and a 5" Kevlar mid/bass unit. Compared to the L100, the Quad excelled at delicacy and upper-frequency air and presented a slightly deeper soundstage, but it couldn't match the Polk's bass weight or apparent low-end extension, and the Polk's imaging qualities were superior overall. Tonally, the S2 sounded drier. Its soundstage was smaller. The S2 makes fine music but on a smaller scale than the Polk.
Conclusion
The Polk Audio Legend L100 is fun, lively, and dynamic, especially with sufficient power, and especially with tubes. More than once while listening, I uttered "wow," impressed by the scale of the music they presented, such as when Tony Williams unleashed a thunderous drum solo or Ella uttered a vocal phrase with glorious tone and touch. The force and scale of the music it produced, for such a small speaker, its vividness and liveliness and that upper-midrange/lower-treble forwardness were the Polk's defining characteristics. The L100 has a rich midrange, but its low end is its crowning glory, knocking me flat with its surprising apparent extension, warmth, and weight. This may be the most forceful speaker I've encountered of its size.
If you're seeking a compact speaker in this price range that excels in sounding live, that produces surprising bass, and is capable of good dynamics and texture, the Polk Audio L100 deserves an audition.
---
Footnote 1: Writing for the
New Yorker
, jazz pianist Ethan Iverson called Shorter "
the world's greatest living jazz composer
."
Footnote 2: "Rudy goosed the upper midrange to make horns, drums, and cymbals sound lively on the systems of the day," Joe Harley, Blue Note's "Tone Poet," told me for an interview published in Jazz Times.