Pink Faun 2.16x music streamer Page 2
From the Pink Faun via the Okto dac8 PRO, there was
no
system background noise, and the ambient aura before the music started mapped out a large space. The first notes surprised as they spilled out with requisite hall sound and body resonance from a large instrument that, only milliseconds before, was not there. Anyone who appreciates great piano playing will be hooked for the balance of the recital.
I also listened to one of my John Atkinson–engineered favorites, "The First Tears" by Eriks Ešenvalds (The Doors of Heaven, Ethan Sperry, Portland State University Chamber Choir, Naxos 8.579008, 16/44.1). No matter how often I play this, the beauty and emotion of the music and the combination of transparency and presence of the voices affect me deeply. And yet, the Pink Faun (with any of the DACs) seemed to improve both transparency and presence by an increment. I can say much the same about what I heard from The Americus Brass Band pays tribute to James Reese Europe's Harlem Hell Fighter's Band (Cambria Master Recording's CD-1263, rip from CD), but here there was also added satisfying weight to complement the transparency and presence. Tonal balance seemed honest and consistent regardless of the musical content.
As a mere data processor, the Pink Faun 2.16x is as perfect a one as I have used, corroborating my premise that a well-made server leaves the music untouched. But is it in fact more than that? Direct comparisons were inconclusive. Comparing the Pink Faun to my Baetis Prodigy X (now going off for upgrade), using identical AudioQuest Coffee USB cables connected to the dac8 PRO (by plug/unplug or with a USB 3.0 sharing switch), there were moments when I felt I heard changes in the space between the instruments or the ambience during musical pauses, but the only enduring difference was a feeling: I felt more relaxed when listening to the Pink Faun.
Certainly, the Pink Faun is sufficiently transparent to permit me to hear differences among DACs and reconstruction filters. All three of the on-hand DACs use related ESS Sabre DAC chips, but the older Mytek Brooklyn was easily distinguished from the other two by its slightly brighter sound, regardless of the chosen PCM filter. The dac8 PRO and the exaSound use different but related ESS DAC chips and were connected to the Pink Faun by different technologies (USB and LAN+USB, respectively). They did sound a bit different, but that depended on which PCM reconstruction filter I chose. With the dac8 PRO's filter set to FRMP (fast roll-off, minimum phase), the two DACs (the dac8 PRO and the exaSound) were almost completely identical on extended listening and in quick A/B comparisons. (There are no filter options on the exaSound, nor does the manufacturer reveal which of the ESS Sabre filter options he has chosen.) The only residual difference, subjectively of course, seemed to be a modicum of increased <100Hz bass with the exaSound compared to the other DAC.
Let's put all that aside and put on a new Reference Recording: a 20th anniversary remastering of Fiona Boyes's debut album, Blues in My Heart (FR-740). Boyes is "the only Australian ever recognized by The Blues Foundation in Memphis, earning 8 Blues Music Awards nominations" and "the first woman and non-American to win the International Blues Challenge in Memphis," or so says the Reference Recordings website.
From the opening note, the sound of her guitar leaped off the stage with stunning presence. I was hooked through all 16 tracks. Her voice is warm and clear in the center. The supporting players, which vary from track to track, are excellent. This was originally recorded "live to analog" in Melbourne and then digitally remastered in 2019 by Joseph Carro. This was the first time I'd heard her work, and this is just CD-rez, but so what? Whatever the original "acoustic album of fingerpicking ragtime blues" sounded like, if the Pink Faun and any of these DACs (pick 'em) can create the thrill of a live experience, as it did here, I can't ask for more.
You want high resolution? The latest recording of Handel's Concerti Grossi, Op.3 from the Akademie für Alte Musik Berlin (Pentatone PTC 5186776, SACD) conducted by Georg Kallweit is a new favorite and joins their release of the Op.6 Concerti Grossi on my regular playlist. These are vibrant updates of these popular pieces and, in stereo via the Pink Faun, they bloomed like a colorful bouquet. The melodies sang as they passed from instrument to instrument, accompanied by full, detailed bass from the lower strings. The soundstage was deep and detailed. In multichannel, the bouquet was even more colorful, expansive, and thrilling.
If there is any small fly in the ointment, it is that the PF's very powerful Ryzen CPU isn't all-powerful. Yes, it played everything I tried in stereo with the Mytek and in stereo and multichannel with the exaSound e38/II, including PCM up to 24/352.8 and DSD up to DSD256; these DACs can handle all those formats at their native bitrates. The Okto dac8 PRO, however, is limited to top data rates of 32/192 (PCM) and DSD128, so music with source bitrates exceeding those limits requires Roon to downsample. With PCM, the Pink Faun did fine, even with other functions, like speaker management (channel level and distance adjustments), turned on. But downsampling multichannel files >DSD128 wasn't smooth, although stereo up to DSD256 was OK.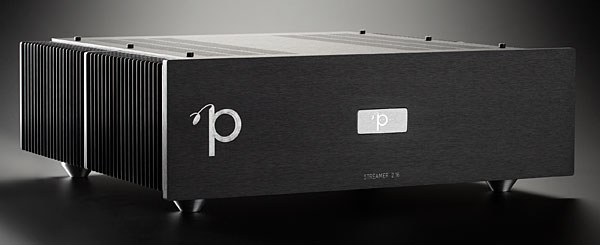 These are difficult tasks. Running any streamer at high DSD bit rates and adding tasks like DSP and up/down-sampling is ferociously demanding in multichannel, and the problems I had apply only with a DAC that cannot handle these high bit rates in their native state. For stereo, all is cool.
Installing HQPlayer Embedded as the output device/processor for Roon improved all of these functions to the point where downsampling multichannel DSD256 to DSD128 or upsampling multichannel DSD64 to DSD128 ran well even with speaker management and channel mapping, which implies that HQPlayer does the up/downsampling more efficiently than Roon does.
One potential concern with the Pink Faun is that the company is based in Europe, with no US dealer support. While setting up the Pink Faun, I had some networking problems in my home. While resolving them, I managed to corrupt the operating system. Remote support from the distributor was swift and thorough, but the damage I had wrought was so great that I had to ship the PF back to the manufacturer for repair. It was a good experience.
Conclusion
The Pink Faun 2.16x Streamer is, sonically, as perfect a stereo source component as I have used. The sound I have enjoyed from it has been consistently satisfying and often breathtaking. It is expensive, big, heavy, and bold. It is also silent and a pleasure to use. Highly recommended.