NY Audio Show 2014: The Vintage Seminar
The Brooklyn show offered a full program of seminars throughout the weekend, and one of the best-attended was "The Virtues of Vintage," which took place late Saturday afternoon. Chaired by
Stereophile
's Art Dudley (far left), a panel of expert anachrophiles comprising (L–R) Steve Rowell (Audio Classics), Mike Trei (
Sound & Vision
), Jonathan Halpern (Tone Imports), Joe Roberts (Silbatone and once
Sound Practices
) and Herb Reichert (
Stereophile
) started off by examining what great components from audio's past had to offer.
The discussion rapidly diverted into what was fueling the current revival of the LP, with Herb Reichert (right) offering what his re-immersion into vinyl had to offer, echoing the thoughts he expressed in "Gramophone Dreams" in the current issue of Stereophile.
Mike Trei (left), who is one of the New York region's top turntable-set-up people, made the point that classic turntables like Linn's LP12 can perform today as well as they did when new, while "modern" products, such as Linn's own CD12 CD player can no longer be fixed when supplies of an essential part, like the transport mechanism, dry up. Steve Rowell reassured everyone that most products from Audio's Golden Age could be restored to top performance, though he warned that technicians with the necessary skill and knowledge didn't come cheap.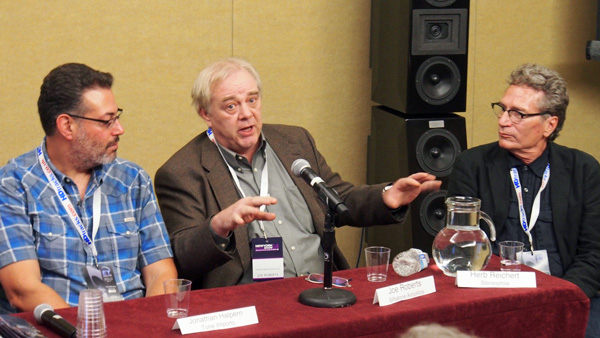 Joe Roberts (left) enthusiastically agreed, pointing out that FM tuners from the 1970s and before can still be maintained and are even a bargain when you consider that a top-rated model like the Yamaha CT-7000 can be found on eBay for cents on the dollar. But more recent tuners tend to depend on custom large-scale integrated circuits that can't be replaced when they fail. When the discussion turned to loudspeakers, Joe also got the biggest laugh from the all-male audience when he responded to a question about the advantages of horn speakers that "chicks go for horns."
The show's seminar organizer, Ken Furst (right) offered some thoughts not only on vintage components but also on the role of equipment reviews, based on his experiences representing Denon in the USA in the 1980s and '90s. He reassured showgoers who are fans of the vintage Denon DL-103 moving-coil phono cartridge that he had been told by his erstwhile colleagues in Japan that they have sufficient parts on hand for another 6–7 years of production.
Art Dudley's final question to the panel was "what component will you grab when you find out your house in on fire?" The consensus among the panelist was that it would be their Garrard 301, a great turntable that has been out of production for more than 40 years. Truly vintage!