NY Audio Show 2014: Michael Fremer's Turntable Seminar
Billed as "Michael Fremer's Ultimate Turntable Set-up Demo," the final seminar at the Brooklyn show once again revealed that the editor of
AnalogPlanet.com
and
Stereophile
columnist has, as you might say, "large attachments." I find setting up a phono cartridge the most stressful of audio-related activities, and that's in the quiet of my home, with no pressure and all the time in the world. By contrast, Michael does it in public, with the clock ticking, an audience watching, and a high-definition video system showing a close-up of every move on the screen above and behind him.
Mikey did warn that if you were going to do the set-up, you should remove your jacket, tie, and jewelry. Once he had discarded these accouterments, he set to work installing an Ortofon cartridge on a VPI Scout LP player. As always, the clips on the leads were the wrong size for the pins on the cartridge, but this didn't faze Mickey none.
The packed house watched enthralled, presumably waiting for Michael to bend a cantilever, snap off a stylus, or drop tiny parts on the ground. If so, they were disappointed!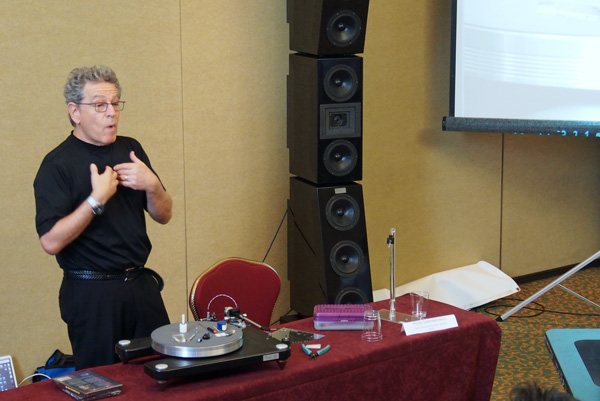 As I wrote: large attachments!
Those hoping to catch Michael in action at the Rocky Mountain Audio Fest in October, should note that he won't now be presenting this seminar at that show.