The New York Audio Show: Saturday Part One
We make our beginnings in the manner of our endings; so it was on Saturday morning, when I headed back to the Rye Brook Hilton's Maple Room, where Friday evening Michael Lavorgna, Steve Guttenberg, and I had spun ripping yarns of shipping labels and galley proofs on the high seas of audio reviewing. (Yarr.) I was there to hear a presentation called
Great Sound: Beyond the Gear: Life and Technology: A Compromise
—a title with more colons than a lower-GI specialist sees in a week!—by an audio engineer/designer/producer/acoustical consultant named Stuart Allyn. I was running a minute or two late, and when I opened the door to the Maple Room I saw: a capacity crowd. Wow!
And that set the tone for the rest of the day: It would not be an overstatement to say the show was packed. Among exhibitors, the anxious glances and worried half-smiles of Friday had given way to great good cheer, and never once did I walk into an empty room—which is quite the thing to say about a show. But still I wondered: Where were all these people coming from? I asked some of the folks I saw, and got the same answer about three-quarters of the time: New Jersey. The people of New Jersey came up the parkway and across the Tappan Zee and saved this show's bacon! (And although I did meet some interesting young manufacturers from right there in Westchester County, I didn't meet a single show attendee from there. Go figure.)
I made a polite exit from Stuart Allyn's talk and hit the hustings, my first stop being a room labeled Alexus Audio/Bache Audio. It was to be the only bummer of the day—not that the sound was bad, but the man running the dem had zero interest in speaking with me. I politely asked, "So Alexus Audio makes the electronics and Bache Audio makes the speakers?" That won me a nod. The day, like life itself, was short, so I snapped a pic and left: one less egg to fry.
I had a much friendlier reception in the first of two rooms sponsored by Adirondack Audio, a newish retailer based just two and a half hours from me, in Queensbury, New York, just north of Saratoga Springs. (And, come to find out, they're in the process of opening a satellite store in Manhattan.) These folks were drawing big crowds with a system that combined the usual high-end strengths—openness, wide bandwidth, excellent stereo imaging—with a sense of touch and impact that was above average, and that was used to good advantage of the LP of Neil Young's Le Noise.
Stars of the system were the Kaitaki line preamp ($6250), Koru phono preamp ($3900), Tiki digital processor ($4775), and SA-Reference power amp ($20,900) all from Plinius, plus the very attractive floorstanding Signature Alpha loudspeakers ($10,000/pair) from the French manufacturer Triangle. The analog source was built around the Kubrick turntable ($4000 without arm) from Soulines, a new company based in Serbia.
Also in the Adirondack room, on static display, was the Soulines Dostoyevsky ($2400 without arm), whose birch-ply plinth and novel dustcover snagged my eye.
An all-blues program was served-up in Adirondack Audio's other room, which featured an all-Technics system—including the remarkable SB-C700 stand-mounted loudspeaker ($1699/pair) that Herb Reichert recently reviewed for our January 2016 issue. (Spoiler alert: It seems the very recommendable KEF LS50 has a new competitor.) The sound in the room had exception touch and nuance, presented in a very open soundfield.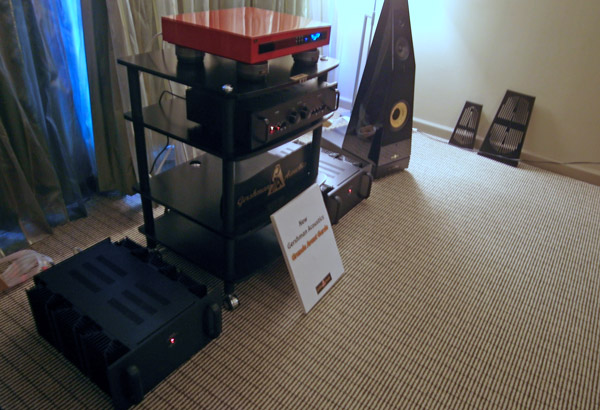 From there I made my way to the room sponsored by Gershman Acoustics, Lamm Engineering, and Oracle Audio Technologies, where the music sounded detailed and clear, but with a little more (realistic) color and body than the high-end audio norm: a pleasant revelation. The loudspeakers were the Gershman Grande Avant Gardes; unfortunately, the room was too crowded with listeners for me to interrupt Ofra Gershman with questions about pricing—or, for that matter, about the details of the Lamm electronics and Oracle source—so I'll add those details as soon as possible.
When I returned to her room, Ofra Gershman told me the Grande Avant Garde loudspeakers are $13,000/pair, and that the partnering components were the Oracle CD Player ($7000) and Lamm M1.2 monoblocks ($27,190/pair), with a Lamm LL2.1 preamp, and Nordost cables.
At the room sponsored by Westchester County's own The SoundSmith, I learned that the New York show marked the debut of their new Zephyr MIMC phono cartridge ($1499), so named because the output of this moving-iron (MI) cartridge is tailored phono-preamp inputs that are designed for moving-coil (MC) pickups. Indeed, the cartridge's designer, the reliably entertaining Peter Ledermann, played the Zephyr through SoundSmith's own MCP-2 phono preamp ($999), which offers continuously variable loading, ranging from 10 to 5k ohms, and 63dB of gain. The sound was impressive—scads of detail, presented with smoothness and color—through the small but perfectly formed SoundSmith Dragonfly loudspeakers.
Linseed oil: I love the smell of linseed oil! And that's what greeted me when I visited the room sponsored by another brand new Westchester County manufacturer, Madera Handcrafted LLC. Madera specializes in single-driver loudspeakers and one of the most beautiful new turntables I've seen, the Anchor (price to be determined). The latter's copper-topped plinth is crafted from eco-friendly bamboo, finished with natural linseed oil and beeswax.
Madera's loudspeakers are built from ¾" Baltic-birch plywood, clad either in similar thicknesses of bamboo or such locally sourced woods as walnut, cherry, and maple. Seen here in the foreground is the Beacon ($3500/pair and up), available with a 4", 6", or 8" driver, loaded by a transmission line.