Naim ND5 XS 2 media player Measurements
Sidebar 3: Measurements
I measured the Naim ND5 XS 2 with my Audio Precision SYS2722 system (see the January 2008 "As We See It"). I used the Audio Precision's optical and coaxial S/PDIF outputs as well as test-tone files sourced from Roon over my network, once I'd installed the Naim app on my iPad mini. (When I first connected the ND5 XS 2 to my router, the Naim checked with its manufacturer that its firmware was up to date; it was.) The ND5's TosLink inputs accepted PCM datastreams with sample rates up to 96kHz, and its coaxial S/PDIF inputs accepted data sampled at up to 192kHz. Over the network, I could play files sampled at up to 384kHz, which is the highest sample rate for which I have test signals. The maximum output level at 1kHz from the RCA jacks was 2.1V, 1.5dB lower than that of Art's Hegel Mohican. The output impedance was a usefully low 23 ohms at 1kHz and 20kHz, rising to 401 ohms at 20Hz, presumably due to there being a series capacitor before the output jack. The output preserved absolute polarity (ie, was non-inverting).
The ND5 XS 2's impulse response (fig.1) revealed that its reconstruction filter is a minimum-phase type, with all of the ringing following the single high sample. (The very small amount of linear-phase ringing in this graph is due to the Audio Precision's A/D converter operating at a 200kHz sample rate.) With white noise sampled at 44.1kHz (footnote 1), the Naim's output rolled off above 20kHz (fig.2, magenta and red traces), reaching full stop-band attenuation at 26kHz. The aliased image of a 19.1kHz tone at 0dBFS (cyan, blue) was suppressed by 67dB and the second harmonic of this tone lay at –80dB (0.01%).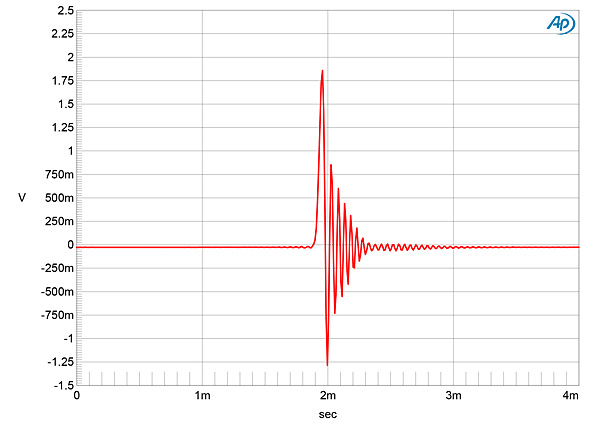 Fig.3 shows the Naim's frequency response with data sampled at 44.1, 96, and 192kHz. The response rolls off quickly above the audioband, and the ultrasonic response with 192kHz data (blue and red traces) doesn't extend much higher than that with 96kHz data (cyan, magenta). The output with both high sample rates is down by 9dB just above 30kHz; repeating the measurement with data sampled at 384kHz gave a response that overlaid that with 192kHz data. This behavior was identical to that of the digital inputs of Naim's Uniti Nova integrated amplifier, which Ken Micallef reviewed in March 2018 (footnote 2). The channel separation (not shown) was very good in all three output modes, at >115dB in both directions below 2kHz, and still 95dB at 20kHz. The low-frequency noise floor was commendably clean (fig.4), though a very low-level, power-supply–related tone at 60Hz is present. This measurement was taken with the Naim's chassis grounded. Lifting the ground connection with the rear-panel switch had no effect.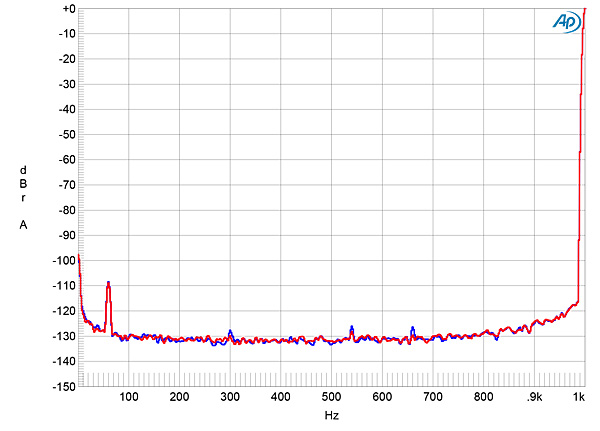 Increasing the bit depth from 16 to 24 with a dithered 1kHz tone at –90dBFS and with both S/PDIF data and networked-sourced data lowered the noise floor by around 12dB (fig.5), implying that the Naim offers 18-bit resolution. With undithered data representing a tone at exactly –90.31dBFS (fig.6), the three DC voltage levels described by the data were well resolved, with a symmetrical waveform and the minimum-phase ringing just visible below the random noise. With undithered 24-bit data, the result was a somewhat noisy sinewave (fig.7).
As suggested by the spectra in fig.2, harmonic distortion was primarily second harmonic in nature, at close to –80dB (0.01%, fig.8), accompanied by the third harmonic at –94dB (0.002%). As can be seen from this graph, the Naim had no problem driving the punishing 600 ohm load! With a full-scale mix of tones at 19 and 20kHz, the audioband noise floor was contaminated with low-level aliasing products (not shown). When I reduced the level of the tones by 3dB, the noise floor was clean and the second-order difference product at 1kHz lay at an extremely low –120dB (fig.9). With the relatively slow ultrasonic rolloff of the ND5 XS 2's reconstruction filter, the aliased images of the fundamental tones can be seen in this graph, though they're well down in level.
When I tested the Naim ND5 XS 2 for its rejection of word-clock jitter using undithered 16-bit J-Test data fed to its TosLink input, the odd-order harmonics of the low-frequency, LSB-level squarewave were all at the correct levels (fig.10, sloping green line). However, the spectral spike that represents the high-level tone at one-fourth the sample rate was significantly broadened at its base, suggesting the presence of some random low-frequency jitter. This broadening was very much reduced when I repeated the test using 16-bit J-Test data sourced from my network (fig.11), or with 24-bit data (fig.12).
That random-noise jitter with the Naim ND5 XS 2's S/PDIF inputs puzzled me, as did the restriction of its ultrasonic frequency response with high–sample-rate data. (The Naim's Burr-Brown PCM1791A DAC chip is specified as operating at sample rates up to 200kHz.) Otherwise, the ND5 XS 2 turns in respectable measured performance.—John Atkinson
---
Footnote 1: My thanks to MBL's Jürgen Reis for suggesting this test to me.
Footnote 2: See fig.12 here.