Musicians as Audiophiles: Ron Carter
Ronald Levin "Ron" Carter is arguably the greatest upright jazz bassist to have ever walked four strings, and he's literally the most
recorded
bassist of all time. "With 2,221 individual recording credits, as verified on 15 September 2015," notes Carter's
website
.
Making his collective jazz debut on three important LPs: Howard McGhee's Dusty Blue (Bethlehem, 1960), Nat Wright's The Biggest Voice in Jazz (Warwick, 1961), and Charles Persip and the Jazz Statesmen (Bethlehem, 1960), Carter launched a career in music personified by an ability to master any style, the acuity to execute precise lines with a profound sense of swing and harmonic discernment, and a critical intelligence that finds the towering 6'3" Michigan native constantly seeking, forever learning. By his own admission, Carter is "a scientist."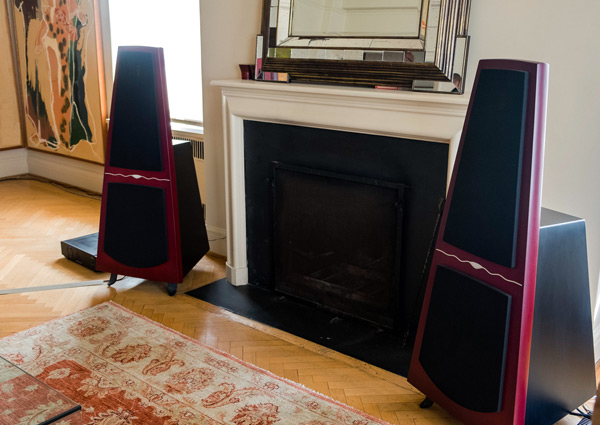 Carter's many plaudits stack up like a layer cake: bachelor of music degree from the Eastman School, master's degree in double bass from the Manhattan School of Music, four honorary doctorates from the New England Conservatory of Music and the Manhattan School of Music, recipient of France's medallion and title of Commander of the Order of Arts and Letters, Artistic Director of the Thelonious Monk Institute of Jazz Studies (Boston), and Distinguished Professor Emeritus of The City College of New York.
One need only listen to any of Miles Davis's albums with his great '60s quintet of Carter, tenor saxophonist Wayne Shorter, pianist Herbie Hancock and drummer Tony Williams to understand the bassist's singular innovations in music.
"Black Comedy," from Miles in the Sky (Mobile Fidelity/Columbia MFSL 2-437 2 180gm AAA LPs), is a landmine of arrangement, with Miles spiraling off to his own world as Tony Williams pumps a feverish eighth-note hi-hat figure and Herbie Hancock frames the swing-to-free near cacophony. But Carter doesn't play it straight or easy in this full-band tug of war. Alternating between upper range, nearly pizzicato string accents and growling low end threats, Carter walks when required and plays the song's jagged accents with an abstract approach, but through it all maintains full, pointed notes and a fat, warm tone. Carter's innovations are heard on all of Miles Davis's 1960s Columbia albums.
As I've interviewed musicians for Musicians as Audiophiles, to a man they've whispered, "You've got to hear Ron Carter's rig. He's deeeep into it." Ron Carter? I shuddered. As well as maintaining the highest musical standards, Carter has a reputation as a man who doesn't suffer fools gladly. He refuses many interview requests, and photos of the jazz giant are out of the question. But once again, Billy Drummond came to my aid, shared Ron's email with me, and I fired off a query. To my surprise, Carter replied two days later, in the affirmative.
I approached Carter's Upper West Side building with excitement and trepidation. He communicated by email that he'd invited a friend to join us, a medical doctor who knows a thing or two about high-end audio. Great.
Opening the door to his apartment Ron Carter greeted me with a beaming smile and a bear-like handshake. Ron's a gentle giant. His spacious apartment is practically a gallery, its wall lined with artwork of all styles. And Ron's all-knowing audio friend? Mr. Edwin Barnett, a regular customer (and friend) at New York's Jazz Record Center, my Saturday place of employment. It's old home week at Ron Carter's crib!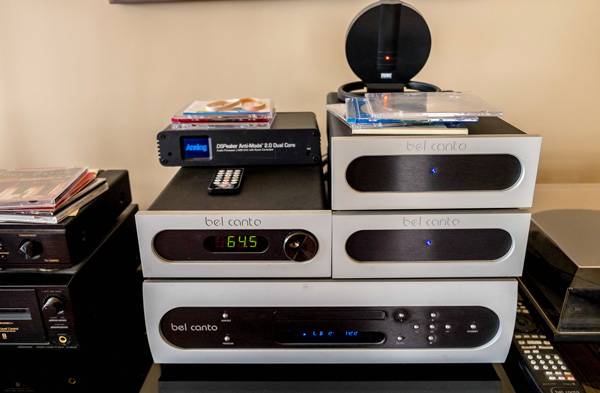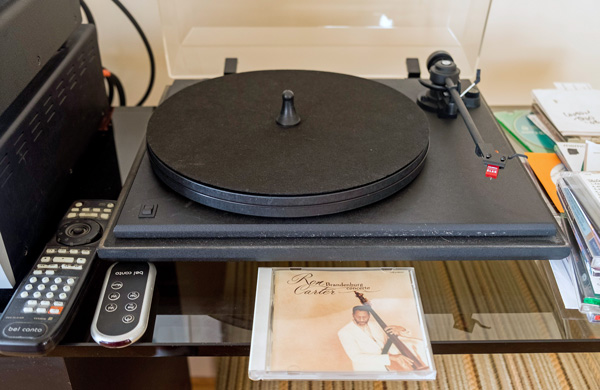 After a brief description of his art pieces, Ron introduced me to his hi-fi: Bel Canto PL-1A universal disc player, Revolver Rebel Turntable with Goldring Elan cartridge, Denon TU 1500 PD tuner, Sony dual-cassette deck, Bel Canto Pre3 2-channel analog preamplifier and (2) Bel Canto e.One Series VBS1 Virtual Battery Supplies, Leema Acoustics Hydra II 500wpc monoblocks, and Tetra 606 speakers. Accessories included DSPeaker Anti-Mode 2.0 Dual Core Audio Processor, Shunyata Research and Bel Canto ICs and power cables, and Shunyata Research Hydra II and Radio Shack H81791 power conditioners.
"I got into high-end," Carter explained, "just to see how my records sounded in my house. When I'm making a record in the studio I don't hear myself. And making a record is different than playing in a nightclub. I wanted to hear the difference between the sound on the record and the sound in the nightclub."
Carter has recorded with the greatest jazz musicians past and present, including Tommy Flanagan, Gil Evans, Bill Evans, Jim Hall, Freddie Hubbard, Horace Silver, Milt Jackson, Paul Desmond, Antonio Carlos Jobim, Joe Henderson, Dexter Gordon, Wes Montgomery, Roy Haynes, Bobby Timmons, and 1000s more. Carter's output as a leader (40 albums and counting) is equally rich. He's composed and recorded jazz works, classical pieces, with ensembles of all shapes and sizes, including a recent duo tour with guitarist Pat Metheny, though an official release of their recorded performances is unconfirmed. Speaking of Pat Metheny . . .
"One of the things that the jazz fusion guys brought to the jazz community was their insistence that the sound in the club be as good as the sound on their records," Ron says. "Before them, jazz musicians were never so concerned with that specifically. They wanted their music to be documented, but they weren't necessarily concerned that the sound of the disc be equivalent to the sound in the club, and vice versa. So I thought this is a chance for me to see if the bass sound is as good in the club as it sounds on the record, and if not, why is it different? In order to do that, I need an environment where I can hear both."
When did you become enamored of high-end playback performance?
"High end—that's a term I'm not quite sure how to define," Carter responds. "I guess it means expensive shit. [Laughs] Or big name. I held back on committing to this kind of sound. When I used to go to Harvey's Electronics, where they sold hi-fi gear in the '70s (and through the late-2000s), they had this special room for their gear. I thought they were pulling my leg. Their gear was custom to their room. I wondered 'is this going to work at my house?' I was skeptical. And when I bought the gear, often it wasn't equivalent in my room. I had to take it back. I always saved the boxes. I learned my lesson. (Laughs) I couldn't take it back in a napkin or a bedsheet!
"I returned that gear because," Ron continues, "it wasn't close enough to what I heard on the bandstand, which is my reference. And it didn't sound as good in my room as in their room. So we have two issues: One, I want the gear to match my live concept of what [music] sounds like. Two, it has to match better in my stable environment—my house. As [engineers] learned better how to record the bass with better strings, better pickups, and better knowledge of the range of the instrument, the placement of the bass in the production improved. Again, the fusion guys left us a standard of sound."
This is where Ron Carter, scientist, enters. In my experience, most musicians are satisfied to produce a recording that sounds good via downloaded files or their newly pressed vinyl LP. They view live gigs and the studio as two different animals. But like very few musicians, Carter is constantly searching for ways to improve his live and recorded sound. His hi-fi system is part of his laboratory, where the playback gear that translates his recordings must meet his highest requirements: the wide frequency range and tactile sound of his upright bass.
"Understand," Ron explains, "when I record a note on the bass on March 1 and the record gets to your house on March 1 of the following year, it's gone through five different hands and sets of ears and ideas of what the bass is supposed to sound like: the engineer, the producer, the guy who masters the disc, the guy who cuts the disc, and the machines they all put it through. When I play the bass and hear it back a year later I am really amazed it's as close to that original sound as it is given the process of making the bass available to a disc of any kind.
"So my interest and concern is 'how does the bass sound in my house'?" he continues. "Given all these processes that are completely out of my control, am I putting enough into the initial impact of this note to maintain that character five people later? The only way to find that out is to have gear that is equivalent to tell me how close that sound 'five people later' is compared to my first note."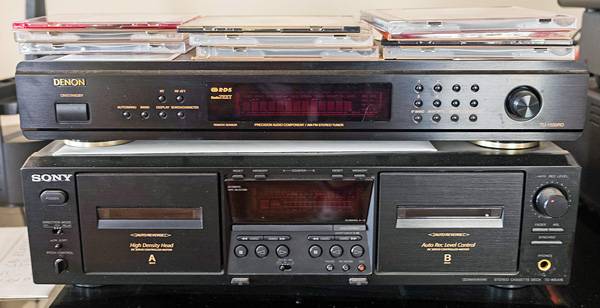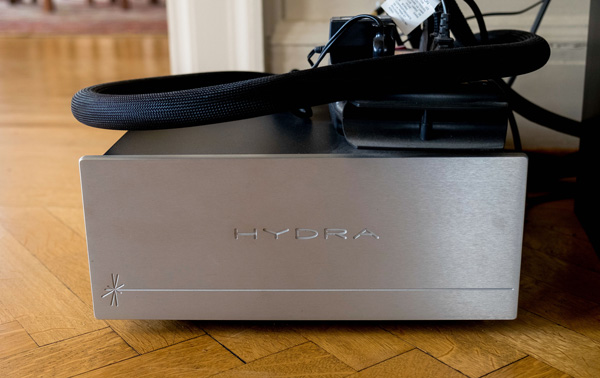 Carter's Bel Canto/Revolver/Tetra system has been in-house for three years. The Bel Canto rep let him try it before he bought it. He loves the Tetra speakers, which reproduced every sinewy, lowdown note of Carter's various bass-centric CDs.
"Right now the system is satisfying," Ron says. "This gear meets my sonic ear—as well as my budget. [Laughs] I like the look of this system. It fills the whole space. I can play it quietly and still hear definition. I haven't found anything better than this. The Bel Cantos seemed to be a perfect match for the Tetra speakers. It's like when you find the right string, you ride that horse until it can't ride anymore. The Bel Canto is perfect for my needs. But my ultimate reference is playing live. Nothing beats standing next to the bass player live, man."
Carter evaluates gear using his own recordings, such as Ron Carter & Jim Hall's Telepathy, Carter's recordings of Bach's "Brandenburg Concerto" and Schubert's "Trout Quintet," and Houston Person/Ron Carter's Chemistry. "The sound of the bass is really good on that last one," Ron notes. "RVG, of course."
The recordings sounded warm, transparent and dynamic through Carter's setup. He noted that his bass notes on the "Trout" were a full fourth lower in pitch than his solo introduction to Miles Davis' classic "So What," a sequence that many systems fail to reproduce clearly and with impact.
"On a personal level, I want to hear what I'm doing on my own recordings, or what I was trying to do," Ron says. "The other concern for a recording is 'Can I hear all of the bass player's notes'? There are certain ranges of the instrument that don't get recorded. I've asked certain engineers 'why is that? How do the notes from C in the bass clef to F, not be recorded with the same presence as the notes below or above?' I've been told they're equalized out by mistake from the engineer, or the composition of the physical string lacks the range of [another stronger] string.
"I'm aware of everything," Carter continues. "I'm a scientist. I'm not only a bassist! And these things interest me. When I find that kind of problem, it means I can't play those notes, because you can't hear them. I want you to hear what I'm hearing. If I'm recording with a string that's functioning at 75% of its value, I have to take it off. So I'm always looking for strings. I'm a scientist, man! I'm in the laboratory. My bass is a walking laboratory."
Ron, does your inner audiophile influence your outer musician?
"They're one in the same. If on one of my records certain notes don't have the same presence [as other notes] I want to find out why that is. If I can hear [those notes] in the club and with my ear at home, then there's something wrong in the process of transmitting that note physically to the recording apparatus. I don't understand why that happens. I have to find out. I will ask the engineer why I can't hear the notes that I played on the disc. Maybe I had a bad string or I need a better cable. I use custom-made cables as well. In the session I take my bass, my hands, my ears, and my attitude. All the engineer has to do is record that."
Carter recalls that while Miles Davis "didn't have a very distinctive stereo," he owned one of the very first color television sets, "with the big screen and the color wheel behind the screen, with the three colors."
How do we encourage musicians and civilians alike to join the audiophile fold?
"Sit them in front of two different sound systems, one high-end, one not," Carter replies, his analysis typically scientific. "Have them bring their favorite record and play it on these two different systems. Then they can tell you which one they like better. Make them tell you why they like it or don't like it. Some people are not as attuned to this level of sensitivity. Maybe their hearing is not so acute. And for some the idea of buying a $500 cable is unreasonable. What can you do with that? All you can do is present this loaf of bread and that loaf of bread. [Laughs] Bring your own jelly!"