Music in the Round #72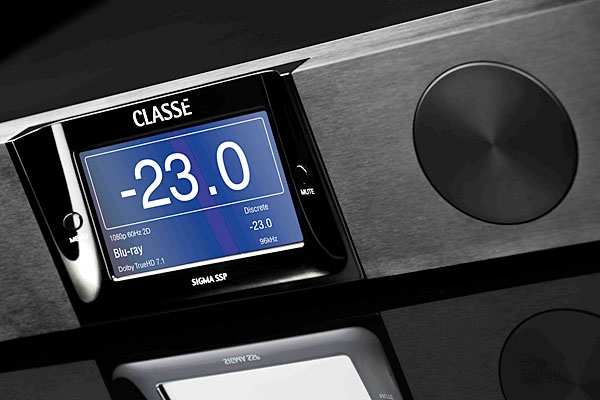 I spent most of my time at the January 2015 Consumer Electronics Show exploring amps and preamps for
Stereophile
's
on-line coverage of the show
, but there were a few items of interest to fans of multichannel. There were demonstrations of Dolby Atmos, Auro3D, and dts:X, but these mostly focused on movies—save for Auro3D's thrilling demo of 2L's
Magnificat
—an album of music by Arnesin, Gjeilo, and Kernis, with Anita Brevik conducting solo singers, chorus, and the Trondheim Soloists and recorded in a cathedral (Pure Audio Blu-ray, 2L-106-SABD). The ambience was more enveloping with Auro3D's added height dimension, compared to what I hear from 5.1 systems, but I'm not sure whether this will be enough to encourage music listeners to make the necessary investment.
More immediately significant were three presentations that can have a big impact on the streaming of multichannel files. Many software players will handle high-resolution files in multichannel, but it's likely that the vast majority of them are sending those files to A/V receivers and preamplifier-processors via HDMI; aside from the exaSound e28, all other multichannel DACs are targeted at professional users.
Well, exaSound now has company. After a long wait, Merging Technologies, producers of the Pyramix audio workstation system used in HD/DSD recording studios, showed their NADAC. To be available in 2-, 8-, and 16-channel versions, it accommodates PCM up to 384kHz, and DXD and DSD up to 11.2MHz. Inputs include coaxial and optical S/PDIF, two AES-EBU, word clock, and, most interesting, a gigabit Ethernet port via Merging's Ravenna protocol, which ensures a clock precision of one nanosecond from any music server, player, or streamer. This can be mediated by ASIO (Windows), CoreAudio/DoP (Mac OSX), or through a direct connection (Linux). Analog outputs are via RCA, XLR, and headphone jacks. The two-channel NADAC will cost about $7500; clearly, the eight-channel version will not be an entry-level product for multichannel streaming, but it will create buzz. I hope to have one soon.
That hoped-for entry-level DAC might be coming from a familiar and innovative source: miniDSP. Reflrcting on their back catalog of multichannel equalizers and network audio interfaces, it didn't surprise me to see the prototype of an eight-channel power amp with DSP and a USB input; what surprised me was the estimated cost: $750. When I asked Managing Director Tony Rouget, "How about losing the power amps and halving the price?," he smiled and showed me the nanoAVR DLA. This adds to the nanoAVR an eight-channel DAC board for analog out from the HDMI source. "But how about a USB input?" That, too, appears possible—miniDSP has announced development of the miniDAC-8, with an AK4440DAC chipset. Combine that with their established USBStreamer product at the right price and it will open up multichannel file streaming to nearly everyone who is interested.
Of course, as all of us know who've been downloading and filling up terabytes of storage, hi-rez multichannel files are huge. So, as we wait for Internet streaming speeds to rise and the costs of storage hardware to fall, Meridian's MQA system allows a 24-bit/48kHz file to contain higher-rez information by repacking the information above 24kHz into a region below the file's audible noise floor. While Meridian has awed us with the quality of its MQA demonstrations, let's not lose sight of the fact that it is an efficient and functionally lossless compression algorithm that will speed transmission and save storage space. Moreover, Meridian's Bob Stuart has assured me, more than once, that MQA is entirely compatible with any number of channels. Of course, that doesn't help us now, but if MQA succeeds, the door is open to much more efficient multichannel storage.
Classé Sigma SSP surround-sound preamplifier-processor
I reviewed Classé's flagship preamplifier-processor, the SSP-800, in 2011 (footnote 1), well after its original release, because I wanted to wait for the HDMI 1.4 update and its attendant audio format support. It did just about anything one could expect of a modern pre-pro, and its sound was excellent, whether from digital or analog sources, or whether it processed the sources or transmitted the analog unmolested. Since then we've seen the rise of wireless and wired streaming, but the SSP-800 ($9500) can do that fed by an S/PDIF source or a good external DAC; even today, I'd be hard put to criticize the SSP-800.
Four years later, Classé has come up with the Sigma SSP: smaller, lighter, sleeker than the SSP-800, and little more than half the price: $4000 (footnote 2). (The Sigma SSP measured 16.9" (433mm) W by 3.7" (95mm) H by 14.4 (370mm) D and weighs 18.1 lbs (8.21kg). All of that is to the good—but has anything been lost?
Features? There's no doubt that the pre-pro market is a varied population. At one end are those who want a pre-pro to anchor a home theater with multiple screens while feeding and controlling remote A/V zones. At the other end are those who want a pre-pro with minimal video facilities but a wide array of analog and digital inputs, including phono, and the ability to bypass any digital conversion for all analog signals. No one product suits all, and, as I've been told by Classé's Dave Nauber, many difficult decisions led to the Sigma SSP, which occupies a cannily chosen middle position a bit closer to the latter extreme.
Consequently, the only video inputs or outputs are HDMI. There are seven HDMI inputs on the rear panel and one on the front, to accommodate lots of modern sources, but only one HDMI output. There are three coaxial (RCA) and two optical (TosLink) digital inputs, but only one coaxial (RCA) digital output. The analog inputs comprise one pair of balanced (XLR) and two pairs of single-ended (RCA) jacks. The analog outputs are one pair of XLRs and eight pairs of RCAs. The Sigma SSP doesn't support multiple zones, but one pair of its RCA outputs can be assigned as an L/R pair for a remote location or for multiple subwoofers. The SSP-800 has a parametric equalizer with up to five bandpass filters per channel; the Sigma ups that to an even more effective nine filters per channel. So the Sigma SSP has more HDMI inputs than the SSP-800, but doesn't support composite or component video. Digital in/out is comparable, as is stereo analog in/out, but the Sigma lacks an analog 7.1-channel input as well as the full array of XLR outputs for all channels.
Here's where the cost analysis came in. How many users today require the 7.1 analog input when all formats but DSD can be decoded by the pre-pro? As for the XLR outputs, Nauber claims that allocating a given budget for each single-ended input permitted engineering to optimize performance for that input, compared to spreading it across the virtually doubled number of parts required for a balanced output. Still, XLR in and out is maintained for L/R, and, significantly, you can avoid A/D conversion to enjoy an entirely analog signal path for all stereo sources simply by opting for digital bypass mode (all DSP processing switched off). "If no processing is applied, analog signals remain in the analog domain, even if not specifically set to digital bypass."
But the Sigma SSP adds support for DLNA audio via Ethernet and AirPlay—ideas not yet born when the SSP-800 appeared, so we didn't miss them. Today, however, they're almost essential, and the Sigma's implementation of them is excellent, supporting a variety of compressed and uncompressed formats, including ALAC, FLAC, and WAV up to 24/192—all two-channel only, of course, as on every competing product today.
The specs of the Sigma SSP and the SSP-800 are a toss-up. The SSP-800 accepts a marginally higher input level in analog bypass mode, and has a marginally narrower range of frequency-response deviation. On the other hand, the Sigma SSP has lower claimed THD+noise for digital sources, marginally higher output voltage, and slightly better signal/noise ratios for analog sources. But the differences are so slight as to be inconsequential.
Aside from the additions of headphone, HDMI, and USB connectors, the front-panel design is classic Classé: to the left of the crisp and responsive touchscreen are buttons for On/Standby, Menu, and Mute. To the right, nearly flush with the faceplate, is a large volume knob that responds reliably to the lightest touch. A small remote control is provided. It seemed too simple at first, but after setup, it was entirely capable of normal operations.
---
Footnote 1: The
actual model reviewed
was the functionally identical CT-SSP.
Footnote 2: Classé Audio, 5070 François Cusson, Lachine, Quebec H8T 1B3, Canada. Tel: (514) 636-6384. Fax: (514) 636-1428. Web: www.classeaudio.com.