Music in the Round #43 Page 3
Classé Audio CT-SSP surround-sound processor
When Classé released its SSP-800 surround-sound processor, I was offered a review sample but decided to wait for the promised expansion of the DSP engine to permit decoding of the high-definition audio codecs from Dolby and DTS. Little did I suspect that that would take so long, or that the SSP-800 would then prove so popular that review samples would be scarce. So when Classé's Dave Nauber offered to send me a CT-SSP ($9000), I happily accepted. I'd waited a long time for this one. Under its skin, the CT-SSP is a sister to the SSP-800. That skin is a newly engineered chassis intended for rack installation, and matches Classé's Custom Installation line of power amplifiers. To state that the CT-SSP lacks the SSP-800's exquisite appearance slights the former's clean, all-business look. Perhaps it's more accurate to say that the CT-SSP is more conservatively dressed than its more stylish sister, with which it shares a common User's Manual.
Hooking up the CT-SSP to my disc players, cable box, display, power amps, and subwoofers was about the same as installing any processor. However, managing the setup was decidedly different. The CT-SSP's nice touchscreen LCD display is entirely sufficient for this, and can be a lifesaver when the video setup is complex or problematic. The menu screens, on the CT-SSP's small or your own big display, are unusual: their large, blocky "buttons" suit the use of a touchscreen instead of the more common tabular listings. However, it's due to the sophistication and subtlety of these multilevel menus that the CT-SSP functions so well while having a front panel that has only a touchscreen and a single knob—or, alternatively, with a remote control that has a less-than-bewildering array of buttons. The CT-SSP is extremely simple to use, yet lacks nothing in the way of complete control.
Input setup involves assigning an audio and video source to each logical input (up to 20 assignments can be supported), as well as defaults for audio processing (volume offset, delay, format processing, speaker configuration, and, for analog sources, bypass or digital processing), and entering a name. I set up four input sources, corresponding to the four quick-access buttons on the remote control, to accommodate two disc players via HDMI, one player (or test source) via the multichannel analog-bypass input, and cable TV, also via HDMI. I later added a stereo input for the XLR output of my Sony XA-5400ES SACD player (footnote 1).
The CT-SSP's speaker configurations (up to six are supported) include settings for speaker distance, level, and size/crossover. The CT-SSP has 10 output channels: the usual 7.1, plus two auxiliary channels that can be used for additional subwoofers, to biamp the front left and right channels, or to provide a stereo output to remote speakers. Multiple subs can be configured as one to three mono subs, stereo L/R subs, or discrete L/C/R subs. There is also the option of applying room/speaker equalization with a very effective parametric EQ, but no tools for setting this. Equally sophisticated OSD, video, and CAN-Bus control options exist but are beyond our current concerns.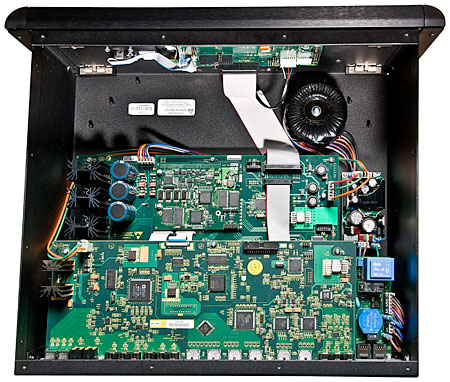 I connected the CT-SSP to my Paradigm Reference Studio 60 v.3 L/C/R and Studio 20 v.3 surround speakers via my Bryston 9B-SST, five-channel power amplifier and set up the Paradigm Reference Servo-15 and Reference SUB 15 as dual-mono subwoofers. I entered the crossover, distance, delay, level, and trim for each speaker, but for the moment ignored the EQ option.
My Connecticut listening room and speakers have been constants for some years, and have seen the comings and goings of myriad players and processors, but none has made so major and immediate an impact on the sound as the Classé CT-SSP. Typically, the insertion of a new processor is either disappointing, because additional tweaking is required, or it is unimpressive, because any differences between it and its predecessor are so subtle that they are revealed only by long and intensive listening. However, from the moment I switched on the CT-SSP, the performance of my system was elevated to a level beyond anything previous. I did not expect this.
The major differences between my Connecticut and Manhattan systems have always been in the warmth and smoothness of the transition from the bass to the midrange, the improved clarity of the midrange, and the New York system's almost complete disassociation of its soundstage from its speakers. Of course, that system enjoys a bigger, better room, and comprises far more expensive gear. Inserting the CT-SSP into the Connecticut system went much of the way toward leveling the playing field. The soundstage was moved back just a bit but was also wider and deeper, with both two- and multichannel recordings. Imaging within the soundstage, always a forte with this system, was uncompromised. Claus Peter Flor and the Malaysian Philharmonic's lovely and spacious recording of Josef Suk's Asrael Symphony (SACD, BIS SACD-1776) lacked nothing in detail, tonal balance, or image stability, though it did seem to have a foreshortened soundstage and compressed dynamics with other processors I have reviewed.
In terms of frequency balance, there was always quibbling about the treble of the Paradigm Reference Studio 60 v.3 (certainly as compared with its successor, the v.5), and balancing the outputs of the subwoofer with the rest of the speakers has always been a bugaboo without the intervention of Audyssey's ProEq. Neither was a problem now; the CT-SSP confirmed my decision to keep the v.3s. My test was Christoph Eschenbach and the Philadelphia Orchestra's 5.0-channel recording of Mahler's Symphony 6 (SACD, Ondine ODE 1084-SD), which has wonderful and subtle treble detail, stringent demands for the convincing reproduction of the low strings, and, of course, the final movement's "blows of fate."
I don't mean to imply that the CT-SSP painted over differences among recordings in any way. I recently sampled a number of SACDs released by the Exton label and found that they varied widely in their spatial representations and even their tonal balances. Considering that these were different orchestras recorded in different halls by different engineers, that was as it should be. Further, the difference in presentation and balance between two recordings by pianist Arcadi Volodos, Volodos in Vienna: Live from the Musikverein Wien (2 SACDs, Sony 88697639622), a remarkable concert, and the studio recording Volodos Plays Liszt (SACD, Sony/BMG 87380), could not have been more marked. The latter is all crystalline detail from one end of the keyboard to the other, while the former, bathed in the warmth of Vienna's Musikverein, consequently sacrifices impact.
But what of room EQ? Although I've been a strong advocate of it, and especially of my use of it in this room, now I felt no pressing need for it. In addition, Classé has expressed the opinion that automatic room EQ is problematic, and that users with a need for it should consult a trained dealer-installer. Nonetheless, I gave it a try. CT-SSP's PEQ is quite flexible; you can configure up to five filters per channel, each with fully programmable center frequency, magnitude, and Q.
I whipped out my handy-dandy XTZ Room Analyzer and measured each channel's in-room response. I found low-frequency modes for all but the left and right surrounds. The front L/R speakers had modes at 43 and 46Hz, the center had modes at 41 and 72Hz, and each sub had a large mode at 32Hz. The Q of these modes ranged from 3 to 9, and the magnitudes from 3.5 to 10dB. Considering that I was crossing over from the main speakers to the subs at 40Hz, I was surprised that the improvement was so obvious. Except when called on, the subs simply ceased to exist. Whether with music or with soundtracks, the integration of the subwoofer and speaker outputs seemed to be, at last, perfect.
The Classé CT-SSP is the first surround-sound processor I've used that I do not want to remove from this system, but I must—so impressive is its performance that an audition with my big Manhattan rig is a necessity. A report on this will be forthcoming, but regardless of its content or timing, I here give the CT-SSP my unrestricted recommendation. At $9000 it is more expensive than most, but it delivers the goods. So much for my hypothesis that the electronics are rarely a major determinant of overall system performance.
---
Footnote 1: In my
initial report on the Sony XA-5400ES
, I said that, at a local audio shop, it wouldn't work with a Classé SSP-800 via HDMI. The Sony at first refused to shake hands with the CT-SSP as well, but a firmware update from Classé provided a complete solution. Users should download the update if they intend to use an XA-5400ES.