Music in the Round #59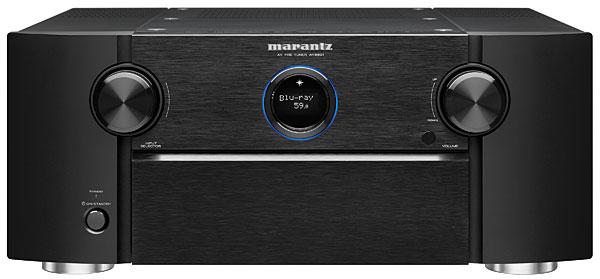 Growing up as an audiophile in the 1950s, I always aspired to owning Marantz equipment, and finally attained that status when, late one night in 1974 in Greenwich Village, a friend found a Model 8 amp sitting on a pile of discards on a curb. He quickly ran for his car, and scarfed up the amp and a pair of Acoustic Research AR1 speakers. All turned out to be in perfect working order, though their appearance reflected their history of ill-use. The speakers went into his machine shop—but I got the Model 8! Few products have ever given me so much pleasure and pride; Marantz will always occupy a warm spot in my heart.
Since then, Marantz and I have gone our different ways. I went on to DIY and, eventually, higher-end stuff and multichannel. When founder Saul Marantz retired, his namesake firm became a subsidiary of the Japanese company Superscope, under whose direction it was refocused on midpriced electronics, including receivers, and the brand gradually lost its luster. Eventually, Marantz was acquired by D&M Holdings where the brand's now-successful mainstream line was augmented (and enhanced) by the Reference Series, which revives Saul Marantz's original ideals of exquisite design and sound.
However, there was little convergence, and the Reference Series has never included a multichannel component. I recall a long telephone conversation more than five years ago with Kevin Zarow, then VP of Marketing & Product Development at D&M Holdings, in which he tried to convince me of two things. First, the typical Marantz Reference owner was interested only in two-channel sound. I had to take Zarow's word for that, assuming that he had the market research to back it up. Second, one could assemble a Reference multichannel system by connecting a Reference SACD? player to three daisychained Reference integrated amps with a proprietary digital link. Perhaps one could do that (I'm told that Marantz has done it for audio shows), but who actually would?
Marantz's non-Reference multichannel offerings consisted only of disc players and AVRs until late 2008, when they introduced the AV8003 multichannel preamplifier-processor and its companion MM8003 eight-channel power amp. The $2600 AV8003 was an impressive chunk of processor that won praise elsewhere for its sound, though I thought its feature set was behind the cutting edge. It was joined, in 2010, by the AV7005, which I reviewed in the March 2011 issue. I found the AV7005 an outstanding value at $1499.99, with smoothly balanced sound and an appearance even spiffier than the pricier AV8003's, but still lacking the latest and greatest implementation of Audyssey's MultEQ room-equalization software. Of course, given its much lower price, one could not expect it to trump the AV8003.
In late 2012, Marantz introduced successors to both in the form of the 7.2-channel AV7701 ($1699.99) and the 11.2-channel AV8801 ($3599.99), each of which seems very suitably equipped for its price point. Indeed, the general specs of the two are remarkably similar save for the AV8801's four extra channels, MultEQ XT32 (vs the AV7701's MultEQ XT), and XLR stereo analog input. I opted for the AV8801 primarily for its promise of Audyssey MultEQ XT32 with MultEQ Pro compatibility. Marantz sweetened the prospect by also sending along their new seven-channel MM8077 power amplifier ($2399) (footnote 1).
Marantz AV8801 11.2-channel A/V preamplifier-processor
Costing a penny less than $3600, the Marantz AV8801 is a large preamplifier-processor with a hefty toroidal power transformer and a heavy copper-plated chassis, but with most of its features hidden behind the front panel's dropdown door, it looks remarkably trim on an equipment rack. A large knob on the left offers quick access to your choice of input, and a matching one on the right is a silky-smooth volume control; the statuses of both controls are indicated by Marantz's signature porthole display, which is equidistant between them. The front panel doesn't look markedly different from that of the AV7005 . . . until you open that door.
There you'll find a brilliant display that's readable from across the room, and a plethora of controls and jacks, including ports for connecting a set of headphones, the Audyssey calibration microphone, iPod/USB and HDMI/MHL, as well as three RCA jacks for analog audio and video. The controls grant access to all functions, but Marantz seems to discourage you from using them: they're black buttons on a black panel, their unlit labels are a silvery-gray that poorly contrasts with the black, and they're hidden away behind that door. This is no biggie, of course—the tidy and illuminated remote control, along with the front panel and onscreen displays, are really all you need. Indeed, had Marantz made the door of smoked glass, there would have been little need for me to ever open it, except to plug in the calibration mike for setup.
The latest version of Marantz's onscreen display was a pleasure to use. Having long experience of non-D&M products, I found the menus simple and intuitive, the graphics communicative, and the onscreen explanations of the options more informative. There was little need for me to consult the user's manual, supplied on CD-ROM. Even a novice user could get the AV8801 up and running by following the friendly Getting Started brochure, then accessing the onscreen "AV Preamp Setup Assistant."
However, the AV8801's simple setup and appearance (with the front door shut) belie its sophistication. All 13 channels feature 32-bit/192kHz DACs driving proprietary Hyper Dynamic Amplifier Module (HDAM) circuits. These HDAMs are discrete, high-speed circuits using current feedback, and are custom-tuned and derived from similar circuits used in the Marantz Reference components. Along with all the expected HD codecs, there are the enhanced surround processings of Audyssey DSX and dts Neo:X. In addition to the aforementioned stereo XLR input, the AV8801 has a moving-magnet phono input (2.5mV sensitivity) and 13 (!) XLR and RCA analog outputs. The network and USB ports support stereo (but not multichannel) audio resolutions up to 192kHz with gapless playback. The AV8801 supports Apple's AirPlay wireless streaming feature as well as the streaming of Internet radio and music/photos over your home network. In fact, the AV8801 includes an onboard, four-port Ethernet switch, eliminating the need for another fiddly little box at the back of your rack. Video features, including 4K video, are somewhat out of our area of concern and too numerous for me to detail. The reader can delve deeply into these and other attributes of the AV8801 at Marantz's website.
Installation and setup were easy, and I was quickly up and running. I connected the AV8801 to my cable box, Oppo BDP-95 and BDP-103 Blu-ray players via HDMI, and my trusty Bryston 9BST multichannel amplifier via XLRs. I manually transferred crossover, level, and speaker-distance settings from my prior system measurements and began listening to the AV8801 before running Audyssey equalization.
My immediate impression was of great fullness in the sound, in terms of both a rich tonal balance and channel-to-channel blend. The overall sound was satisfyingly rich, though some of that might have been due to the lack of room correction. It wasn't a matter of anything sounding wrong, but perhaps there was a bit too much of some good things. For example, the bass seemed tight at the very bottom, but markedly more prominent than long-term experience in that room with room correction has led me to believe is accurate. The unvarnished AV8801 was particularly enjoyable in direct two-channel listening—my Paradigm Reference Studio/60 speakers. unassisted by a subwoofer, sang with clarity and authority. Nothing detracted from my great enjoyment of the AV8801, other than the knowledge that it would sound even better after I'd run Audyssey.
---
Footnote 1: Marantz America, 100 Corporate Drive, Mahwah, NJ 07430-2041. Tel: (201) 762-6500. Fax: (201) 762-6670. Web:
us.marantz.com