Music in the Round #24 Recordings In The Round
Sidebar: Recordings In The Round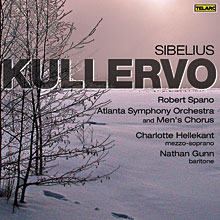 SIBELIUS: Kullervo
Charlotte Hellekant, mezzo-soprano; Nathan Gunn, baritone; Men of the ASO Chorus, Atlanta Symphony Orchestra; Robert Spano
Telarc SACD-60665 (SACD)
In an embarrassment of riches, this is the best of three new multichannel SACDs of Sibelius' early bardic masterwork. The competing release, with Colin Davis and the London Symphony (LSO Live LSO0574), is well played and has great soloists, but is hampered by dismembered sound and Davis' sluggish pace (it really sags in the complex meter that opens Kullervo Goes to Battle). The alternative, with Ari Rasilainen and the Rheinland-Pfalz State Philharmonic (CPO 777 196-2), has an outstanding chorus and stylish phrasing, but the sound is distant and the orchestra is simply not as capable as the LSO or ASO. Spano's version, however, sounds better with every hearing. His pacing and attention to the unusual rhythms is excellent, the orchestral performances are thrilling, and the sound is both more coherent and more colorful than the SACD competition. If you love Sibelius' symphonies, don't miss this.
SAINT-SAËNS: Symphony 3, "Organ"
POULENC: Organ Concerto
BARBER: Toccata Festiva
Olivier Latry, organ; Christoph Eschenbach, Philadelphia Orchestra
Ondine ODE 1094-5 (SACD)
The inauguration of Verizon Hall's new organ has been preserved for all of us in one of the most outstanding SACDs yet. Somehow, producer Martha de Francisco and her team (assisted by Polyhymnia) have captured the detail, sweetness, and power of the orchestra, as well as the organ's pipes and pedals, in a recording that is more than a sound spectacular. Latry, Eschenbach, et al offer stylish and moving performances of these three major pieces for organ and orchestra; the applause that follows each is well deserved. The Saint-Saëns, in particular, is absent the vehemence of some other vaunted recordings, and is presented as a romantic symphony with organ rather than as an organ concerto. It seems that I've only just turned in my 2007 "Records To Die For" nominations, but this is clearly the front-runner for my 2008 list.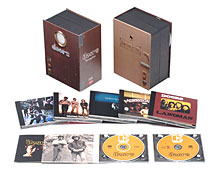 THE DOORS: Perception
Rhino 8122776452 (6 CDs, 6 DVDs)
This set's over-the-top packaging (the box has a gauzy "Viewmaster" slideshow glimpsed through the peephole of a door) is appropriate for the unrestrained performances of the original recordings and some fascinating live video performances. Producer Bruce Botnick has sacrificed none of the Doors' raw passion for the increased communication of the multichannel mixes. The restoration is a great success in stereo and in DTS 5.1 multichannel, revealing nuances and phrasings often covered or muted in the originals. If this is your kind of thing (and you know it), go for it.
MAHLER: Symphony 2, "Resurrection"
Lisa Milne, soprano; Birgit Remmert, alto; Hungarian Radio Choir, Budapest Festival Orchestra; Iván Fischer
Channel Classics CCS SA 23506 (SACD)
I know: more Mahler. But here's another I find irresistible, and in performance and sound it's an advance on Fischer and the BFO's recording of Mahler's Symphony 6. From the opening bars, this "Resurrection" reminded me of the electricity, if not the speed, of Bernstein's recording with the New York Philharmonic for CBS. It pulls you in and on with urgency. The Andante, too, is perfectly hewn and played beautifully. In fact, had not the intensity eased off a bit in the final movement, this would be a nigh perfect performance for me. Even so, it's so well recorded and performed, and so infused with passion, that it easily becomes one of my favorites.
CRUMB: Makrokosmos I & II
Margaret Leng Tan, piano
Mode 142 (DVD-Video)
SCELSI: Quatro Pezzi, Uaxuctum, La nascita del Verbo* Peter Rundel, Johannes Kalitzke,* conductors; Vienna Radio Symphony Orchestra
Mode 176 (Audio Only DVD-Video)
Mode Records has one of the most fascinating and diverse catalogs of new music, and is releasing many of them in multichannel formats of one sort or another. Here are two samples. The Crumb DVD has a 24-bit/96kHz, 5.1-channel DTS track where the center channel is fed from a microphone inside the body of the piano, while the front L/R and surround L/R offer a normal acoustic presentation. The result, accompanied by a video of the performance, is more revealing and involving than any two-channel presentation could possibly be. The Scelsi DVD, taken from live concert performances, has both Dolby Digital and DTS 24/48 tracks but no video. Still, there is a nearly visual presentation of this electrifying music. The older Jürg Wyttenbach/Cracovie performances on CD (Accord) are flashier, but less dramatic and mystical. If you have a taste for discovery, check out Mode's website at www.moderecords.com.—Kalman Rubinson